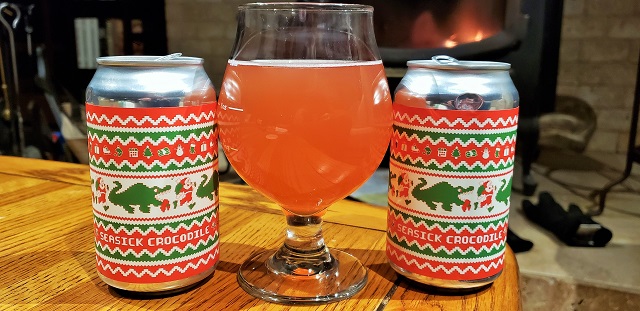 Whoa, Nellie! We have a wild one here tonight! A runaway crocodile!
Which raises, naturally, the question of what the name of this beer is all about and what does it have to do with Christmas? Well, that's the sole quiz question on the floor:
What is the name of this beer all about and what does it have to do with Christmas?
Winners receive a hearty handclasp if nearby, whenever that's allowed again.
Last Christmas eve, when human interaction was taken for granted, we had 18 people in the house. There are just the two of us tonight and we're feeling a little forlorn. But we did have a Christmas cookie Zoom marathon here this afternoon, as my wife, Lynn, baked some Toll House cookies, while our daughter, Jen, was baking at her home in South Hadley, Massachusetts and our granddaughters, Abby and Lilah, were baking away at their home in Lake Ronkonkoma, New York. Better than nothing.
It's the first time our kids and grandkids haven't been here in Vermont with us for Christmas. We're not canceling it, mind you, merely delaying it. We're gonna do it just like we would have (maybe without the snow) as soon as we can.
First quiz hint: The name of the beer appears as part of a song's lyrics.
We had the Christmas Bomb two years ago, and there's ample background there about Prairie Artisan Ales. Suffice to say the brewery is not shy about experimentation and throwing all sorts of things into the brewpot, and designing up a storm on its labels as well.
The Seasick Crocodile label has all the red and green attributes of an ugly Christmas sweater, plus a crocodile chasing a fleeing Santa.

There's nothing ugly about the beer, but plenty that's festive. It pours out like pink lemonade and, in truth, isn't far from it. After an initial wash of cinnamon in the nose, a melange of fruit rushes in. The flavor is a joyride of ginger, cinnamon and nutmeg. What keeps it from tasting like a pumpkin pie is the addition of cranberries. My wife said, "It tastes like an apple pie."
Second quiz hint: The song was first performed in 1966, and has since become a Christmas classic, of sorts.
I couldn't argue with her, though I was actually thinking apple sauce. The puckering tartness of the entire enterprise is sort of the last laugh in a beer that never ceases to amuse, delight or refresh, though it's worth noting that the ABV is 6.3%, which is not pink lemonade.
Third quiz hint: The song was first sung by Thurl Ravenscroft, and the lyrics were written by a doctor, sort of.
That did it, right? If not, here are the lyrics of the verse in question:
You're a foul one, Mister Grinch,
You have termites in your smile,
You have all the tender sweetness
Of a seasick crocodile, Mr. Grinch,
Given a choice between the two of you I'd take the seasick crocodile!
Yes, the lyrics were written by Dr. Seuss for the first airing of "How the Grinch Stole Christmas" in 1966. It has appeared almost every December since. I wouldn't mind if Seasick Crocodile did the same.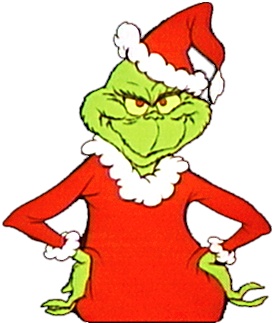 Name: Seasick Crocodile
Brewer: Prairie Artisan Ales / Krebs Brewing, McAlester, Oklahoma
Style: Spiced Sour ale
ABV: 6.3%
Availability: Seasonally, in 25 or so states
For More Information: www.prairieales.com
[December 24, 2020]
< 12 Beers of Christmas 6: De Glazen Toren Canaster Winterscotch
12 Beers of Christmas 8: Straffe Hendrik Xmas Blend >