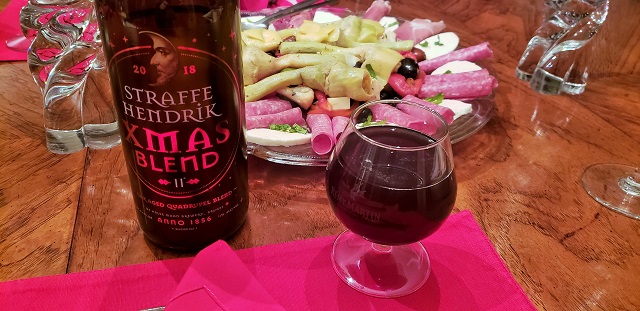 I'll keep the December 25 date below and wish everyone a Merry Christmas, yet confess that I was just too bloated and tired to finish off a report on the beer on Christmas night.
Lynn and I had a very nice Christmas-for-two morning, and Zooming with our kids and grandkids in the afternoon took some of the sting out of not being together this year. We went over to my sister-in-law's for dinner (she lives alone, so no worries there), and had a bang-up meal of antipasto, manicotti with meatballs, sausage and pork, and a side of spicy-sweet green beans.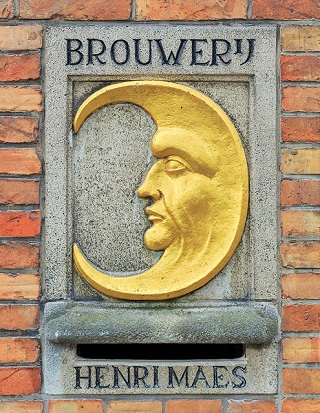 I warmed up, literally and figuratively, with the barrel-aged quadrupel from Straffe Hendrik, an 11% ABV lid-lifter from the De Halve Mann brewery in Bruges—one of the great beer cities of the world, which I've had the pleasure of visiting several times. Can't say that I toured De Halve Mann (the Half Moon), in the Maes family for generations, but it has expanded considerably since my last visit in any case.
The brewery is in the heart of the town, but a bottling facility is about two miles away. In 2016 the brewery installed an underground pipeline connecting the two, doing away with any back and forth truck traffic. The event created something of a media fanfare at the time, no doubt fueled by any dedicated beer lover's inbred dream of having beer piped right into an at-home faucet.
The pipeline is visible through a glass manhole in one of the medieval city's cobblestoned streets. Beer is said to be coursing through it at 1,000 gallons per hour, a pleasing thought.
I took it slow, trying to foist a little on Lynn and Merle, who said, "It will be wasted on me; I just can't relate to beer." But she surprised herself: "That's actually pretty good."
It is actually very good. It started with the Straffe Hendrik Quadrupel that the brewery regularly brews, a potent enough concoction as is. ("Straffe" means "strong" and apparently there have been a lot of Hendriks in the Maes line, hence the name.) I don't know that the Xmas Blend has been done again since 2018, but what appears to be a best by date on the label suggests this one would have been fine until August of next year—at least a three-year run.
The process involved combining batches of the Quadrupel that had been conditioning in not one but three different barrels—Bordeaux, Calvados and rum—and then adding some young Quadrupel to that blend. All of it then refermented in the bottle, allowing for the extended potential cellaring.
The result is a beer of thrilling complexity—a dark brown brew with a deep reddish glow, a barely existing head, and heady aromas of malt, fruit, chocolate. The palate seemed to reveal a chocolate note initially, but then gave way to a flow of sensations—viscous and vinous, with flavors of apple, smoke, toffee, and a real oak bite and a nicely tannic finish.
Normally I would have had a slew of tasters for a Christmas night beer like this.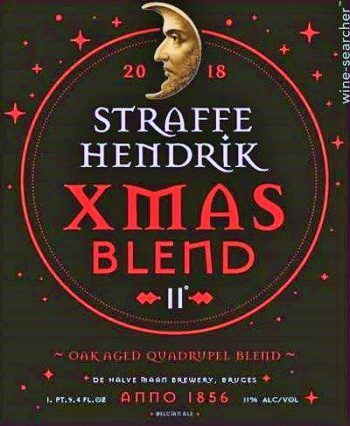 Going pretty much solo, I had to nurse this one along for a couple of hours. The nursing went well, and by the end of the evening I was cured.
Name: Straffe Hendrik Xmas Blend
Brewer: De Halve Mann, Bruges, Belgium
Style: Barrel-aged Quadrupel
ABV: 11%
Availability: May require a diligent search
For More Information: www.straffehendrik.be
[December 25, 2020]
< 12 Beers of Christmas 7: Prairie Artisans Seasick Crocodile
12 Beers of Christmas 9: Shipyard Prelude >