Here at The A Position we're given a topic to address (or not) each month for The A List feature, in a neat 150 words or so. This month, our mission was clear–to draw upon our collective wisdom and set down just what will go down in the 2011 world of golf.
So now we know that Rickie Fowler will win a major this year, along with Dustin Johnson and Nick Watney. And in the non-golf world, one of our scribes went way out on a limb to predict that the Phillies will win the World Series.  Click here for the full list of fearless predictions.
I went with a fairly standard guess based on scientific research and anecdotal experience out on the course.
***
Though the number of golfers and golf rounds will remain static, or even slightly decline, the golf industry will remain the nation's leader in measurable obscenity, again surpassing the perennial runner-up, the U.S. penal system.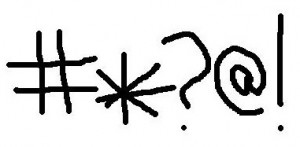 The Institute of Lingua Franca, which created the rating in recognition of the worldwide use of dirty talk, gave a round of golf a soaring 92.5 MO rating in 2010, which easily surpassed the 82.7 MO of a normal day in the life of an incarcerated felon.
This was no surprise considering that some golfers score a perfect 100% rating–an obscenity uttered after every single shot in a five-hour round.  (There was no way to calibrate those who swear more than once–or more or less continuously–after a single shot.)
The Institute characterizes an obscenity as any word still frowned upon in normal human intercourse, recognizing that such words can now be counted on one #@!ing hand.