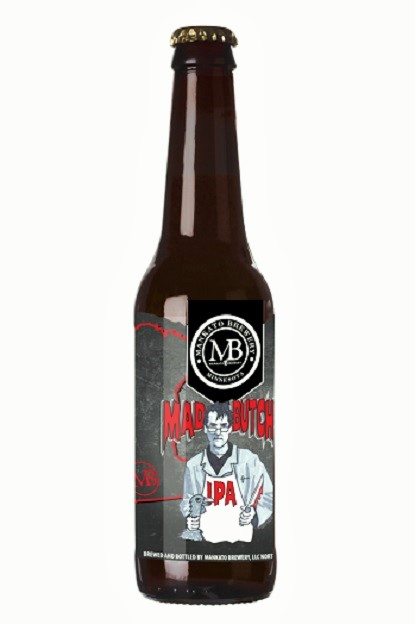 [March 27, 2017]–Now here was a good beer to prove—if I needed any proof—that life is indeed a long, strange trip. The only reason I was drinking it in the first place is because I met Joe Oberle in Mississippi in 2001. We were both invited in our golf writer guises to learn about the state's appealing courses, of which there are indeed many. I've been back to Mississippi many times to confirm the fact, and I've been on countless golf trips to other locales. But that first trip to Mississippi remains a high point because of the particular cast of characters who were along, and the sheer fun we managed to have in five days or so.
Joe and I kept in touch, though our actual meetings were few and far apart. We have similar obsessions, after all, particularly along the lines of golf, beer, and Bob Dylan. I was lucky enough to tee it up with Joe in his home state of Minnesota a few years back, and told him the door was always open in Vermont.
He finally walked through it in early September, if not to play golf. He and his wife, Lora, and their friends Kevin and Claudia McKeown, decided to take a trip around Vermont, the main purpose of which (depending upon whom among the four you asked) was to drink some of the state's fine beers and cart as many Heady Topper cans home as possible. Joe had room in his suitcase because he had emptied it of the ample supply of Minnesota beers he had brought along for me to try.
In a nod to an early Dylan tour, Joe called the trip the Rolling Thunder Beer Revue, and the troupe hit the Vermont high points and then some: Hill Farmstead, The Alchemist, Idletyme, Zero Gravity, Foam, Queen City, Burlington Beer, Long Trail, to name a few, and soaking up other Vermont brews if not visiting the breweries. And that's before they stopped by here, we stowed their gear, and went off to hit all three of the Brattleboro breweries.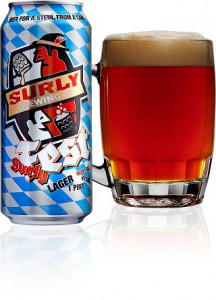 When Joe posted on Untappd that he was down to his last Heady Topper it seemed only fair to plow through the last of my Minnesotan stash, beers from the Surly and Mankato breweries. (I included the SurlyFest Lager in a piece about autumnal beers.)
I probably could have included Mankato's Leaf Raker, too, a 6.9% brown ale with an appealing depth of aroma and flavor–toasty, nutty, caramel malty, with just the right touch of subdued sweetness. Or the 5.6% Pumkin Grinder, which won a silver medal at the 2015 Great American Beer Festival.
Mankato is a small city in south central Minnesota, with a population of roughly 41,000. Small is relative, naturally—that would make it the most populous city in Vermont. And there are about 100,000 living in greater Mankato. The brewery began producing in 2012, and Joe and Lora wisely invested in it, with a small percentage. He says it's been a strategic blessing: "It has paid off in a lot of good free beer to this point and probably always will. I am also on the board, which is a blast. Best meetings I have ever been to since the first order of business is: 'What'll you have?'"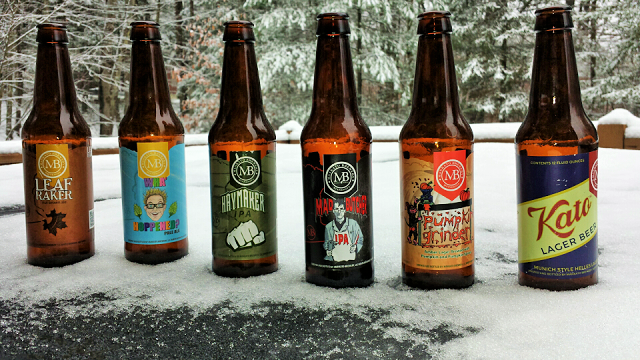 There's clearly a fair amount of choice. Joe had also brought along a couple bottles each of Wha's Hoppening Pale Ale (6%), Haymaker IPA (6.8%), which will do quite nicely if there's no Mad Butcher in the house, and the retro Kato Lager (5%). The latter is a nod to the last production brewery in town—the Kato Brewery, which closed in the mid-60's. A family member of the old brewery is also a Mankato investor, and the beer is just a slight tweaking of the original lager recipe. It and some other old Kato recipes (Gold, Black and Fest) are serving as introductions to better beers for those slow to switch over from Mega Braus.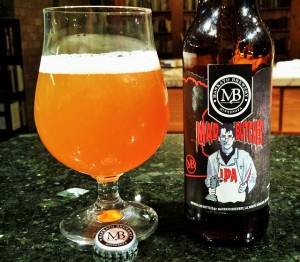 I enjoyed all of the Mankato brews, but after Leaf Raker the Mad Butcher IPA most of all. I had it late at night, coincidentally while packing for another golf trip (not to Mississippi, nor with Joe, but there you have it). Lightly hazy and pale copper in the glass, the beer is an alluringly sweet fruit bowl of Citra hop aromas, suggesting kiwis, strawberries and honeydew melon to me. While sweet, the fruit flavors carry over and the mouthfeel has a sort of briny bite to it. There's a nice drying finish to the beer, without being overly bitter.
I drank it over the course of an hour and it never lost its character, but even at the 60-minute mark it seemed that it had vanished all too soon.
While the label looks like something out of a slasher movie, the beer is actually named for Jacob Hamilton's father, who was a butcher in Iowa when Jacob was growing up. He's since passed away, while Jacob grew up to become the third (and current) head brewer at Mankato.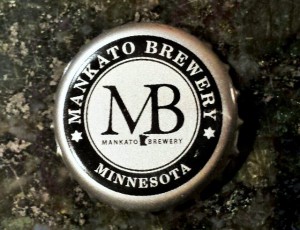 Jacob earned his brewing degree from the American Brewing Guild, which is naturally—in the Great Chain of Being sense, anyway—located in Vermont. Now all he needs is to throw a little Mississippi into the mix.
Name: Mad Butcher IPA
Brewer: Mankota Brewery, North Mankato, Minnesota
Style: American IPA
ABV: 6.8%
Availability: Year-round in Minnesota, with some distribution to surrounding states
For More Information: www.mankatobrewery.com