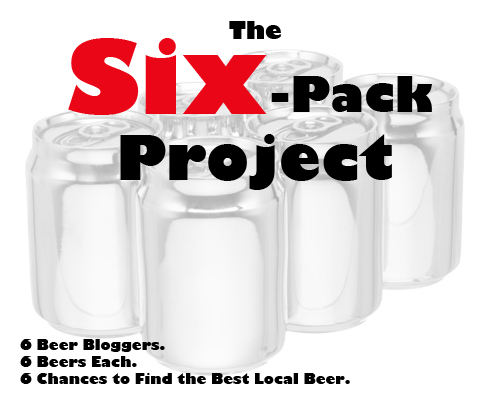 My head's about to explode and I blame it all on Bryan Roth, the genius or demon behind The Six-Pack Project. Bryan holds down the fort at This Is Why I'm Drunk,  and earlier this year that old light bulb went off for him. But I might as well let him explain it:
In May 2013, I started an effort to collaborate with beer bloggers from around the country with the Six-Pack Project.
It's a simple concept: bring together writers from all over the country (and maybe world) to highlight a six-pack of our home's native brews that best represent what our beer culture has to offer. If someone is coming to visit, what bottles or cans would we want to share?
Here are the rules:
1. Pick a six-pack of beers that best represents your state and/or state's beer culture.
2. Beer must be made in your state, but "gypsy" brewers are acceptable, so long as that beer is brewed with an in-state brewery and sold in your state.
3. Any size bottle or can is acceptable to include.
4. Current seasonal offerings are fine, but try to keep selections to year-round brews as much as possible. No out-of-season brews preferred.
Bryan asked me to chime in for Vermont and naturally I said, Sure, no problem.
Until I realized what a problem it is. Oh, it's easy enough to come up with six (or many more) great beers from Vermont. Heck, I could just list Heady Topper, Lawson's Finest Double Sunshine IPA, four beers from Hill Farmstead and the deal would be done. People are traveling from all over the world to track down some of these brews, which are racking up higher ratings than "Breaking Bad."
Here's the problem—I live in southern Vermont, and I can't get any of these beers. For a small state, Vermont is pretty big, as least when I think about queuing up on a beer line for hours, hours north of here. One could travel up to Waterbury, go directly to The Alchemist brewery and find out that even there they're plumb out of Heady Topper. Scoring some Hill Farmstead specials is about as easy as snagging a tee time at Bethpage Black, yet people are camping out in the wilds of Greensboro to do just that. Actually, last Thursday they were doing just that, gauging by this Twitter post by @FujOnTap regarding a new bottle release sale:
There are occasional sightings–Hill Farmstead's Edward Pale Ale was on tap at the Whetstone Station in Brattleboro for a while, and I had the George American Brown Ale there last night. A wonderful Smoked Maple Lager was widely available this spring, a collaboration between Lawson's Finest Liquids and Jack's Abby Brewing of Massachusetts. I should have bought a case of that one.
Just the same, "if someone is coming to visit," the Vermont beer I might want to share could easily be unavailable. So to amend Bryan's wording somewhat, here's the six-pack I know I'll be able to share: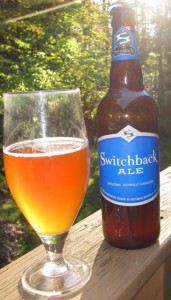 Switchback Ale, 5% ABV, Switchback Brewing Company, Burlington: I had it from a fairly reliable source that Switchback Ale was the best-selling Vermont beer in Vermont, though sales stats for individual beers are difficult to come by and that was before Heady Topper came along. In any case, Switchback's flagship beer is still enormously popular and in bottles since 2012. After the brewery's founding in 2002, the beer was the only brew it produced, and only on draft. (Since joined by a Porter, Red and Brown.) It's been variously called an English Pale Ale and an American Pale Ale, but it will do to call it a sturdy unfiltered amber brew that steers a balanced course between the malt and hop poles, usually with a zesty carbonation thanks to its bottle-conditioning.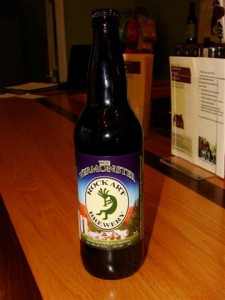 The Vermonster, 10% ABV, Rock Art Brewery, Morrisville: A case could be made that Rock Art's infamous barleywine isn't even its most drinkable barleywine, since the Ridge Runner, at a mere 7.5% ABV, is plenty tasty and a lot less intimidating than its swing-from-the-heels sibling. But it was The Vermonster that put Rock Art on the national brewing map, when the Hansen Natural Corporation, makers of Monster energy drinks, sent Rock Art a cease-and-desist letter. Rock Art fought back in a successful social media campaign (that I covered fully enough in "Tempest in a Brewpot"). So The Vermonster lives on, highly potent both in the glass and as a symbol of common sense and poetic justice.
Mountain Ale, 7.4%, The Shed Brewery, Middlebury: The Shed was ahead of its time, a beloved restaurant in Stowe for decades that turned to brewing in 1995 but unfortunately closed in 2011 over a lease issue. The Crop Bistro & Brewing rescued the site for diners and drinkers, and Otter Creek rescued the name and some recipes. Along with a fine Shed IPA, this unfiltered strong brown (called a "rugged brown" on the label) is a long way from mild. It's deep, dark, and dangerously drinkable—bready, nutty, with sweet hints of toffee and a bracing enough finish.

Native Brown Ale, 7.2% ABV, Foley Brothers Brewing, Brandon: It's a family affair at the first brewery in Rutland County, which opened in November of 2012. The brothers are on hand, but so is a sister, spouses, and parents in the background, the founders of the Neshobe River Winery. There's a tasty Ginger Wheat beer in the portfolio and a new IPA making the rounds, but the Native Brown seems to be the star of the show at the moment, a deep, dark and hearty brown, the malty sweetness amplified by a maple syrup addition.


Double Bag, 7.2%, Long Trail Brewing Co., Bridgewater Corners: What is Vermont known for if not dairy cows? There's even an annual Strolling of the Heifers in Brattleboro, Vermont's answer to the Running of the Bulls. Long Trail, which began brewing in 1989, used to serve Double Bag only in its brewery taproom as a "Stickebier"—their secret treat for visitors. But word got out, and the full-bodied, malt-accented double alt is packed with four malts and three hop additions. Serious stuff, even if the label shows two Holsteins from the rear, two full bags on display.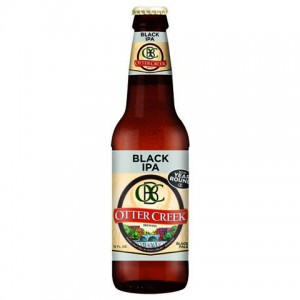 Black IPA, 6%, Otter Creek, Middlebury: Okay, so Vermont does browns well. But it was the revered and pioneering Vermont brewer and author Greg Noonan who came up with the idea for a black IPA, despite what those Cascadian Dark folks think. Otter Creek first put this one out as a seasonal Alpine Black IPA, but it immediately became so popular that the beer quickly lost the Alpine and went year-round. It's really quite a lovely brew, hoppy to be sure but black as night, with a mild but appealing touch of roast and coffee. (Speaking of coffee, I'll sneak in the seasonal Alta Gracia Coffee Porter from Otter Creek's organic arm, Wolaver's, another dark beauty, and one I'm just starting to look forward to as fall moves on.)
Always happy to argue about any of this over a pint, naturally, as we look forward to the southern migration of some of Vermont's other beery wonders.
[October 4, 2013]
An updated Vermont sixer here: Vermont Six-Pack Redux
Related posts:
Vermont Brew News
Birdies and Brews Part 3: Vermont