Happy Hanukkah all, or Chanukah, a spelling muddle that doesn't faze the Shmaltz Brewing Company of New York in the least. They simply brewed a beer called Hanukkah, Chanukah Pass the Beer and it was on last year's roster along with an ample history of the brewery.
Since Hanukkah fell within our purview again this year we had to look around for something else from Shmaltz, and Jewbelation 19 looked pretty good. True, not strictly a holiday brew, but a festive anniversary beer (the company's anniversary), available in November and December, something out of the ordinary, and certainly bracing enough to fire up a decent festival of lights.
We learned a little late about Chanukah in Kentucky, a batch of Hanukkah, Chanukah: Pass the Beer aged for about eight months in Heaven Hill and Jim Beam bourbon barrels. Who knew? So maybe next year.
The actual Jewish Festival of lights began at sundown, 4:16 pm in these New England parts. Didn't quite get to the Jewbelation by then. I was actually at Wildwood Barbeque in Hadley, Massachusetts, not too far removed from nine holes of golf, a December act in these New England parts of simultaneous desperation and joy. (Which, come to think of it, may be apt description of the feelings of the Maccabees as they prevailed against the Seleucids.)

I confess I snuck in a Smuttynose Winter Ale at Wildwood by way of warming up, although the Jewbelation 19 is plenty warming on its own at 11.9% ABV. Considering the past versions of Jewbelation, tagging this one a "black session barleywine" seems almost reasonable.
The beer debuted in 2004 as Miraculous Jewbelation. It was Shmaltz's eighth anniversary, so the company made an 8% ABV beer with eight different hops and eight different malts. The next year everything racheted up one notch—a 9% brew with nine malts, nine hops and so on. This kept going on until 2013, when the Jewbelation Reborn was a yarmulke-lifting 17%, with 17 malts and 17 different hops.
This had to stop, and last year was the year, when Jewbelation 18 came in at a mere 12.4% ABV. The strength has been lowered somewhat again these year, but this is still a massive brew, with 19 ingredients in terms of ten malts (2-Row, Kiln Amber, Red X, Munich, Caramel Pils, Crystal 45, Chocolate, Vienna, Roasted Wheat Malt, Flaked Oats) and nine hops (Chinook, Citra, Centennial, Fuggle, Simcoe, Cascade, Calypso, Amarillo, Palisade).
What this adds up to, other than 19, is a dark, thick broth with garnet highlights. The nose is hypnotic, deep plummy depths of malt, dates, figs, molasses—fruitcake territory, to be sure—all revealed on the palate along with lacings of chocolate and licorice, decidedly on the sweet side, but with enough bite and heat in the finish to round it all out nicely. And, it hardly need be added, kosher certified.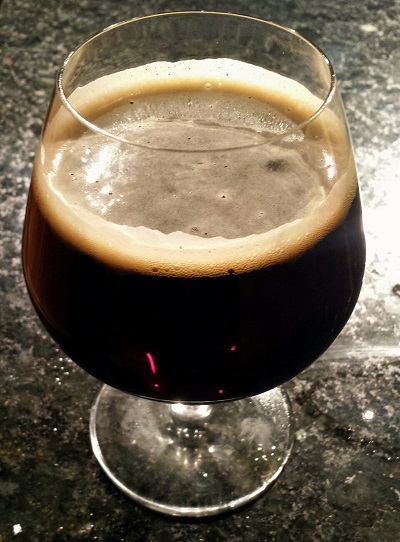 Festive it is. And since the brewery is using the tagline again, so will we: "This Chanukah, candles won't be the only thing getting lit."
Name: Jewbelation 19
Brewer: Shmaltz Brewing Company, Clifton Park, New York
Style: Barleywine, sort of
ABV: 11.9%
Availability: Seasonal, 37 states
For More Information: www.shmaltzbrewing.com
[December 6, 2015]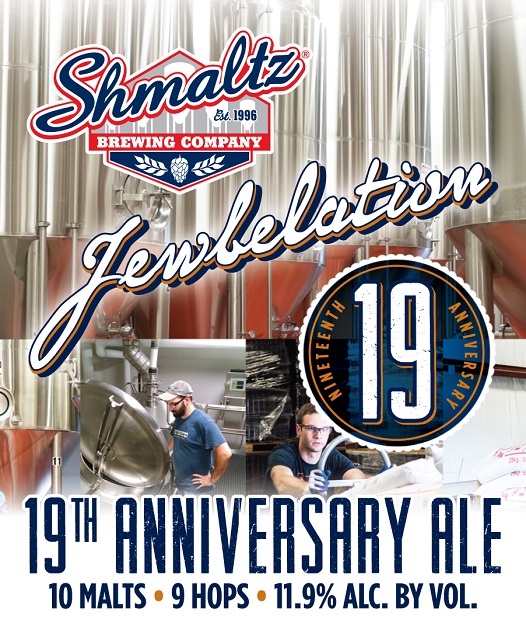 <12 Beers of Christmas 1: Anchor Our Special Ale 2015
12 Beers of Christmas 3: Warsteiner Winter Special Edition>