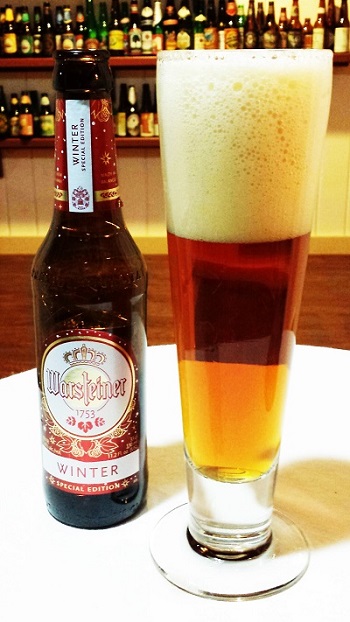 In its native Germany this beer is known as Warsteiner Weihnacht, "Weihnacht" more or less translating to "Christmas." It checks in as our first import this year, the first beer we've been able to see through and the first (and possibly last) lager.
Warsteiner USA sent this one my way back in October, about the time it started to appear on U.S. shelves and there it will remain "until supplies run out."
For a brewery best known here for its Premium Verum pilsner this may be a bit of a departure and something special, but it's fairly mainstream in terms of our normally raucous lineup of strong and frequently spiced holiday ales. Not that that's necessarily a bad thing—especially for those with an aversion to strong and frequently spiced ales.
Personally, I feel about it pretty much the way I felt about the Premium Verum when I wrote about it a couple of summers ago (and where there's plenty of information about the brewery). It comes along as a grand intermission in the steady stream of ales I normally drink. Since my beer imprint was in a world of lagers, it's always a little like coming home. And there's no place like home for the holidays, right?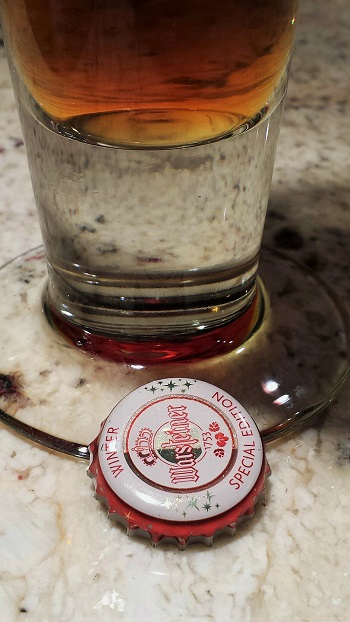 Hopheads won't have much to cheer here, but those drawn to the maltier side of things will want to sidle up to the Warsteiner Winter. It's a perfectly elegant little beer that I would peg right into the Vienna Lager slot. A lovely amber in the glass, crystal clear—in itself a pleasant and seemingly increasing anomaly—the beer is redolent of toffee and a dark German bread, with a touch of nuttiness. Once you work past a copious head, the entry is lightly sweet caramel apple, crisp, with a nice drying snap at the end.
Nothing fancy here, no fireworks. But it's as pleasing as a friendly arm around your shoulder. It's made with the same soft Arnsberg Forest spring water that all Warsteiner beers employ, Hallertau hops for bittering and aroma, malt from Germany and Champagne.
Warsteiner was founded by Antonius Cramer in 1753 and the company is now being run by the ninth generation and its first female CEO, Catharina Cramer. It is Germany's largest independent brewery, and I can't imagine any have done a better job of keeping it in the family.
Name: Winter Special Edition
Style: Vienna Lager
ABV: 5.6%
Brewer: Warsteiner Brewery, Warstein, Germany
Availability: Nationwide, from mid-October until supplies run out
For More Information: www.warsteiner-usa.com
[December 7, 2015]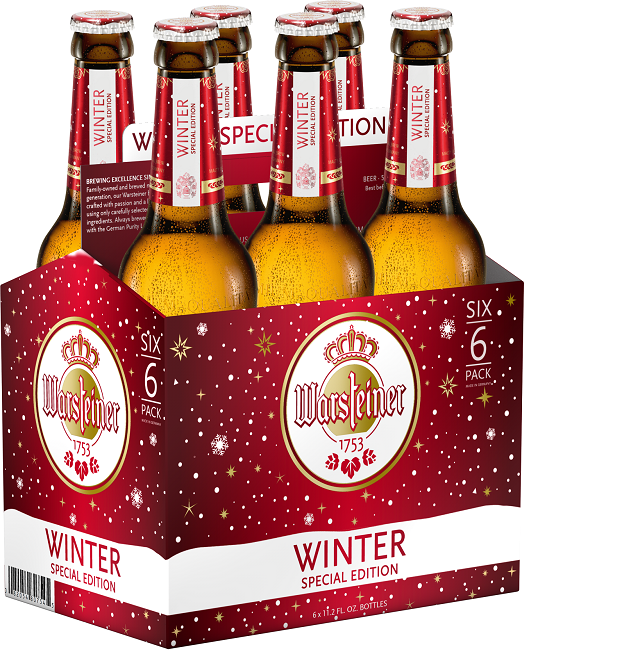 <12 Beers of Christmas 2: Jewbelation 19
12 Beers of Christmas 4: Jolly Traveler Winter Shandy>