And that's not even taking into account what might be coming this week, as a doozy of a storm is predicted for Wednesday-Thursday, and maybe another the week after. Ha, ha.
This was foreseeable, however. My wife and I just picked up a new car on Saturday, and since spring is right around the corner we decided not to buy new snow tires for what's left of the season. So massive dumps of snow were inevitable.
But whatever our meteorological problems, a brewery's reach should exceed its grasp, or what's a heaven for? Victory released this spring seasonal on February 11–and this in the same state where Punxsutawney Phil makes his dire predictions each February 2.
Brewery co-founder Bill Covaleski said the beer was inspired by the dark days of late winter when, "the crisp, dry, floral beers of summer are definitely something that you long for."
(A quick search suggests that at least eighteen breweries have had the wisdom to put out a beer sharing the name of what's really going on during the dark days of late winter: Cabin Fever.)
Covaleski said nothing about a golf swing as far as the beer's name goes, although we could interpret the title anyway we like. And there is this sell sheet shot:
To be sure, the Swing Saison would be a great beer out on the golf course. Too bad it will only last on the shelves through April, since the odds of playing around here in April lengthen with each day.
Victory has packed a lot of effort and ingredients into this session beer (4.5% ABV), and it pays off in what can only be called a charming little concoction with a real tang to it. The brewery refers to it as "jazzy" and that works—it has a real effervescence to it, an herbal and fruity palate, a nice finishing bite, and a provocation for more. Very pleasant, delicate but nuanced.
The herbal note comes from orange peel and lemon zest. I'm mainly picking up the lemon–the beer even looks lemony—and perhaps a touch of lavender. Presumably the addition of some Szechuan peppercorns and rye malt (along with the base Pilsner malt, oats and wheat) are adding to the bite along with the hops and saison yeast. Victory uses whole cone German and American hops with the Swing: Hallertau, Tettnang, Cascade, Citra, Simcoe.
In April the Swing Session Saison will begin sharing the shelves with Victory's Summer Love Ale, a beer that reigns for five months to Swing's two and a half. But then you can sometimes miss spring in Vermont by merely blinking—lo, winter has abruptly become summer. But usually there's that delightful interlude called mud season, when all the backs roads begin melting and turn into goo more treacherous than any snow-covered route.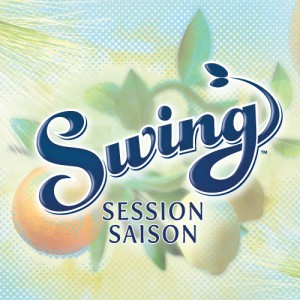 There seems to be something of a trend of new spring seasonal beers that aren't maibocks. Why, it's almost as though brewers were trying to find another reason for selling beer. And, not surprisingly, succeeding.

I've written about the successful beers of Victory before, mostly recently regarding their Winter Cheers, and have pondered the saison style in pieces on Avec Les Bon Voeux and Phobos & Deimos. No need to plow those roads again; there will be enough plowing to be done this week as is, just to get us heading toward spring.

[March 12, 2014]

Name: Swing Session Saison
Brewer: Victory Brewing, Downington, Pennsylvania
Style: Saison
ABV: 4.5%
Availability: February through April, 34 states
For More Information: www.victorybeer.com

Next Thursday is the first day of spring, which is a hilarious joke in these southern Vermont parts. After all the snow that's slid off our roof this year I'm willing to wager there will still be a patch or two left by June.