We're finally leaping across the country to the northwest, where I note there's a 40% chance of snow showers out in Bend, Oregon tonight. So maybe this beer is doing the job (considering it hit 40° earlier in the day).
No need for such supplication in these parts. We've already had two hearty snowfalls here in southern Vermont, so we can go straight to the advice on the Pray for Snow label: "Drink Beer / Stay Warm."
Easily enough done when the beer is a 7% ABV winter warmer like this one. Surprisingly for a northwest beer, Pray for Snow is malt-accented, seven different grains producing a deep amber brew with sweet caramel notes, the toffee entrance quickly giving way to a spicy bite on the tongue from noble hops. (Enough to produce 75 IBUs, though recipe details are otherwise sketchy.)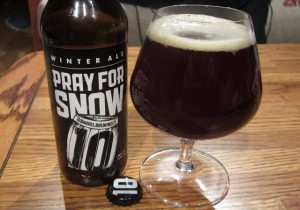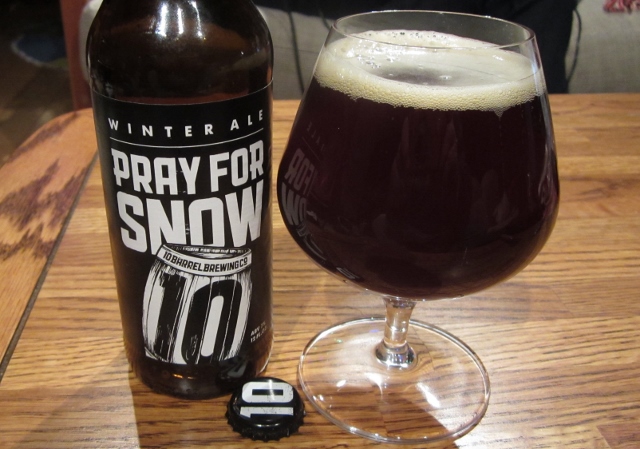 And there's not much more to say about the beer, other than, "I'll have another, please." There are no bells, whistles, spices, weird yeasts or barrels involved. (Although the brewery has been known to barrel past vintages at higher ABVs.) It's a straightforward, smooth, ample mouthful that goes down easy and seems well-suited to sipping from a snifter by a wood stove. Or at a big Pray for Snow party that the brewery throws late each fall.
I imagine it's a doozy, judging from a brief visit to 10 Barrel's busy Bend brewpub this past July (there's another in Boise, Idaho). I was lucky enough to be out there for another wild installment in The A Position's Golf Road Warriors program. The usual script is to send four writers and a videographer off to some golf-centric locale, where we play the hell out of it, and post like crazy about the golf, location, accommodations, food and drink and whatever else might be happening.
In Bend, beer is happening, so naturally we drank a lot of beer. Pretty much all of it good. (A search for Swill was also happening, noted in my report on the S1nist0r Black Ale. It turned out to be, um, interesting.)
About a week after I returned home to Vermont I found some 10 Barrel Apocalypse IPA in a local beer shop. Oregon, Washington, Idaho and Vermont—that's the kind of beer distribution I'd like to see more of—acknowledging that the Green Mountain State has some savvy drinkers, worthy of having every beer in the universe sent here. Even if we don't need to pray for snow. [Dec. 18, 2013]
Name: Pray for Snow
Brewer: 10 Barrel Brewing Company, Bend, Oregon
Style: American Strong Ale
ABV: 7%
Availability: Winter seasonal, in OR, WA, ID, and VT
For More information: www.10barrel.com
< 12 Beers of Christmas 4: Magic Hat's G-Thing
12 Beers of Christmas 6: Corsendonk Christmas Ale >