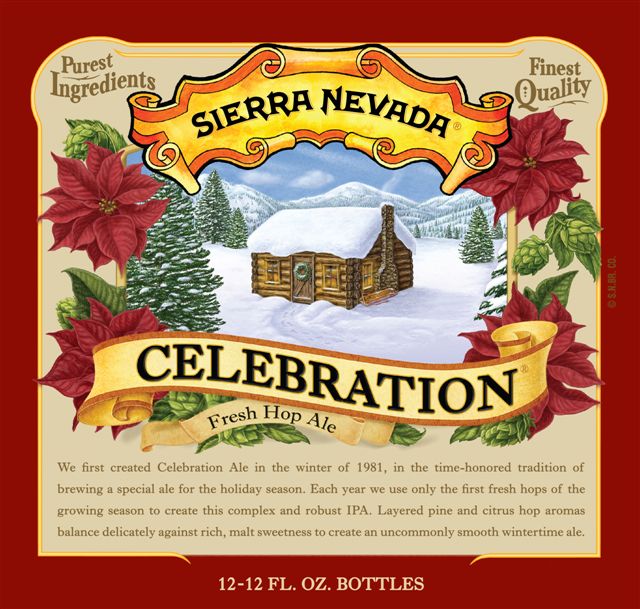 Rarely has a beer been so aptly named as this holiday offering from Sierra Nevada. Mental fireworks blossom each November when I run across it on market shelves.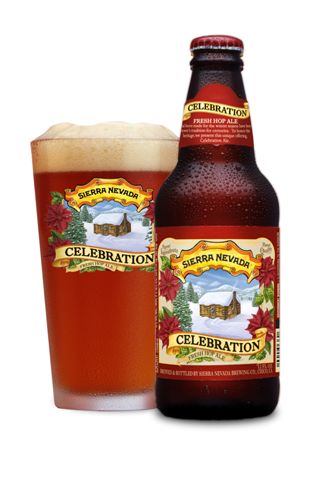 Although following the lead of Anchor Brewing, which first produced its annual holiday ale in 1975, Sierra Nevada was pioneering as well in annually producing a special winter beer since 1981, long before it became a brewing commonplace–and virtually a requirement for a brewery these days.
Unlike the product shot on the right, each bottle of the Celebration ale is dated with its vintage year. But this doesn't mean that each year is different and that collectors should be laying down bottles for vertical tastings.
I once labored under just that impression, with the further thought that Celebration was a platform for trying out new hop varieties from year to year.
Apparently I was misinformed. Last year, [2010–this piece first appeared on Dec. 6, 2011] Dan Becker of The Full Pint website approached the always approachable Bill Manley of Sierra Nevada to ask him about certain myths that have grown up around Celebration Ale. The post is still up here but the gist of Bill's remarks was that the recipe for Celebration has been unchanged since 1983. The only difference between batches would be due to the usual vagaries in hop crops.
The ale is bittered with Chinook, finished and dry-hopped with Cascade and Centennial hops, and despite any tasting impressions, has no added spices or flavorings.
But there are plenty of impressions to be found in a bottle. One is just how moreish Celebration is; it's so delicious that the temptation is to drink it by the gallon. This would not be a great idea, since at 6.8% ABV it's no shrinking violet of a beer.
A bright amber in the glass, it is wildly floral, however, as well as fruity in the nose–citrus to be sure, some spiciness, a hop lover's dream bouquet.
For those whose memories aren't quite as long as mine, I have to report what a revelation this beer was when it first starting showing up on the east coast back in the day. There was simply nothing else like it around, or nothing that could be easily found in any case. Well, Sierra Nevada itself wasn't that easily found back in the early '80s.
"Balance" is a term bandied about as a desirable goal in brewing, meaning the malt sweetness and hop bitterness have reached some grail of equilibrium. I'll buy it in this case (and by the case). Celebration Ale is the epitome of poise, with its rousing malt opening followed by a quenching hop bitterness.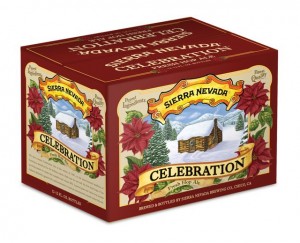 It's a beer to be reckoned with, and I reckon I'll have another one.
Name: Celebration Ale
Brewer: Sierra Nevada Brewing Company, Chico, California
Style: American IPA
ABV: 6.8%
Availability: Nationwide, winter seasonal
More Information: www.sierranevada.com
Related Posts:
Warming Up for the 12 Beers of Christmas 2017
TAP Beer(s) of the Week 49: Oh, Bring Us Some Clootie Dumpling…
TAP Beer of the Week 46: Sierra Nevada Pale Ale
TAP Beer(s) of the Week 37: Fall Classics
TAP Beer of the Week 7: Sierra Nevada Glissade
TAP Beer of the Week 2: Life and Limb