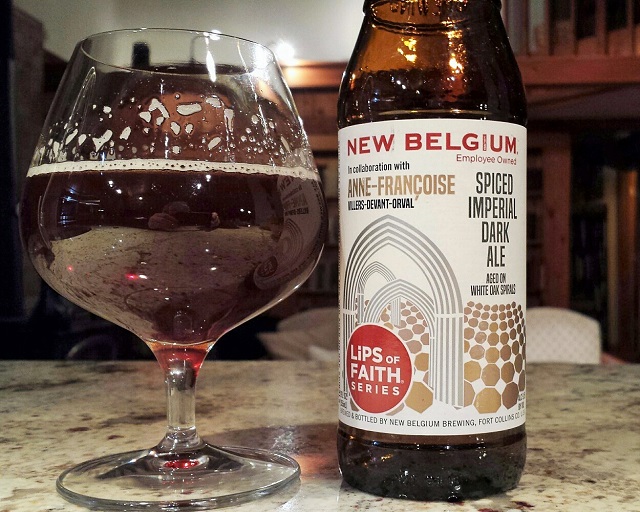 Okay, this isn't a Christmas beer per se, or even marketed as a winter warmer. But it is a winter seasonal, it's strong, it's spiced, it's made in collaboration with the brewmaster at the Orval Trappist Brewery in Belgium. So case closed there.
Orval as a beer and Villers-devant-Orval as a place are both close enough to heaven anyway in my mind. But it must be said that the beer is not an Orval production. Since New Belgium of Fort Collins, Colorado (and now Asheville, North Carolina as well) is a commercial enterprise, Orval didn't want to get mixed up in the production of the beer. But they gave their brewmaster leave, and that happens to be Anne-Françoise Pypaert, the first woman to take the brewmaster reins at a Trappist brewery, back in 2013.
New Belgium is big on collaboration, and experimentation. I just reported on the recent brew they produced not with a brewery, but ice cream makers Ben & Jerry. The Lips of Faith collaborations have been going on for years in bombers, but first appeared in four-packs earlier this year. And as part of the brewery's 25th anniversary they decided to go back to their Belgium-inspired roots with four collaborations with Belgian brewers.
New Belgium's brewmaster Peter Bouckaert is also Belgian, so this series couldn't miss. The first three offerings were a return of Transatlantic Kriek, with the Oude Beersel Brewery; a Golden Ale with Hof ten Dormaal, and a Flowering Citrus Ale with De Koninck.
Anyone who knows anything about Orval (I wrote about it earlier this year) can imagine Pypaert's kid-in-a-candy store rapture when she visited the New Belgium plant in Colorado and Bouckaert basically told her anything goes. For all of her years at Orval (and her tenure precedes her current brewmaster status) Pypaert has basically been producing one singular beer. So it's not a great surprise that, with the wraps off, a lot went into this one. Hence the somewhat logorrheic official name: Anne-Françoise Spiced Imperial Dark Ale Aged on White Oak Spirals.
Along with a roster of specialty malts (Pale, C-80, Munich, Black Prinz, Chocolate) and four hops (Nugget, Liberty, Willamette, French Strisselspalt) the brewers threw in some spruce tips and grains of paradise (last seen in these cyber pages in the Samuel Adams Summer Ale). The finished beer was aged with American oak spirals.
Out of the tumbler I poured it into came a boozy fruitcake nose, the peppery and lemony grains of paradise evident, the spruce a mere suggestion. The dark brown beer is a rich and succulent malt melange, with visions of sugarplums dancing around some low-burning alcoholic heat, with a surprisingly drying finish. But the most interesting flavor strongly suggests an ingredient that isn't even in the beer, black cherries. It's unmistakable, over-arching, and enchanting. And as far as the season goes, right on the nose.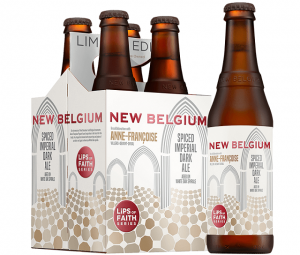 Name: Spiced Imperial Dark Ale
Brewer: Anne-Françoise Pypaert and New Belgium Brewing Co., Fort Collins, CO and Asheville, NC
Style: Spiced strong dark ale
ABV: 9.5%
Availability: Limited time, in 45 states
For More Information: www.newbelgium.com
[Dec. 15, 2016]
< 12 Beers of Christmas 2016 – 2: Great Lakes Christmas Ale
12 Beers of Christmas 2016 – 4: Spencer Trappist Holiday Ale >