We were waltzing around with a not-quite-a-Trappist ale yesterday. Today we have the genuine article. I confess (even though not Catholic, and certainly not Cistercian), that I was briefly thinking of drinking this beer all by my lonely, miserable, miserly self. It was a real Scrooge moment.
Which was literarily apt, as I was about to head off to the book group that I've been involved with since 1992, far longer than the brewery has existed at the St. Joseph's Abbey near Spencer, Massachusetts.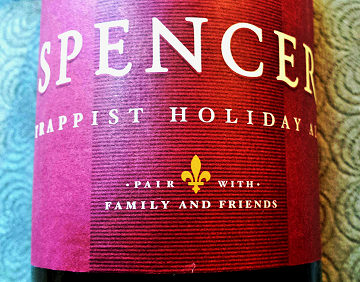 Then I looked at the bottle and right there on the front label it says, "Pair with family and friends." Not a ghostly intervention, but instructive enough, and off the bottle went with me.
Not that all of the book group crew are beer drinkers, but tonight's hosts David and Michelle Grist-Weiner were willing to give it a go and found the beer, "Rich… sweet… spicy with cloves and ginger… smooth."
Well, I quite agree. Even with sharing I had a little to bring home later and thus was able to follow the other label instruction to serve the beer at about 50 degrees. Well-advised, since that's when the spice aromas come pouring fragrantly out of the glass—cloves and ginger to be sure, but also pepper, cinnamon, cardamom.
The spices remain fairly light on the palate, but there's plenty of fruit in this dark brown elixir, too, flavors of plum and raisins. The finish is a light and lingering sweetness and the entire effect is of a rich and balanced brew, smooth and involving. In short, four beers in to this year's series, and we have a clubhouse leader.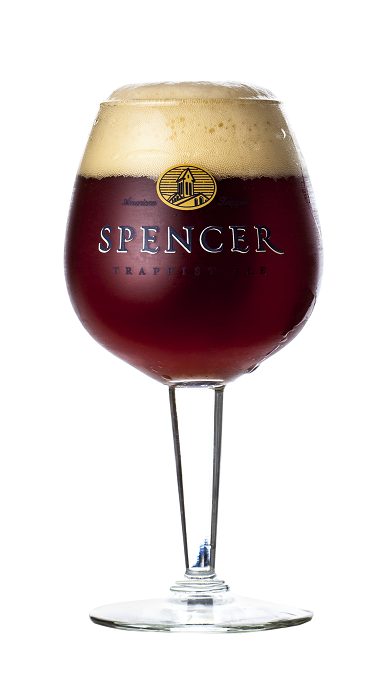 Four years after St. Joseph's Abbey established itself in Massachusetts in 1950 it began producing the Trappist Preserves line of jams and jellies. But as the community's expenses increased while the population of monks diminished (about 50 now live and work at the abbey), the bottom line was getting a little dodgy. Another revenue stream became necessary.
The brewery was long in the planning, including visiting all the existing Trappist breweries, but when it released its first beers in 2014, it was out of a 32,000-square foot state of the art brewhouse, with enough capacity that it has already done some contract brewing for commercial breweries.
It also established itself as America's first Trappist brewery. Which presupposes there might someday be a second. So I'm holding out hopes that a similar light bulb goes off for the monks of the Weston Priory, not far from me here in Vermont.
The Spencer brewery observes the code that permits it to use the "Authentic Trappist Product" logo on the beer labels—it exists under the monks' control and responsibility, and it operates not for profit, but to maintain the community and fund its works of charitable outreach.
That said, there is a lay brewmaster, and plenty of innovation elsewhere. The seasonal Holiday Ale is a little outside the Trappist brewery norm, but even more so are some of the other beers Spencer has introduced—an Imperial Stout, an IPA, a pilsner!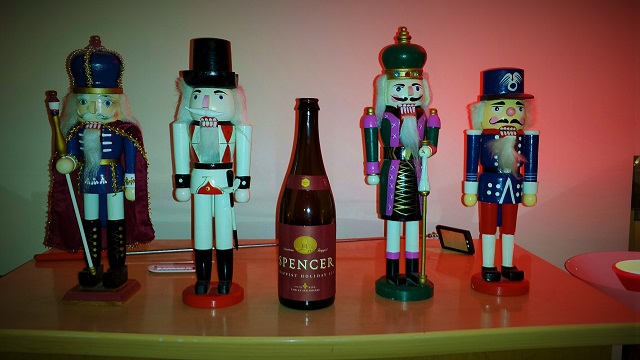 If the brewery is reaching out with such wild invention, it's still tough to find the beers beyond Massachusetts, though it has edged into New Hampshire, Ohio, and Michigan, with a few tentative forays into Florida and Georgia.
The distribution should increase over time. Meantime, considering the spirit of the season, this one is worth tracking down. Although, keeping the end goal in mind, a Spencer brew should do you no harm any time of the year and possibly someone else some good.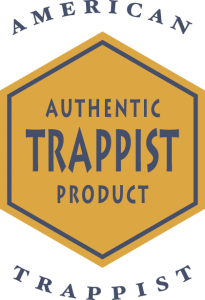 Name: Trappist Holiday Ale
Brewer: Spencer Brewery, Spencer Massachusetts
Style: Spiced strong dark ale
ABV: 9%
Availability: Seasonally, in MA, NH, OH, MI
For More Information: www.spencerbrewery.com
[Dec. 16, 2016]
< 12 Beers of Christmas 2016 – 3: New Belgium Spiced Imperial Dark Ale
12 Beers of Christmas 2016 – 5: Le Trou Du Diable La Grivoise De Noel >