[June 6, 2016]–Time to trot out another Troëg's offering, last seen here with one of the Scratch Series beers, #235, a Gose.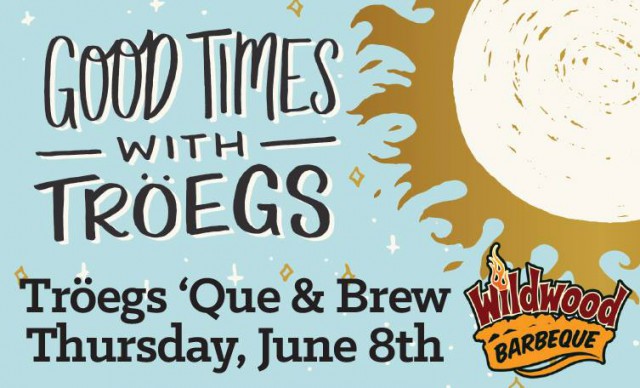 The reasoning is the same—Troëg's is once again showing up at the more or less monthly tap takeover at Wildwood Barbeque in Hadley, Massachusetts, although this time on Thursday night, June 8 rather than the usual first Wednesday, and under the rubric Good Times With Troëg's and including a variety of giveaways along with nine of the Hershey, Pennsylvania brewery's beers. Included will be two more recent Scratch Series beers–#284, a Raspberry Gose, and #276, a Farmhouse Rye. (The ongoing series is up to #299, a Weizenbock.)
Troëg's is still not being sold here in Vermont, and the Scratch Series beers are even tougher to find, so once more I picked up a quarterly Anthology 12-pack sampler in Massachusetts, managing to score the Raspberry Gose and the Crimson Pistil, which will also be on tap at Wildwood.
The Hibiscus flower is said to be a great source of Vitamin C, and have antioxidant properties that could be helpful in treating liver disease and lowering blood pressure. Perhaps it should be in all beers. Perhaps not. But anyone who has had hibiscus tea is aware of its zing.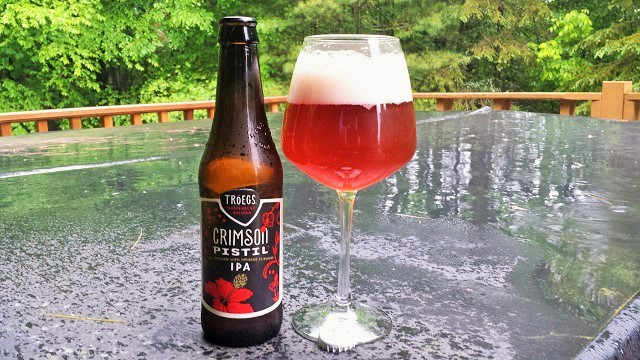 A seasonal now available through July, the Crimson Pistil is a pretty beer, a light ruby hue in the glass with a lively head, unsurprisingly floral in nature, with evident but not overwhelming hopping from Azacca, Nugget and Vic Secret, an overall appealing sweetness in the nose. On the palate it's moderately light, even a bit thin as the hibiscus tartness (think cranberry) prevails, to my mind, over the Pilsner and Vienna malts.
Nothing wrong with that, but it is a case where the favor and mouthfeel deviates from what the bouquet suggests. The Crimson Pistil is a variation on three earlier Hibiscus IPAs in the Scratch Series (#250, #245, #236), which were slightly stronger (7.3% and 7.4% ABV) than the current 6.2% and with slightly different hopping. I might have preferred those if they had a sturdier malt backbone, but I'll never know, will I?
As is, a pleasant beer, well-situated seasonally, and easy enough to look forward to trying on draft, and maybe in spring seasons to come.
I'll say the same about the Raspberry Gose, which at 5.4% is even more easy-drinking for those who like it tart and fruity, as the distinct raspberry flavor entwines with puckering lactobacillus. And if the evening threatens to become too tangy, the Troegenator Double Bock will be on tap, too.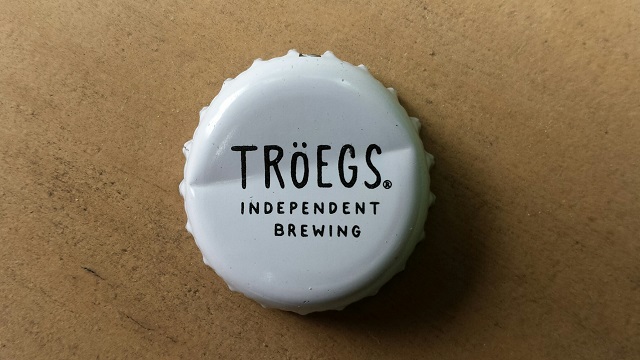 Name: Crimson Pistil Hibiscus IPA
Brewer: Troëg's Brewing Company, Hershey, Pennsylvania
Style: IPA
ABV: 6.2%
Availability: Through July, in PA, CT, NJ, NY, MD, DE, OH, MA, VA, NC and D.C.
For More Information: www.troegs.com
Related posts:
TAP Beer of the Week: Troëg's Gose (Scratch Series #235)
TAP Beer of the Week: Troëg's DreamWeaver
2013 12 Beers of Christmas 2: Troëg's The Mad Elf Ale