[As a Library Thing Early Reviewer I'm in the running to be sent books in exchange for a review. It's a bit of a lottery – you choose books from scores offered each month, and maybe one shows up, or not. This one did.]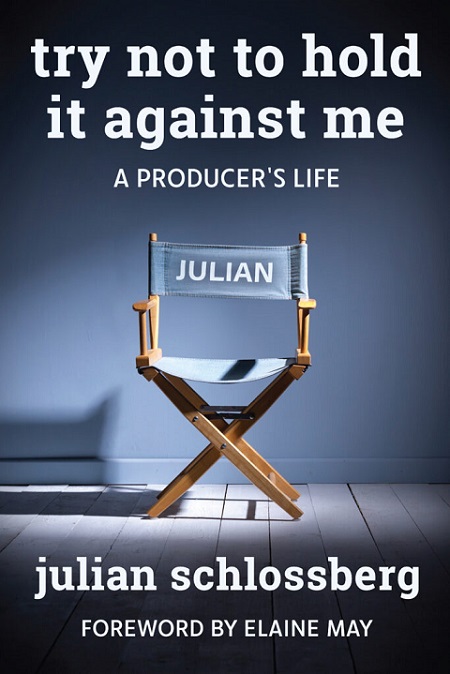 Toward the end of his memoir, Try Not to Hold It Against Me: A Producer's Life (Beaufort Books, $26.95), Julian Schlossberg admits that he once had a terrible temper, only ameliorated thanks to his current wife, Merryn. There's certainly no evidence of it in this genial reprise of his life, particularly his life in producing across the entertainment spectrum—television, films, theater, recording, documentaries.
The late Mike Nichols called Schlossberg the nicest guy in the business, which is saying something, since Schlossberg's wide-ranging career began with an entry-level job at ABC in 1964, and he's still at it 59 years later, at 81. But it's easy enough to believe after zooming though this rich anecdotal account.
As might be expected from someone with Schlossberg's breadth of experience—he has racked up Oscar nominations, Emmy nominations and has a shelf of Tonys, Obies, Drama Desks, and Outer Critics Circle Awards—he's seen it all and seems to know everyone in show business. Readers would be gravely disappointed if there wasn't copious name-dropping going on. Schlossberg does not disappoint—there's even a chapter called "Name-Droppping"—unless one is looking for real dirt.
The names may be more familiar to those angling back a generation or three: George C. Scott, Orson Welles, Sid Caesar, Steve Allen, Woody Allen, Federico Fellini, Martin Scorcese, Elaine May, Marlo Thomas, Richard Dreyfuss, Shirley MacLaine, Peter Falk and many others. But there's little score-settling or spleen-venting here, since Schlossberg seems to be friends with all of them. Particularly with Elaine May, who contributes an aptly humorous forward.
If free of spite, there are ample behind-the-scenes stories told with great relish and humor in 86 short chapters, starting with Schlossberg's upbringing in the Bronx. From an early age he was besotted with the movies, often going as a child with his grandmother and thence to the automat. (Schlossberg had me at the automat, since we had a similar early rapture: "I'm sure the food was mediocre, but not to me. I still remember… the baked beans being the greatest I ever ate.")
His mother, who naturally wanted him to be a doctor, lawyer or some kind of professional, warned him breaking into show business would be difficult and require reserves of perseverance. Schlossberg landed his ABC position after his first interview. He called his mother: "Great news, I got a job." Her response: "Shit."
Once launched, Schlossberg kept rolling along, learning the art of deal-making as he goes, with evidently more success than failure. Though Peter Falk once tells him about a production they were involved in, "If you had a little more larceny in you, we could all be millionaires."
There are a lot of moving parts in putting a deal together—a producer may juggle roles—finding investors, casting a show, dealing with agents, finding a theater, or theaters for out-of-town tryouts. Schlossberg takes us into the innards of any number of pending deals on the verge of culmination when he trots out a virtual mantra for the book: not so fast.
More often than not, problems arise when actors bow out of a project, or their agents make unreasonable demands. Schlossberg quotes a great line from casting director Stuart Howard: "You know how to make an actor unhappy? Give him a job."
Even with all parts in place, nothing is guaranteed, especially in the theater: "There's a famous saying about producing in theater: 'You can't make a living, but you can make a killing.' It's true. It's like wildcatting for oil: when you hit one, it's a gusher. But you don't hit often."
Schlossberg hit often enough to maintain his optimism and enthusiasm. He began writing the book during the pandemic, at which point he had more than a dozen projects in the works, including Witnesses to the 20th Century, a 14-hour series examining the major historical events of the last century though interviews with those who made the history.
He says he'll never retire. Could it mean a sequel might be in the works? I wouldn't hold it against him.
[May 15, 2023]