[Oct. 26, 2016]–Why, when I was out at the general store today, did I not think to pick up some Ben & Jerry's Chocolate Chip Cookie Dough ice cream, the best-selling flavor of Vermont's ubiquitous brand?
Because I'm forgetful, for one. And because pairing beer and ice cream isn't really my thing, even if the beer in question is this one, inspired by Ben & Jerry's Chocolate Chip Cookie Dough ice cream.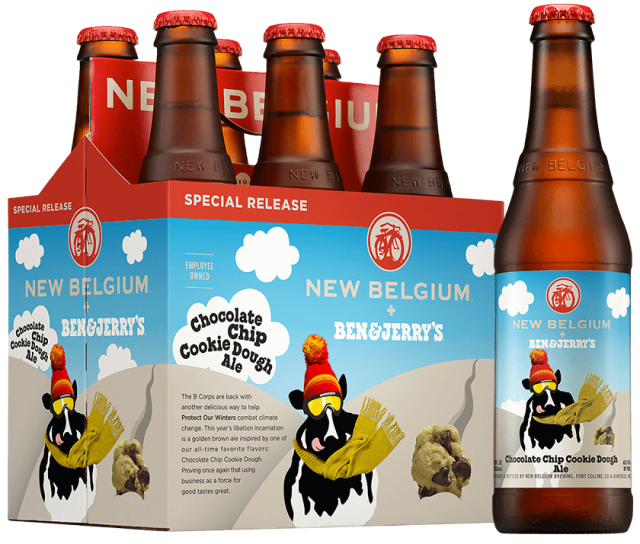 "Inspired" is the key word here. The New Belgium Brewing Company didn't dump any ice cream into the mash tun in making this beer, the second collaborative inspiration between the two B Corporations (certified socially responsible corporations). Last year it was Ben & Jerry's Salted Caramel Brownie Brown Ale, which I never did get a chance to try.
It's a bit of an oddity that a "Ben & Jerry's" beer isn't available in Vermont, since the state is the spiritual home of the brand—and the actual home of the actual Ben Cohen and Jerry Greenfield—even if the company is now owned by Unilever. The Ben & Jerry's plant in Waterbury, Vermont, is one of the state's top tourist attractions; it's almost a law to stop in for some ice cream if you're nearby.
And while there's plenty of good beer to be found in Waterbeery, there isn't any at the Ben & Jerry's plant, and New Belgium is not distributed in the state. But that's an oddity that probably won't long prevail. New Belgium is now in 45 states, and with its new east coast brewery in Asheville, North Carolina up and running since May, it's only a matter of time.
But in the meantime I requested a sample from the brewery and a couple of bottles arrived a couple of days ago, about the same time that the beer started showing up on local television channels. In the few clips I saw the reporters were all trying the beer with the ice cream; clearly they have better memories (or a better staff).
As a stand-alone brew the beer is surprising in that it isn't that surprising. I was expecting to be mildly horrified by it, anticipating a novelty beer of sickly sweet constitution, that aimed to go over the top and succeeded. (Southern Tier's Pumking comes to mind.) Instead, I was charmed by the understated quality of the beer.
Sweet it is, but not cloyingly so. Rather it's a pleasant blonde ale brewed with chocolate, vanilla and brown sugar, with plenty of bittersweet chocolate notes (like popping open a tin of powdered cocoa), and a vanilla wafer (think animal crackers) nose. The flavor is similar, with a distant hint of melon rind toward the finish. It's medium in body and mildly bitter. Not one you'd want to pair with pizza, perhaps, but there's always the ice cream option.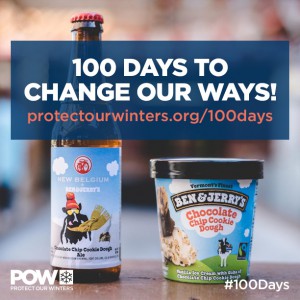 On one hand it's a beer that's just having fun. But on the other hand, both companies see it as chance to raise money again this year for Protect Our Winters (POW), a group of outdoor athletes and enthusiasts advocating for climate change awareness. The beer is part of a "100 Days to Change Our Ways" campaign that aims to get the incoming Presidential administration to make combating climate change a priority within its first 100 days in office.
If, God forbid, that new administration is headed by Donald Trump, the 100 Days plan would have about as much chance as a snowball in Hell. With the first woman President, there's at least a likelihood of getting an iron in the fire. Meanwhile, raising a pint of the beer will funnel some funds toward the effort, and a variety of events around the country are in the works as well.
In the nit-picking department, this anomaly: By any standards, this is a blonde ale. Golden, if you want to stretch it. All the company propaganda about the beer describe it as a blonde ale. But when I listed the beer on the Untappd app last night it had it listed as a brown ale. I suggested an edit. Today I took another look at the bottle label, and danged if it doesn't have it described as a brown ale, and on the six-pack holder as a golden brown. Which is clearly oxymoronic.
No doubt some subaltern copy writer at New Belgium has been running for cover, ever since he or she took a look at last's year label copy (which accurately described a brown ale) and neglected to change the adjective in question. Proofreaders also also appear to have snoozed through the job, and once the label was given its federal approval the company must have figured what the hell, who's going to notice?
Well, in the grand scale of things, it doesn't measure up to climate change.
Name: New Belgium + Ben & Jerry's Chocolate Chip Cookie Dough Ale
Brewer: New Belgium Brewing Co., Fort Collins, CO and Asheville, NC
Style: Blonde Ale
ABV: 6%
Availability: Limited time, in 45 states
For More Information: www.newbelgium.com