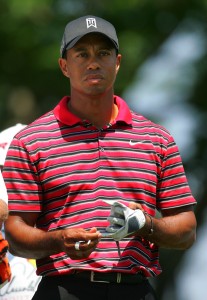 Here at The A Position we're given a topic to address (or not) each month for The A List feature, and the September challenge was to expose the holes in golf's bucket list.  We even enlisted the guest services of PGA Tour player Duffy Waldorf, who said playing in the Masters isn't all it's cracked up be.
Click here to see what golf shibboleths Duffy and my colleagues decided needed toppling. My contribution follows, with the only further thought that I wouldn't mind teeing it up with Duffy, either.
***
"Hi, Tom, it's Mark Steinberg. I have a slot open for you to play a round with Tiger Woods and wonder if you can make it?"
Okay, Tiger's agent isn't going to be calling me any time soon, but you know what, Steiny? The answer is no thanks, anyway, because I'm certain there'd be precious little in the way of authentic invitation behind such an offer, yet a storehouse of calculation.
I've played with Ernie Els, David Duval, Loren Roberts, Matt Gogel, 2005 U.S. Women's Open champion Birdie Kim and other pros. And, in what remains my greatest thrill in golf, I lucked into a full 18 at Bay Hill with Arnold Palmer, and tipped beers with him in the locker room, too. So I've had my share of rubbing shoulders.
But do I want to play with the greatest golfer of them all? Sure, if Nicklaus calls, I'm ready.
[Click here to see a review of "The Swinger" and here for a piece about Tiger during the scandal.]