[Updated Dec.6, 2021]–I guess I can retire this piece now, as it appears to have done its work! Gil Hodges made it to the Hall of Fame thanks to the Golden Days Era Ballot mentioned below. And he's in with a bumper crop: Buck O'Neil, Minnie Minoso, Jim Kaat, Tony Olivia, Bud Fowler. Dick Allen missed by one vote, and the other bridesmaids were Ken Boyer, Roger Maris, Billy Pierce, Luis Tiant, Maury Wills and manager Danny Murtaugh.
It sure took long enough, but nice to see there is some justice in the baseball world. And the icing on the cake is that Gil's widow lived to see the deed done. 
<<<>>>
[Updated Nov. 29, 2021]–In the 1952 World Series, which the Brooklyn Dodgers lost to the New York Yankees in seven games, Gil Hodges went 0 for 21. His slump continued into the 1953 season. By May 23, he was batting an anemic .181. One Sunday during the slump a priest arose in St. Francis Roman Catholic Church in Brooklyn and said, "It's too hot for a sermon. Just go home and say a prayer for Gil Hodges."
Hodges was so beloved a player for the Dodgers that fans likely did just that. Clem Labine, Hodges' Brooklyn teammate, said, "Not getting booed at Ebbets Field was an amazing thing. Those fans knew their baseball, and Gil was the only player I can remember whom the fans never, I mean never, booed."
A minor boo to my friend, Dan Shepherd, who "gave" me Gil Hodges in a recent Facebook flurry to break up incessant political posts with portraits of baseball players. The problem being that it isn't enough to merely praise Hodges as a slugging and fielding star for the great Brooklyn Dodgers teams of the late 1940's and mid-1950's. Or to remind people that he was at the managerial helm in 1969 when the New York Mets first became amazing—in a good way—and won it all.
The problem is it necessitates asking the titular question. Yes, I have obvious bias in Hodges' favor, as a born Brooklyn Dodgers fan who, like many, became a die-hard New York Mets fan after the Bums skipped town. There's no question in my mind that #14 should be in the Hall.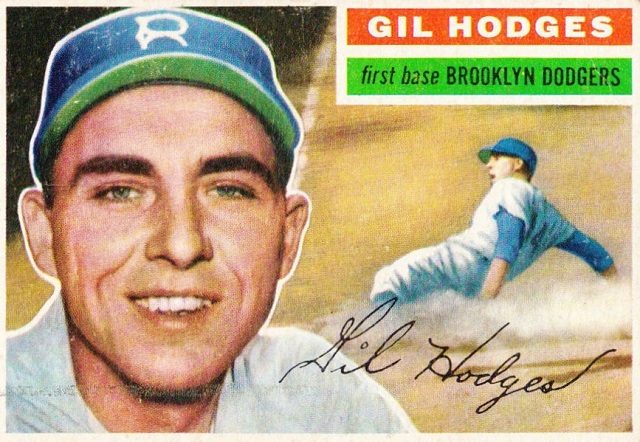 But I know I'm not alone in feeling that. Dozens of baseball scribes have campaigned for Hodges for years, pointing out not only his statistical accomplishments, but his exemplary character and leadership.
Tom Clavin and Danny Peary, co-authors of Gil Hodges: The Brooklyn Bums, the Miracle Mets, and the Extraordinary Life of a Baseball Legend, wrote: "His absence in Cooperstown is arguably the worst miscarriage of justice by the voters in the history of the Baseball Hall of Fame."
On the all-time home run list Hodges' 370 career round-trippers puts him ahead of Ralph Kiner, Joe DiMaggio, Yogi Berra, Johnny Mize and others in the Hall. From 1949 to 1959 he averaged 30 homers and over 100 RBIs a year, and was the only player of his era to drive in over 100 runs for seven straight seasons. He was an eight-time All Star. He received three Gold Glove Awards as a first baseman and would have had more, but the award didn't exist until he won it for its first three years!
New York Times writer Dave Anderson once said of Hodges, "I don't know how many columns I've written supporting Hodges' induction into the Hall of Fame. If you saw him every day you knew he was a great player and a Hall of Famer."
I did get to see Hodges play—as a Dodger in Ebbets Field and the Polo Grounds, and in the twilight of his playing career with the Mets, again at the Polo Grounds in the first two Met seasons of 1962 and 1963. Along with Pee Wee Reese and Jackie Robinson, he was one of my favorite Dodgers. And I was at all three World Series games at Shea Stadium in 1969 when Hodges pushed the Amazins to the title.
In my one summer of playing little league baseball—what was supposed to be a two-week visit to my cousins' in New Jersey that stretched out over the entire summer—I played first base. I cut off the sleeves of my uniform in Ted Kluszewski style (a name my Aunt Ruth never could get her mouth around), but the taped number on my back was 14.
I was editing a magazine about Brooklyn years after Hodges died unexpectedly at age 47 from a heart attack. The publisher and I went to a luncheon one day that was part of a dedication of a Gil Hodges baseball field in Brooklyn. His widow, Joan, was there. The publisher was not, by a long shot, a baseball fan. He was introduced to Joan and said, "How is old Gil, anyway?" Not sure I've ever seen such a blank look on another person's face.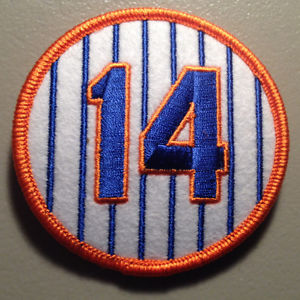 Joan Hodges is still alive at 95 and no doubt still holding out hope that Gil might make it into the Hall. This year could indeed be his chance. Hodges is one of ten finalists on the so-called Golden Days Era ballot that will be considered by a committee of Hall of Famers (Mike Schmidt, Rod Carew, Ferguson Jenkins, John Schuerholz, Ozzie Smith, Joe Torre) as well as some baseball executives (Bud Selig) and writers.
Hodges will be battling it out with Dick Allen, Ken Boyer, Jim Kaat, Roger Maris, Minnie Minoso, Tony Oliva, Billy Pierce, Luis Tiant, Maury Wills and manager Danny Murtaugh. Results will be announced live on the MLB Network on December 5 at 6pm ET. If there's any justice in the baseball world, we won't have to ask the question anymore.