The master of sports participatory journalism, the late George Plimpton no doubt remains best known for Paper Lion, his 1966 account of strapping on football gear and hanging out with the Detroit Lions. It was not the first time Plimpton tried to play with the big boys; his 1961 Out of My League recounted his shaky stint on the mound in an all-star exhibition baseball game.
Fish Out of Water might have been as apt a title, but Plimpton's self-deprecating reports of his various failures proved to be a winning formula and he repeated it in terms of boxing, hockey and, thankfully, golf. Just as fortunate is that Little, Brown and Company has seen fit to reissue seven of the sports books, including The Bogey Man: A Month on the PGA Tour ($20).
Each book has a new introduction by the likes of Bob Costas, Mike Lupica, Jane Leavy and in this case, Rick Reilly, but they all say the same thing in different ways—Plimpton may not have fared well on the fields of sports, but he sure knew what he was doing in literary terms.
Plimpton labored in the era of New Journalism, which in today's terminology is called Creative Nonfiction. It's not that he's making it up. (Well, he is making it up in some clearly imaginary episodes.) He's just embellishing the facts with literary touches. In short, he write less like a journalist and more like a novelist. He's telling a story, and mostly an hilarious one.
The subtitle is slightly misleading. Plimpton played in the two California tournament-length pro-ams of the day, the Bing Crosby and the Bob Hope, and a single-day pro-am of the Lucky International tournament in San Francisco. That was the extent of his month, but he milks it for all it's worth, relating tales about antique golf literature, stories of golf hustlers, golf superstitions, the yips, ripe talk from the caddie yard and the cocktail lounges and, in the end, having an audience with the King, Arnold Palmer.
The book first appeared in 1968, nearly a half-century ago, and part of the pleasure of the book now is its quaint references to the way things were then—before Palmer was even known as the King, when the PGA Tour still had 20 Monday qualifying spots and ridiculously low payouts—cultural references that young readers will most likely find mystifying: Ogden Nash, Fred Gwynne, Marlboro Country. Heck, even Bing Crosby may be a stretch. But that shouldn't be a deterrent, since the good writing and humor here are timeless.
<<<>>>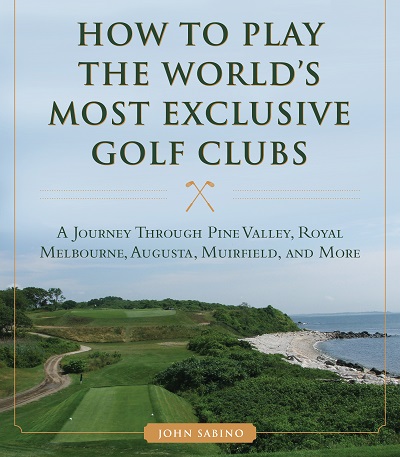 I suppose it could be said that John Sabino has offered up some participatory journalism as well in How to Play the World's Most Exclusive Golf Clubs (Skyhorse Publishing, $17.99), an account of his successful attempt to play the world's top 100 courses, based on Golf magazine's 2003 ranking. In that sense the book earns its subtitle, "A Journey Through Pine Valley, Royal Melbourne, Augusta, Muirfield, and More."
And the best parts of the book are its anecdotal moments, when Sabino relates the tribulations of trying to get onto a particular course, or when he relates stories of other, earlier players who went all out in pursuit of a top 100 goal.
But Sabino's actual accomplishment may be in producing the world's first golf instruction book that doesn't mention a word about how to play the game. It's solely concerned with the where to play.
The author, clearly a success in the financial services industry, sort of gives it all away in the opening chapter: "All you need is the time, the resources, and the connections." Well, yes, but Sabino then manages to elaborate for 234 pages, and never completely counters his own embedded quibble:
"From those in the critic category, I can hear the howls rising. This spoiled prima donna is writing a book to show other fat cats how to do something elitist; how obnoxious. Maybe…." Maybe, especially when Sabino notes that only about 30 others have accomplished the feat, "roughly equivalent to the number of men who have been to the moon."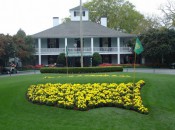 It may ultimately be easier to get to the moon than play a round at Augusta National, the elusive holy grail for those pursuing such life lists. We know Sabino makes it, but how is the tease he withholds until late in the game, and then devotes two chapters to the experience.
I certainly recognize the desire to play some of the world's great courses and the satisfaction that can be had in completing a quest, even one that may have no more consequence than fun. But I have to admit I never quite made it past the premise. Simply put, despite all the advice in the book, most people aren't going to find the time, resources or connections to put any of it to use, unless in small doses.
That said, Sabino is a decent enough writer and an excellent photographer. His many course and clubhouse photos are splendid, if unlikely to cushion any sense of envy.
<<<>>>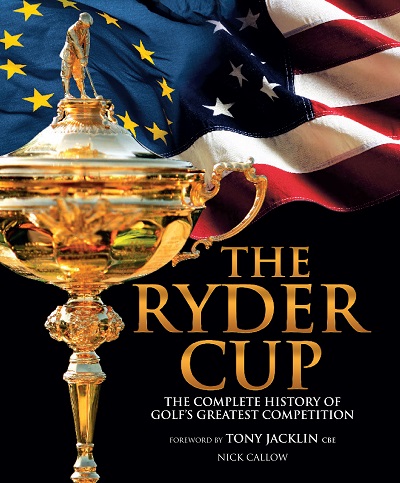 Speaking of envy, how badly do you suppose the U.S. wants to get its hands back on the Ryder Cup, hoisted in victory? That's exactly what the U.S. teams have been unable to do since 2008, and the 2014 debacle is still remembered mostly in distaste. Well, on this side of the Atlantic, anyway.
Despite his best attempts to remain journalistically objective author Nick Callow, based in London, has a somewhat more benign view of the last Ryder Cup. No matter, because in his The Ryder Cup: The Complete History of Golf's Greatest Competition (Carlton Books, $39.95) you'll learn that the trophy doesn't actually take that much to hoist—it's a mere 17 inches in length and weighs all of four pounds—all you have to do is win the biennial competition.
You'll learn a lot more from this volume, too, now in its third edition and presumably evergreen, as long as it's updated every two years. The book is chockablock with photos from every tilt, player profiles (called "Ryder Cup Legends"), sidebars and statistics galore. It's particularly strong on the early history of the matches, though understandably more expansive on the 21st century clashes.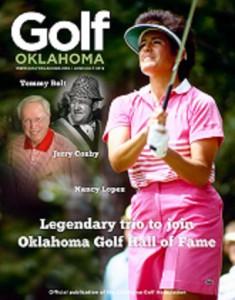 There have been some wonderful overviews of the Ryder Cup in the past. I was particular fond of the 2004 David Feherty's Totally Subjective History of The Ryder Cup, suffused as it is with as much humor as history. But Callow is more cleverly up to date, and this should serve as an able textbook for Ryder Cup 2016.
Players for U.S. captain David Love III and European captain Darren Clarke will tee off in the opening round at Hazeltine National Golf Club in Chaska, Minnesota on September 30. Later on Sunday, October 2, someone will be pressing four pounds.
This piece originally appeared in the June-July 2016 issue of Golf Oklahoma magazine, in slightly different form.