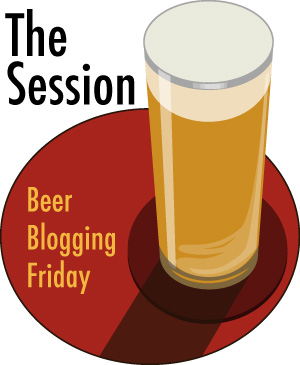 "What I dream of is an art of balance"
–Henri Matisse
How often have we heard "balance" applied to a glass of beer, with a goal of of some near-mystical equilibrium between malt and hops? The analogy seems to hold even considering Matisse's full quote:
What I dream of is an art of balance, of purity and serenity, devoid of troubling or depressing subject matter, an art which could be for every mental worker, for the businessman as well as the man of letters, for example, a soothing, calming influence on the mind, something like a good armchair which provides relaxation from physical fatigue.
Many brewers would be happy to produce a beer with similar characteristics.
But I don't think balance in a beer was really what Bryan Roth of This Is Why I'm Drunk was looking for in The Session #74, as much as how we balance beer in our lives.
To me, it feels pretty easy. Others, like my wife (to pick the most obvious candidate), might suggest otherwise, especially when I press another beer on her to taste, when she'd rather just drink her martini, thank you very much. Or when she hears me request yet another non-frosted glass in a restaurant, or suggest to the waitress that there really should be a beer list as well as the wine carte.
I began my writing life as a generalist, crafting nonfiction articles for magazines about anything and seemingly everything. My curiosity about beer always extended beyond the mere drinking of it, so as the craft brewing industry took its first tentative steps in New York City I wrote my first article about beer in 1985. It gradually became my specialty.
And while I've never really stopped, something went out of me after 1999, when I finally wrote a piece I'd yearned to do, about a tour of all the Belgian Trappist brewers then extant. I sort of felt I'd climbed all the hills I'd wanted to climb.
I was wrong, of course, but also under the influence of a new passion, a return to the world of golf. My wife (again) says I pick up and discard passions easily but while in the throes, I'm all in. There's evidence to support this. There is the unused enlarger and notebooks of photographic negatives. There sits the dust-laden guitar. There are the antique running logs. There is even, closeted, my long-dormant homebrew gear. (But some passions never fade—for books, music, film, baseball, beer itself.)
I figured if following my passion had worked for beer it should for golf, and so I started writing about that. What I didn't know was that golf would pretty much take over the professional landscape. There were even a few years in there where I didn't write about beer at all.
But I missed it, and had been doing diligent field research all along. I had downed many a brew with golf editors, so more beer stories starting showing up back on the schedule, frequently for golf publications. I'd come around in an odd full circle, and these days serve both masters happily enough.
Beer is a central part of my life, no question. I often joke that if I lose my liver they might as well put a bullet through my head. It is a joke; but life would lose quite a bit of its luster if I couldn't continue to revel in the many and varied pleasures of beer. Life without beer? It would be a life out of balance.
The Session is a monthly effort where beer writers around the interwebs respond to a topic question. This is the 74th installment, so it's been going on for quite a while. The list of responses this month can be accessed at This Is Why I'm Drunk.
Related posts: The Session posts