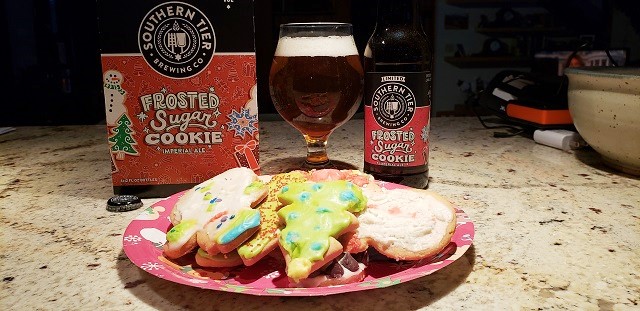 Up at the crack of dawn to head over to a local DMV office where the Vermont Department of Health was handing out free COVID test kits, two per car, in an amazingly efficient, if somewhat lackadaisical way in that no ID or medical info was asked for or taken. Well, okay. We'll take the test tomorrow, five days out from our exposure.
I exposed myself to another strong ale, like yesterday's Ommegang's Everything Nice, minus the Belgian yeast, and it suffers at least from that comparison.
Southern Tier of Lakewood, New York has shown up in these cyber pages before, including the 2Xmas in the very first 12 Beers of Christmas in 2012. As with its most famous beer, the somewhat notorious Pumking Ale, Southern Tier is a sort of take-no-prisoners brewery. If they're going to make a beer called Frosted Sugar Cookie you can bet they're going all in to try and make it taste like a frosted sugar cookie.
To that extent, they succeed admirably. There is indeed a sweet, doughy, buttery aroma to the beer, a clear, burnished golden brew with a mild white head. There aren't any spices in the mix, but 2-row Pale Malt, flaked oats, lactose and natural vanilla flavor, with Columbus hops. There's a creamy mouthfeel, a distinct sweetness, that buttery note and plenty of vanilla. There's no impression of the strength, which is a hefty 8.6% ABV, so this is no confectionery trifle.

It's a well done beer, but the prevailing sweetness may be too much for some. Before I'd even had the beer I noticed a friend on the Untappd beer app had just had the beer yesterday. Tom Birkaveli rated the beer two out of five stars, and his succinct comment about the beer was: "Pass."
"Uh oh," I replied, "that's my #12BeersofChristmas pick for tonight."
"This one just tasted unnaturally sweet to me," he wrote. "Hopefully you like this more than I did! Cheers!"
I don't rate the beers I list on Untappd; I've always thought life is too short to take the time to think about that every time I have a brew. I pretty much put them in there just for inventory purposes. But if I did rate Frosted Sugar Cookie I suppose I'd give it three stars, figuring the beer is pretty much exactly what the brewery intended.
But I'm really with Tom in that the beer is just too sweet for me, and one's tolerance for sweetness will probably predict if the beer works for them. It's similar in that way to Pumking, another sugar bomb that I've often said tastes like pumpkin pie with the whipped cream. Many can't stand it. Others love it. I have one about every other year.
I'm not at either extreme with the Frosted Sugar Cookie, but it's not a brew I'd particularly seek out again. I confess I had it while eating one of the frosted sugar cookies shown in the photo above. I preferred the cookie.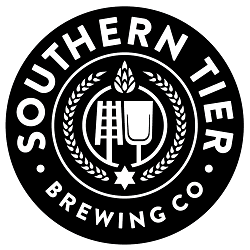 Name: Frosted Sugar Cookie
Brewer: Southern Tier, Lakewood, New York
Style: Imperial Ale
ABV: 8.6%
Availability: Limited release, more than 30 states
For More Information: https://stbcbeer.com/
[December 28, 2021]
< 12 Beers of Christmas 9: Ommegang Everything Nice
12 Beers of Christmas 11: Greater Good Gingerbread Ale >