[As a Library Thing Early Reviewer I'm in the running to be sent books in exchange for a review. It's a bit of a lottery – you choose books from scores offered each month, and maybe one shows up, or not. This one did.]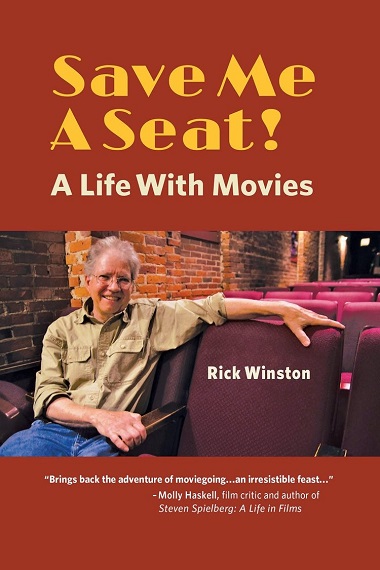 Rick Winston grew up in suburban New York, the son of art teachers with a penchant for movies, and they inculcated him early. In his memoir, Save Me a Seat!: A Life With Movies (Rootstock Publishing, $18.99), he recalls seeing Rear Window and his first foreign film, Mr. Hulot's Holiday, at age 7.
His life course was pretty much set right there, along with help from Channel 9—WOR-TV—which broadcast "Million Dollar Movie," a show which programmed the same movie twice a night for a week and three times on the weekends, as best as I recall.
Like Winston, I grew up in suburban New York about the same time, and "Million Dollar Movie" was a godsend for burgeoning film buffs. We could hone our teeth on the original King Kong or its knockoff, Mighty Joe Young (starring Robert Armstrong from Kong and a young Ben Johnson).
With so many repeated showings some of the films became embedded deep into the old brainpan (I have a sudden urge to re-watch William Powell and Ann Blyth in Mr. Peabody and the Mermaid). It certainly made it easy to remember every song from Yankee Doodle Dandy or The Jolson Story, weep at the end of Gunga Din and begin to appreciate tougher war film fare like The Purple Heart, A Walk in the Sun or Home of the Brave. It may be why some of us of a certain age still appreciate a good black and white film, too.
Winston managed to turn it all into a career, if somewhat haphazardly at first after moving to Vermont in the early '70s. He began by helping to select films for Sunday night showings at Goddard College, though the only title he now remembers is East of Eden with James Dean: "I recall wondering as [it] unspooled if its long-ago setting (Salinas, California, in 1915) and its heart-on-the-sleeve emotionality made it a wise choice for (I'm guessing) a predominantly stoned audience."
But it was an urge to see some of Stanley Kubrick's early works (Lolita, Paths of Glory, Dr. Strangelove…) that led Winston into creating the Lightning Ridge Film Society, which began in 1973 at the Montpelier Pavilion Auditorium with a showing of the British horror thriller Dead of Night (and later in the season, Kubrick's The Killing).
The Society lasted for eight years, giving way to a more ambitious venture, the Savoy Theater on Main Street in Montpelier, Vermont's capitol city. With a partner, Gary Ireland, Winston opened the theater in January of 1981, showing Casablanca, which it would often run, for free, in subsequent anniversary years.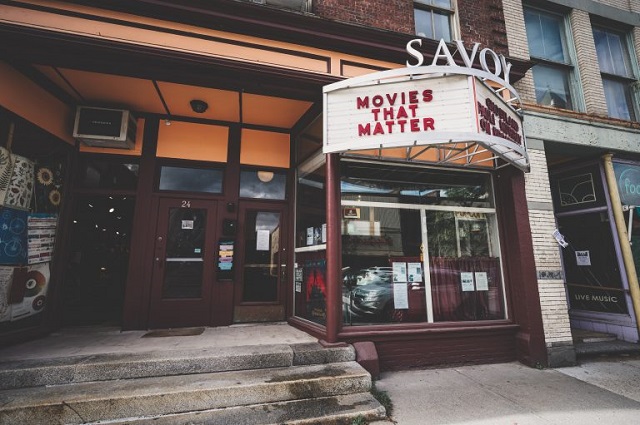 Ireland departed in 1999, and Winston's wife, Andrea Serota, came on as a full partner in the theater and what had become a spin-off venture, Downstairs Video (unsurprisingly, in the basement below the theater). They kept at it until selling in 2009, and the Savoy Theater is still up and running today, with its mix of independent films and international fare, and the annual Green Mountain Film Festival, which the Savoy began sponsoring in 1999.
Not to say it was all an uphill trajectory. There were plenty of vicissitudes along the way (if not a fire, a flood), and Winston details it all in a genial tone, with a dozen chapter breaks he calls "trailers" that highlight some of the pertinent films in his life, the theater's life, the festival's life. Scores of film personalities (directors, critics, musicians) also make cameos in the plethora of anecdotes to feast on here.
Now 76, Winston is still at it, in terms of classes and talks he leads, in person and on the internet. Clearly, he found it at the movies, and he makes it all sound like he's really had a wonderful life.
[June 20, 2023]