[Sept. 6, 2016]–It's not standard operating procedure around here to be drinking double IPAs in mid-afternoon, but I made an exception today because 1) I stopped by Lefty's Brewing Company in Greenfield, Massachusetts this morning and spirited this brew away,  2) it's the toughest of their beers to find elsewhere, and 3) it will be available tomorrow (Wednesday, Sept. 7) at another Lefty's tap takeover at Wildwood Barbeque in Hadley, MA.
This is at least the third time that Lefty's has commandeered the taps at Wildwood, but probably the fourth, as I recall missing a Halloween party they were largely responsible for, too. But I'll be pouring tomorrow night and if past Lefty's appearances are any indication it will be a fun night, with a good portion of the staff showing up as well.
I caught three of the brewers in the act today, from lefty to righty: Chris Fontaine, head brewer; Chad Champoux and Nate Dibble.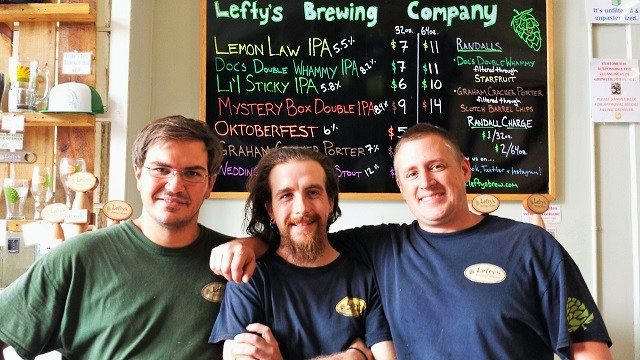 Six of the eight beers on tap tomorrow are year-rounders, including the previously reviewed Irish Style Stout. I also reviewed the seasonal and infamous kitchen sink of a beer, the Big Brekkie Breakfast Stout (where an overview of the brewery's history can found), but its season is not yet upon us. Oktoberfest is, so that will put in an appearance.
As for the Mystery Box IPA, it's the fourth in a series of experiments with highly hopped and dry-hopped double IPAs and, Chad said, the last. "We fooled around until we found one everyone seemed to like." Include me in.
It's not as though Lefty's has been lacking in IPA offerings, though its regular IPA and Doc's Double Whammy IPA are maltier English-style IPAs, not dry-hopped. But the Mystery Box offerings have been flying under the radar, not even appearing on Lefty's website, available only at the brewery and a few select draft accounts. I neglected to ask (or forgot the answer) as to whether it's going to be a year-round offering, but one can hope. (I'll clear that up tomorrow night.)
With a creamy head and deep copper, nigh unto brown hue, the Mystery Box earns its double IPA moniker with an 8.4% ABV. Yet the beer is not an exceedingly bitter hop bomb, at a mere 84 IBUs. Rather, it's well-balanced between alluring tropical fruit aromas (a veritable fruit cocktail bowl courtesy of the Azacca, Galaxy and Citra hops), and a firm malt backbone, with barely a hint of alcoholic burn. It may be a bit too moreish for such a hefty ale, but forewarned is forearmed.
Lefty's is still distributed only in Massachusetts, luckily within striking distance for those of us in southern Vermont. With a five-days-a-week brewing schedule and what looks to be a jam-packed brewery, I would have to guess that some kind of expansion may be on the horizon, or at least keeping owners Bill and Melissa Goldfarb in a state of ongoing contemplation.
Meanwhile, I just came up with 4) another reason to be drinking this afternoon, celebrating my wedding anniversary. Tomorrow night can fend for itself.
Name: Mystery Box Double IPA
Brewer: Lefty's Brewing Company, Greenfield, Massachusetts
Style: Double/Imperial IPA
ABV: 8.4%
Availability: Massachusetts only, year-round (?)
For More Information: www.leftysbrew.com