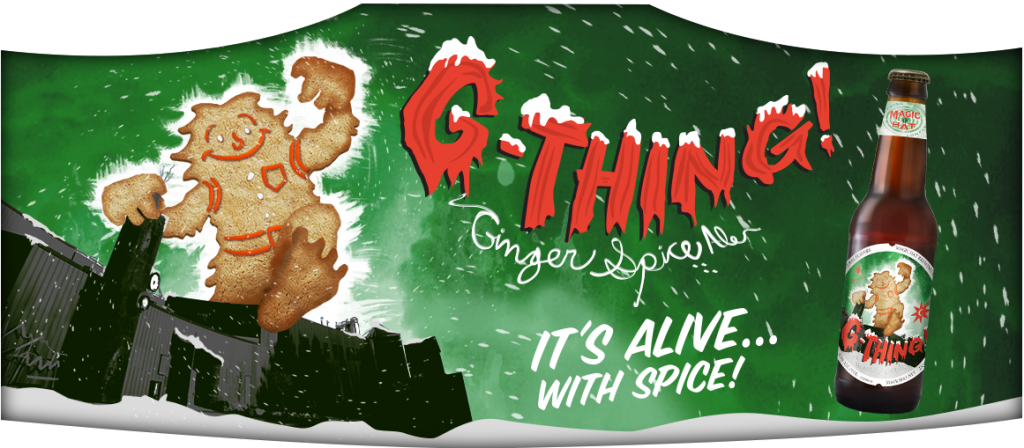 G-Thing only rhymes with G-String. Get your minds out of the gutters and back into the beer glass where they belong. And I promise I'll get off my east coast bias as soon as possible. (Though Magic Hat does make it out as far west as Colorado.)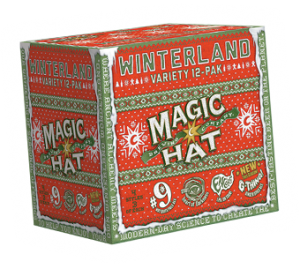 Though I pretty much put the kibosh on Magic Hat's Wooly as part of last year's Twelve Beers of Christmas, the Vermont-based (if no longer Vermont-owned) brewery remains persistent. It sent me two bottles from this year's 12-bottle Winterland Variety Pak, the Heart of Darkness Stout and G-Thing, a ginger spiced ale.
There are also three bottles each of Encore IPA (a 6.4% Wheat IPA) and the ubiquitous #9 (5.2%).
By my calculations this means if you buy a 12-pack you'll have nine drinkable beers, and you won't have any trouble giving away the three bottles of #9, the brewery's most popular beer. (See last year's entry for background on Magic Hat.)
Of course, it will help with the G-Thing if you like ginger, and cinnamon, which I do. All bets off otherwise. The ginger character comes from the addition of ginger juice, along with six malts (Pale, Caramel Vienna, Caramel Munich, Victory, Chocolate, Wheat), Magnum and Northern Brewer hops, an English ale yeast, and some cinnamon.
It's a deep mahogany brew, brimming with ginger aroma. I had a real sense memory thing going on when I took my first whiff of G-Thing. It reminded me of some kind of chewy, gingery candy I used to munch on as a kid.
I'd pretty much finished the beer off before I figured out what I was remembering–a Pine Brothers cough drop, which I indeed used to buy and devour pretty much like candy.
So to pin a "tastes like a cough drop" label on this beer is not indicating a blemish in my book. There's enough malt backbone to make for a lightly sweet, medium-bodied beer with its holiday gingery snap. Not a world-beater, but not bad for what is probably its sole trip around the block.
The G-Thing is obviously that label gingerbread creature with a saccharine grin, yet stepping hugely and ominously over a representation of the Burlington brewery. The inspiration here would seem to be the Stay Puff Marshmallow Man from "Ghostbusters," and we know how that turned out.
No idea what the bottle cap aphorism means. There's one of these under every Magic Hat bottle cap, though usually less inscrutable than: "Get Boxed at the Philthy Ox." Surmises are welcomed.  [Dec. 17, 2013]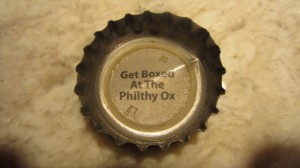 Name: G-Thing
Brewer: Magic Hat Brewing Company, South Burlington, Vermont
Style: Spiced ale
ABV: 5.7%
Availability: Mid-October to mid-January as part of the Winterland Variety Pak, in about nine states.
For More Information: www.magichat.net
<12 Beers of Christmas 3: Victory's Winter Cheers
12 Beers of Christmas 5: 10 Barrel Brewery Pray for Snow >