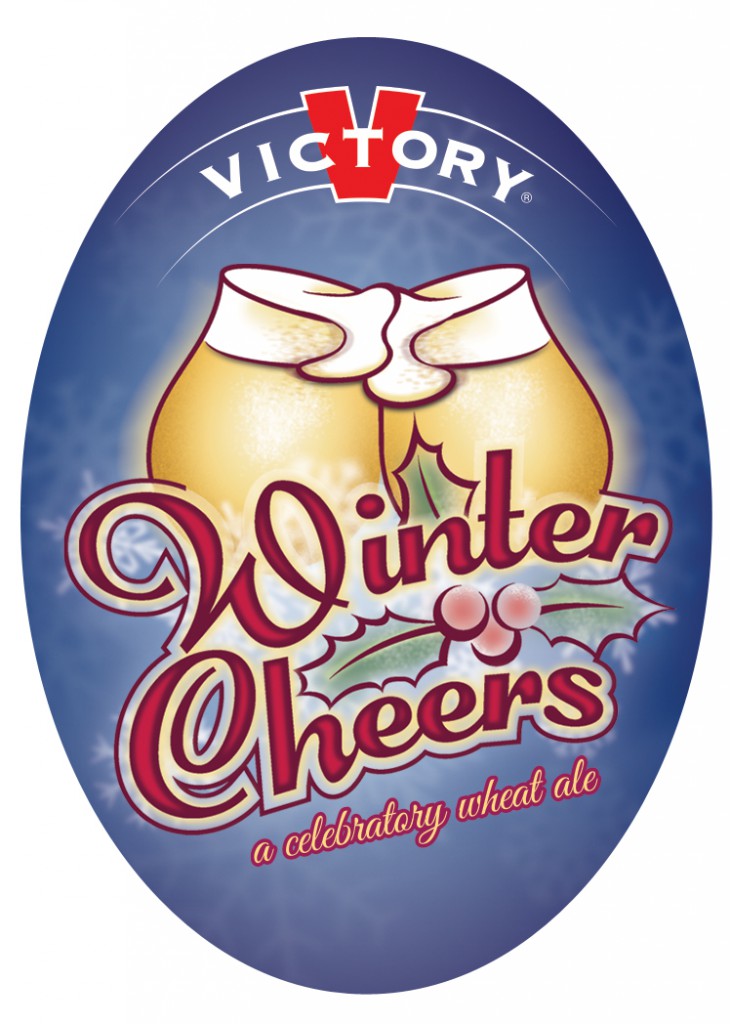 Winter officially begins on Saturday, so might as well greet it with a suitable beer in hand. The increasingly reliable Victory Brewing Company has come up with a nice twist here, a spicy (yet not spiced) wheat ale that manages to be both highly refreshing and hearty enough at 6.7% ABV to chase away any chill winter may bring on. (Already quite a bit here in Vermont—16° at the moment, but weather.com tells me it "feels like 3°" and I believe it.)
This one will be a good choice for those who eschew overly sweet winter beers stuffed with the usual fruit cake spices, and it sits on an almost opposite side of the spectrum from yesterday's Troëg's Mad Elf. Hey, plenty of room on the shelf.
Yet Winter Cheers has a spicy, peppery quality and there's plenty of clove character here, thanks to the traditional Bavarian hefeweizen yeast used. According to Victory co-founder Bill Covaleski, "We wanted to approximate the spicy quality [of holiday beers] through fermentation."
The director of brewing operations at Victory, Adam Bartles, said the goal was to take a traditional hefeweizen and give it a unique Victory spin. Aside from the yeast, Tettnang hops were used for bittering. Then the curve balls were unleashed–unmalted wheat, unmalted barley and unmalted oats in the mix, and Citra hops for aroma.
There's more of this in a quick video the brewery produced. Might as well link to it here for the beer geeks in attendance: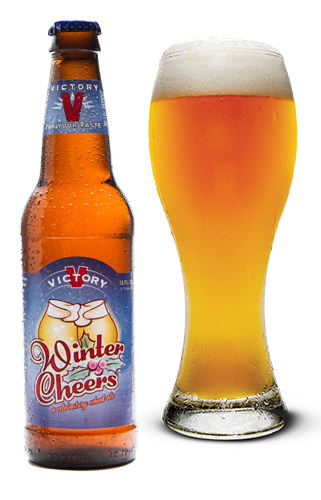 The result is a fruity, tart, estery mix. Colored like hay, the beer is mildly cloudy as opposed to the often turbid quality of many hefeweizens. The nose is a flowery bouquet, with notes of lavender, lemon, banana and clove, very appealing. The beer lands spritely and spicy on the tongue, a touch of malty sweetness stirring in with a lemony tartness, a hint of anise and a finishing pucker that feels like a kiss. But if it goes down easy, it's no pushover, and demands respect.
Hats off to Victory for heading down a different path here. Anyone putting together a holiday beer dance card would probably want to pencil in Winter Cheers for the early numbers, before heading to the dark side that a beer like Mad Elf represents. Reverse the order and Winter Cheers might look like a wallflower, and you'll miss the beauty within.
I've delved into Victory's background before in write-ups on Golden Monkey and V-12, but the Pennsylvania's brewery's footprint is growing larger—a second brewery site soon to open, more than doubling capacity; a new brewpub to open next year, and distribution for its 11 year-round beers expanding to 34 states and Washington, D.C. (somewhat fewer for the 11 seasonals and one-offs).
For all their differences, there is some commonality between Mad Elf and Winter Cheers: Tree ornaments. The one for Winter Cheers doubles as a bottle opener, although the last time I recall needing to open a bottle of beer near the Christmas tree is never. However, it's also a magnet, so maybe it's worth slapping onto the refrigerator door after the holidays.
Name: Winter Cheers
Brewer: Victory Brewing Company, Downingtown, PA
Style: Wheat ale
ABV: 6.7%
Availability: Winter seasonal, about 30 states
For More information: victorybeer.com
< 12 Beers of Christmas 2: Troëg's Mad Elf
12 Beers of Christmas 4: Magic Hat's G-Thing >