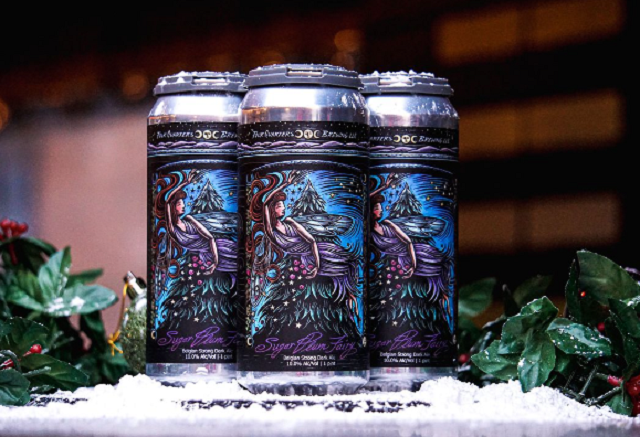 A quick report tonight, pending hitting the road tomorrow. But I've been taking my time with this beer, which may be one of my favorites of the entire year. It's really quite a marvelous effort by Brian Eckert of Four Quarters. An appropriate choice, perhaps, for the actual twelfth day of Christmas. The only fault to the beer is its limited distribution in terms of seasonally, and distribution—only in Vermont and Massachusetts.
In what may be a first, with the exception of Anchor Brewing, this is the fourth straight year I've touted a different beer from the same brewery. (I could look it up, but I'm mellowing out pretty quickly from the Sugar Plum Fairy's 10% ABV.)
In short, last year we had Four Quarters Krampus Nacht, in 2020 Buffalo Plaid and in 2019 Gifts of the Magi. All of them top-notch.
And that doesn't exhaust Four Quarters holiday offerings, as I tried and failed to score a Christollen this year, a version of the brewery's regular Opus Dei) aged in rum barrels on various fruits and vanilla beans in hopes of resembling German Stollen bread. Maybe next year, if it reappears.
This isn't the debut of Sugar Plum Fairy, but it is different. It first showed up a few years back as a brew aged in Pinot Noir barrels, at 9% ABV. This year's appears to do without the barrels with the ABV up a notch.
According to some verbiage on the side of the 16-oz can the beer is inspired by the Christmas tree: "The tradition of the Christmas tree dates back to the 8th century when in Scandinavia Yule trees, often evergreens which represented eternal life and the hope of the sun's return, were brought inside to provide a warm and festive place for tree elementals who inhabited the woodland. This was also a good way to coax the native faery folk to participate in Solstice rituals. Candles were placed in the tree symbolizing the sun, moon, and stars. Dried fruits were hung as an appreciation for a successful harvest, and they would humbly welcome the Sun's return after the longest night of the year."
There's certainly fruity esters in the nose of the Sugar Plum Fairy along with rich malt. One might even say plummy, though I'm more inclined to say raisin. My wife detected cherry. It's open to question, and taste sensibilities.
According to some verbiage from the Beer Judge Certification Program (I am enrolled), the Belgian Strong Dark Ale style might "contain raisin, plum, dried cherry, fig or prune notes."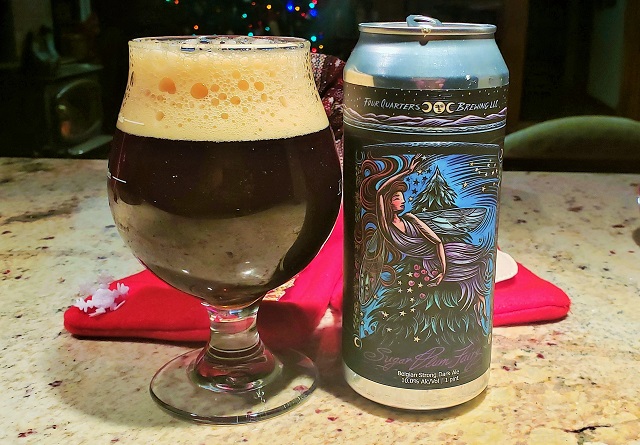 As the beer warmed up I was also getting some smoky, leathery qualities. In any case, the style's malt note should be strong and sweet, though not cloying, and Sugar Plum Fairy fits the bill here, too. The alcohol is noticeable, but smooth, the mouthfeel velvety, and at 10% ABV the beer is perhaps too drinkable. (A further BJCP note: "A dark, very rich, complex, very strong Belgian ale. Complex, rich, smooth and dangerous.")
Other commercial examples would be some of the classics from the Trappist brewing tradition: Westvleteren 12, Rochefort 10, Chimay Grande Reserve. Has Four Quarters really scaled these heights? Hmm, maybe a blind tasting might be in order, if only I had some more Sugar Plum Fairy on hand. Meanwhile, maybe I'll just let that vision dance in my head for awhile.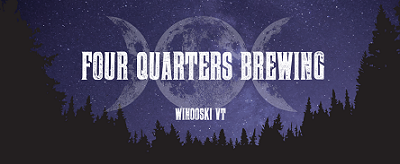 Name: Sugar Plum Fairy
Brewer: Four Quarters Brewing, Winooski, Vermont
Style: Belgian Strong Dark Ale
ABV: 10%
Availability: Seasonally, Vermont, Massachusetts
For More Information: www.4qbc.com
[January 5, 2023]
< 12 Beers of Christmas 9: Smuttynose Ice Dam(n) Cold IPA
12 Beers of Christmas 11: Rock Art Winter Bock >