I've written about Smuttynose and its history numerous times, and its Smistletoe made the 2014 12 Beers list. At the time I wrote that the brewery had moved into its stunning new brewhouse, and grounds which included, "… a tasting room and restaurant, and a place for the orchard and hop vines and beehives and nine-hole disc golf course…." It turned out to be a little too much too soon, since the brewery was never able to utilize all the available capacity.
Smuttynose reached a nadir of sorts in 2018, when it was sold at auction and then picked up by an investment group, eventually named Finestkind after its well-known IPA (the Old Brown Dog almost as well known). Covid hit hard the brewery hard, too, and production plummeted, but in 2021 the brewery rebounded somewhat, producing about 22,000 barrels. Once distributed to more than half the U.S. states, Smuttynose now sends beer to the nine listed below.
I'm sad to report that the brewery announced in August that its Dover-based Smuttlabs Brewery and Kitchen was closed, where a lot of interesting R&D beers were produced. But happy to say that, on the basis of the Ice Dam(n), they're still brewing some fine and interesting beers.
In simplest terms, a Cold IPA is an IPA fermented at lower temperatures than typical for the ale style, perhaps using a lager yeast or a combination of ale and lager yeasts. Rice or corn is sometimes added in the grist, and the end result should be a hop-forward IPA that is heading toward the crispness of a lager.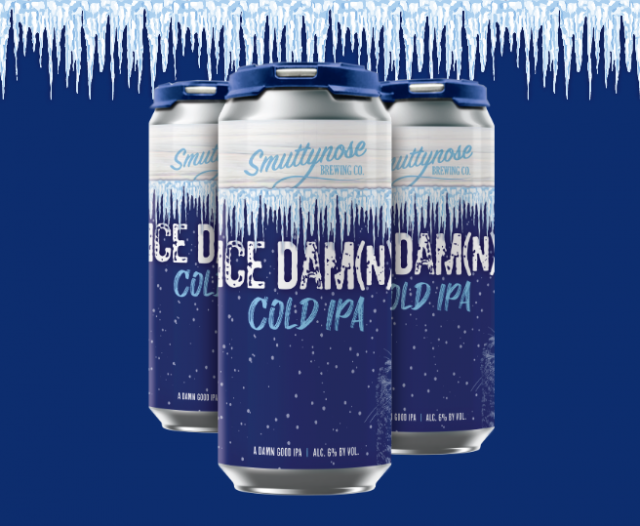 In this case, a Chico Ale yeast was used (think Sierra Nevada), Hüll Melon and Centennial hops. The malt bill includes 2 row, Carahell, Acidulated and some flaked rice, all of which tend to keep the beer on the light side. But it's still a 6% ABV brew, so "lite" it is not.
Like the Lone Pine Winter Carnival from a few nights ago, there's really little to qualify the Ice Dam(n) as a winter warmer other than the name, and the brewery braggadocio: "This winter, make sure your emergency kit includes Smuttynose's newest beer, Ice Dam(n) Cold IPA – a light bodied beer that is crisp, straw-colored, and a true balance of East and West coast IPA flavors of berries, melon, hints of citrus and pine. This is one beer that will help you both gear up for the long, cold battle ahead and wind down when you are done."
Well, okay. Now that they've suggesting it, I'm picking up all those flavors, naturally. Not that I could tell you what kind of berries or melon. But what I like about the beer is that balance of east and west coast IPA flavors. The balance seems skewed toward the west, and that's fine with me. I'm getting mighty tired of dank, "juicy," murky New England style IPAs, and yearn for the more malt forward west coast style brews with noticeable hop bitterness.
That's where the east coast style comes into play here—while there's a decent hop bite at the end, there's nothing that will shock imbibers here on the Atlantic side. The beer is straw-colored, but actually fairly clear, too, another blessing in my mind. I'm also tired of beers that look like pulpy orange juice. Sure, call me a heretic.

Name: Ice Dam(n)
Brewer: Smuttynose Brewing Co., Hampton, New Hampshire
Style: Cold IPA
ABV: 6%
Availability: Seasonal, NH, ME, VT, MA, CT, RI, NY, NJ, PA.
For More Information: smuttynose.com
[January 4, 2023]
< 12 Beers of Christmas 8: Woodstock Inn Brewery Wassail
12 Beers of Christmas 10: Four Quarters Sugar Plum Fairy >