I haven't started my Christmas shopping yet, but I am well on the way into my Christmas/Holiday/Winter beer acquisitions. I have just about enough new brews to get the sixth edition of The 12 Beers of Christmas underway, with a little wiggle room in case something unexpected shows up.
The expected beers–the ones I drink every year–started showing up last month: Sierra Nevada's Celebration Ale in the Brattleboro Food Co-op, and Deschutes Jubelale in the mailbox. (Luckily, since it still isn't distributed in Vermont–my annual complaint.)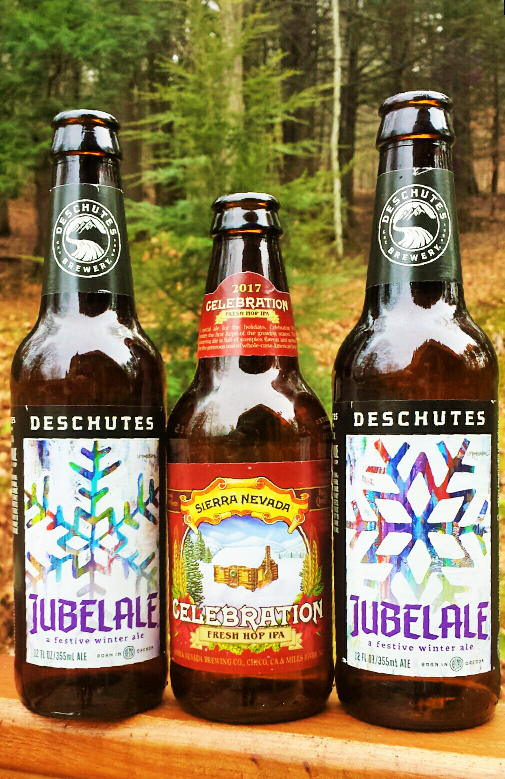 The Anchor Christmas Ale finally arrived at the Co-op, too, so I'm just waiting for the right moment to strike and, with any luck, will roll on for 12 straight days. It's not a great tragedy if I skip a day, of course, but we all need a goal.
Once I wipe the foam off my mustache from this year's imbibing I'll have sampled 72 beers over the years, a fate I would wish on anyone. (Here's a list of the 60 beers tasted through 2016.)
With its annual recipe-changing Anchor is the only constant each year; since their recipes are stable I don't include Jubelale or Celebration Ale. I reviewed the Celebration Ale back in 2011, a year before I revved up The 12 Beers of Christmas. My admiration for it remains undiminished, and its importance in the history of craft brewing should never be cast aside.
Sierra Nevada had a little fun this year when it sent three of its brewers, along with a film crew, into the Yakima, Washington hop yards in search of Cascade, Chinook and Centennial hops, the usual suspects for Celebration Ale. Music quiz immediately following:
And the soundtrack by? Sounds Christmasy, right? Right, and right again if you guessed that it's by Tchaikovsky, from The Nutcracker ballet. But which dance? It's the "Waltz of the Flowers," and now don't forget it.
Deschutes Brewery is also a patron of the arts. The only change it makes to its holiday beer each year is a new label. (I included the Jubelale in the lineup in 2014, and there's some history of the beer and brewery there.)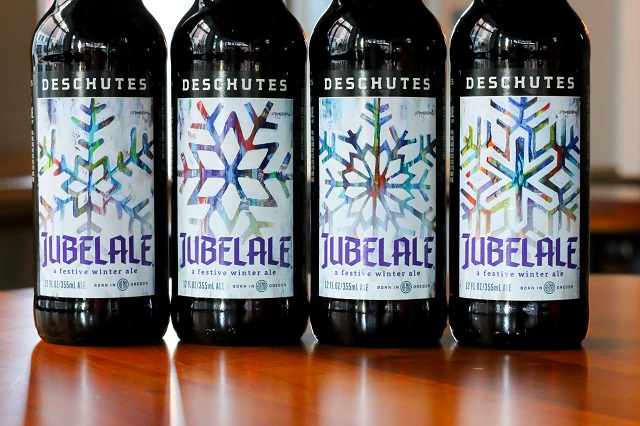 This is the 30th iteration of Jubelale, and so it went for something a little different in its label this year–not just one but the four mixed media renditions of snowflakes shown above, by artist MaryLea Harris.
Harris now lives in Deschutes' home town of Bend, but she's originally from Virginia, which is some kind of symmetry, as the brewery is in the throes of building a new east coast brewery in Roanoke. (As Sierra Nevada has also done, in Mills River, North Carolina.)
A Deschutes tasting room is already opened in downtown Roanoke, and the production brewery set to break ground on the outskirts of the city in 2019, shooting for completion in 2021.
Which means I might just live long enough to see Deschutes shipping beer to Vermont.