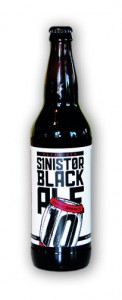 "I actually have no idea how they came up with the name," said 10 Barrel's brewmaster Jimmy Seifrit. "Probably just being a little devious by squeezing in a '1' instead of an 'i' and a zero instead of an 'e' I guess."
There's actually nothing devious or sinister about the beer, however. Seifrit said, "The way we look at the S1nist0r Black Ale is as a wonderful dark beer with training wheels on it. It's not a beer that will scare people away because of the color. Color drives a person's palate before they even try some beers, so when they see something dark they're expecting a heavily roasted, bitter, molasses-flavored beer. But this one's not really that way at all.
"We use light malts, a biscuit malt and Carafa malt, which is a dehusked black malt that gives us all of the color but without the astringency associated with some darker beers. Plus we're using Perle and Sterling hops—more herbal and spicy like German or Czech hops rather than the wildly fruity American hops we're used to out here. So that's a little mellower, too."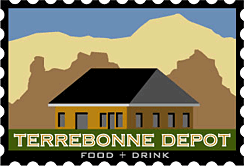 I first ran into the beer at Terrebone Depot, a great little bar and restaurant in a renovated train station originally built in 1911. The small town of Terrebone is the prime jumping off point for half a million rock climbers who scamper up Smith Rock in the nearby state park annually, and many often wind up at the Depot after the day's ups and downs.
Christopher Smith, David Whyte and I were there after the ups and downs of 36 holes of golf, an effort which had done in our colleague Jeff Wallach, so we just had to deal with the beer samplers and menu all by ourselves. We managed. First, I had the sampler shown here (left to right): Hound's Tooth Amber from Silver Moon Brewing of Bend, Kölsch from Double Mountain Brewery of Hood River, the S1nist0r, and an IPA from Terminal Gravity Brewing in Enterprise.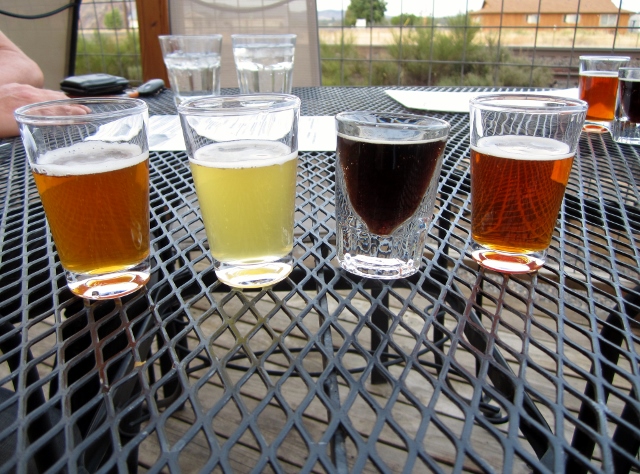 I chose the 5.4% ABV S1nist0r to accompany the heart healthy meal shown here. The heart healthy part, under the egg and bacon and cheese, was the patty, made with bison meat.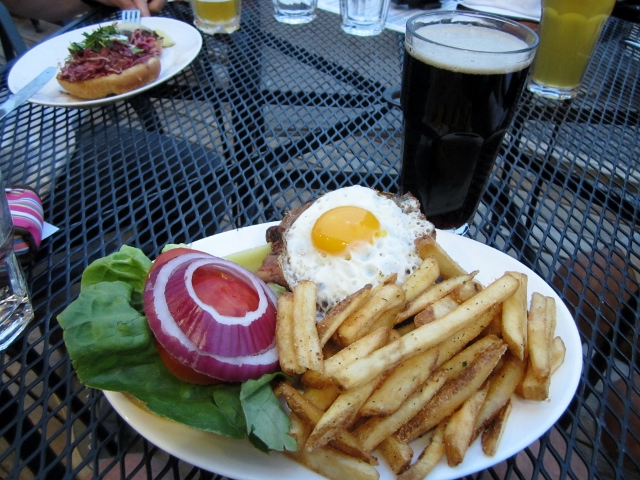 A couple of days later I was talking about beer with Amanda Yankovich, working in the Crosswater Club pro shop at the Sunriver Resort. Amanda recommended we visit the 10 Barrel Brewing pub in Bend and try a beer called Swill, which sounded like one of the greatest beer names I'd ever heard. And she said we should visit the McMenamins Pub and Brewery–which is actually also a hotel and theater in the old St. Francis Catholic School.
"I went there, and down one of the hallways is a picture of the third grade class of 1999. I'm in it," said Amanda. Well, here's a picture of a hallway at the rejiggered St. Francis with a class picture right in the middle. I can't vouch whether it's Amanda's or not, and unfortunately there just wasn't enough room on the dance card for a visit to McMenamins.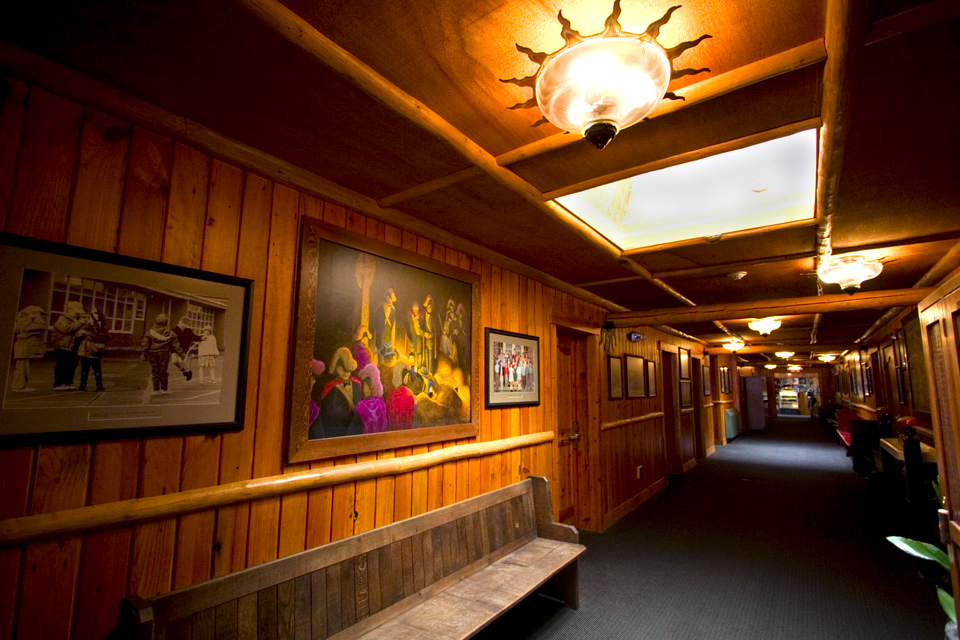 But after an evening at the Deschutes Brewery Pub we did make it over to 10 Barrel, and sure enough, there was Swill on tap. Well, there were a lot of beers on tap:
There are more beers on tap in a 10 Barrel pub the company opened in Boise, Idaho in April. (The Bend pub opened in 2008, the brewery in 2006, originally as the Wildfire Brewery.)
Swill is a summer seasonal, a 4.5% sour Berliner Weiss-style beer with grapefruit soda added. Unusual, and refreshing. The brewery's Apocalypse IPA does most of the heavy lifting, accounting for almost half of 10 Barrel's sales, but S1nist0r has carved out its own niche, notching a steady ten percent of total sales.
"We figured S1nist0r would be a beer that everyone could love, and they do," said Seifrit. "It is probably our most talked about beer, with very loyal fans on Facebook."
The pub was a lively and crowded place on a summer's Wednesday evening and we were on the move, barely enough time to sample a goblet of the DUB Double IPA, a 9.5% hop bomb. It exploded pleasingly in my mouth, and the rest of the evening is a bit of a blur.