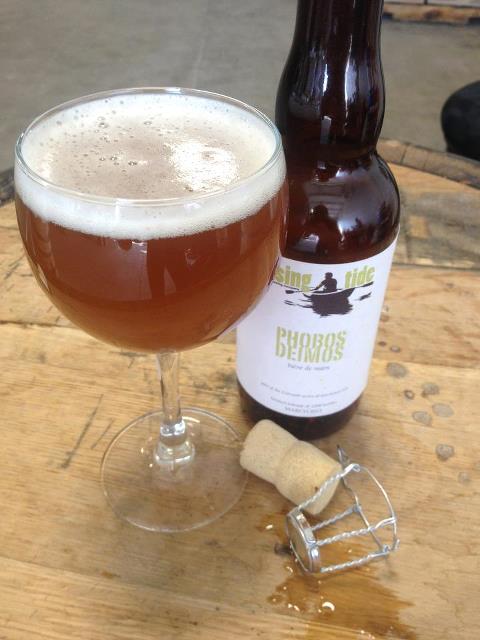 Our French lesson for the day arrives courtesy of the husband and wife team behind the Rising Tide Brewing Company of Portland, Maine, Nathan and Heather Sandborn. Entrepôt translates as warehouse, precisely where Rising Tide brews–in a former tractor trailer service warehouse.
So rather than call their small-batch Saison-style beers farmhouse ales, voilà, the Entrepôt series. Go further to translate the style of Phobos & Deimos–a Bière de Mars–as a beer for March and you're getting closer to defining the historical provenance of the style.
Belgium has its Saisons; its bordering neighbor, the northeast of France, has its Bière de gardes, similar styles though the French beers tend to be somewhat stronger and maltier than Saisons. Bière de Mars is a subset of Bière de garde, brewed to be consumed more quickly, during the month of March. Extra points for those who can accurately tell the difference between any of them.
The farmhouse beers were traditionally brewed in early spring to last rural workers through the warmer months. While ales, they were fermented at cool temperatures with lengthy cool conditioning, sometimes exhibiting some yeasty cellar funkiness.
The Rising Tide take was limited to 1,200 12.7-ounce corked bottles distributed only in Maine and New Hampshire. (The brewery's regular rotation normally extends as well to Vermont and Massachusetts.) I was lucky we had a dinner party last week and some guests brought a bottle.
If you can find one, do. It's a delicious brew, a blend of American ale yeast and Saison yeast, all Nelson Sauvin hops, left in a conditioning tank for eight weeks. The New Zealand hop leads the beer somewhat out of character, since it's wildly fruity, dominating the malt. You won't care.
"I think the Nelson Sauvin hops are particularly delicious," said Heather Sandborn. "They're named after the Sauvignon Blanc grape. They do have a white wine character to them and the beer really highlights that." Crushed gooseberry is a common descriptor. Beguiling is mine.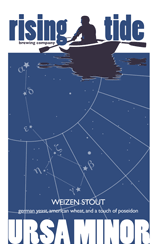 A former corporate securities lawyer, Sandborn gave that up last year to devote full time to the brewery along with her husband, a graphic designer and stay-at-home dad before deciding he was ready to go pro with his brewing skills, in 2010.
Brewing one barrel at a time, Rising Tide produced a total of 149 barrels in 2011. Now brewing 30 barrel batches, the company projects about 1,200 barrels in 2013, still micro by any definition.
The usual lineup includes Zephyr IPA, Atlantis Black Ale, Ishmael Copper Ale, Daymark Pale Ale. I haven't had them all, but I haven't have a bad one yet. A particularly tasty Ursa Minor, a Weizen Stout, served as a winter beer, and may still be on some shelves.
The seafaring, mythological or astrological names attached to the beers extends to the Bière de Mars, though perhaps somewhat inaccurately in this case. Phobos and Deimos are the orbiting moons of the planet Mars. They are named after the Greek gods of panic and dread, twin brothers born of Aphrodite and Ares, the god of war–or Mars, in Roman nomenclature.
The only panic and dread attendant here is the thought that Rising Tide may never again make this beer, which clearly takes more after Mom.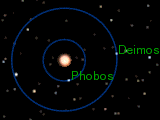 Name: Phobos & Deimos
Brewer: Rising Tide Brewing Company, Portland, Maine
Style: Bière de Mars
ABV: 7.9%
Availability: Maine and New Hampshire, while it lasts
For More Information: www.RisingTideBrewing.com