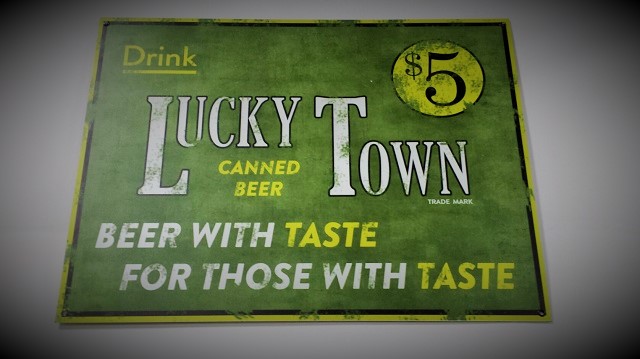 [Nov. 10, 2014] Brandon Blacklidge suggested to his future business partner, Lucas Simmons, that he try adding some maple syrup to the oatmeal stout recipe he was considering, as an entry into a 2010 homebrewing contest. So he did.
"I didn't even have time to taste the beer before the competition," Simmons said last Monday. "But it went on to win Best-in-Show." Simmons had been brewing for years, but claimed he hadn't seriously considered going pro until he had a nudge from another future business partner, Chip Jones.
Jones said, "His exact words were, 'I've thought about it, but no one ever pushed me over the edge.' So I said, 'Here I am.'"
The three, along with a fourth partner, Angela Blackburn, are mostly smiling these days, as about 1,000 people showed up this past weekend for the grand opening of their Lucky Town brewery in Jackson, Mississippi. The opening immediately increases the state's production breweries by a full 20%. Two more are under construction and two others contract brew, which pretty fairly indicates that the Magnolia State has not exactly been in the forefront of the craft brewing tidal wave.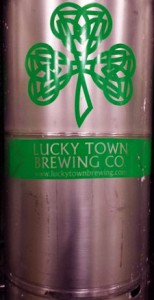 Lucky Town will be a fortuitous step in a better direction. I was lucky enough to visit last Monday thanks to fortuitous timing. I had been invited by Visit Mississippi to head on down, sample some of the state's golf courses and play in the pro-am for the PGA Tour's Sanderson Farms Championship at the Jackson Country Club. I suggested sampling some of the new brewery's wares might also be a worthwhile endeavor, and so it came to pass.
The brewery is new; the company is not. It opened for business in 2011, contract brewing out of the Back Forty Beer Co. in Gadsden, Alabama. But now Lucky Town has come home to its own 20-barrel system with an annual capacity of 3,600 barrels and ample room for expansion.
Though current plans call for distribution only in Mississippi, that expansion may come sooner rather than later, as the formerly all-draft brewery starts putting its beers into cans. (According to the Mississippi Brewers Guild, 44% of the state-produced beer was on tap, 56% in containers.)
Two of the four year-round beers will lead off, the Pub Ale and the Ballistic Blonde. The Hop Fiasco IPA and Flare Incident shouldn't be too far behind.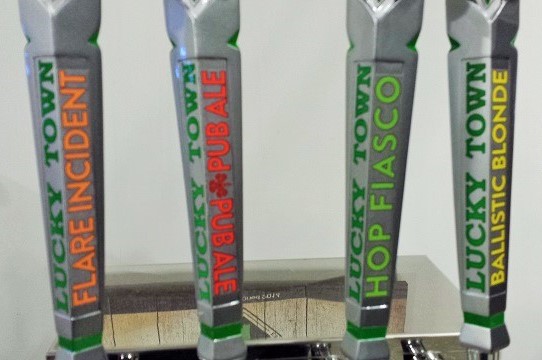 My expectations weren't dialed too high before visiting the brewery. I've had my share of southern craft brews that seemed to be trying to serve two masters (yellow fizzy water drinkers and beer geeks) and winding up in a vague zone of underachievement.
So I was more than pleasantly surprised by all four beers, each immensely appealing and carried off with obvious skill. The Pub Ale is a perfect example. It's an English-style mild, a mere 3.8% ABV, yet packed with far more character and flavor than any 4% to 5% ABV mass market lager. The Ballistic Blonde is not merely a refreshing light golden ale, but a 5.1% Belgian-style ale with the added complexity of its Abbey yeast. The 6.74% Hop Fiasco uses 68 pounds of Columbus, Centennial and Cascade hops per 20-barrel batch. It's anything but timid.
Still, the Flare Incident was the star of the show in my book, an alluring sweet but roasty stout with a hint of chocolate. Delicious, and coming in at a manageable 5.7%. "It's a bit of a hodgepodge," said Simmons. "There are a ton of different malts along with flaked oats and flaked barley, maple syrup and brown sugar. We used Columbus hops and a traditional Fuggle as well."
And not just any slapdash maple syrup. Turns out there are a couple of Vermont connections with Lucky Town. Simmons finished off his brewer training with the American Brewers Guild in Vermont. And the syrup comes from the Trade Winds Farm in Shoreham, about two hours north of my beer cellar. The farm is run by Tim and Loraine Hescock. Tim's great grandfather, Henry Hescock, produced maple syrup in Newfane, the town I live in. (And where the town treasurer used to be Shebajean Hescock, although I haven't yet confirmed a connection there.)
The only drawback to our visit to the brewery—none of the beers were yet in cans I could stuff into my suitcase for a round-trip back to Vermont.
Name: Flare Incident
Brewer: Lucky Town Brewing Co., Jackson, Mississippi
Style: Oatmeal Stout
ABV: 5.6%
Availability: Year-round, Mississippi
For More Information: www.luckytownbrewing.com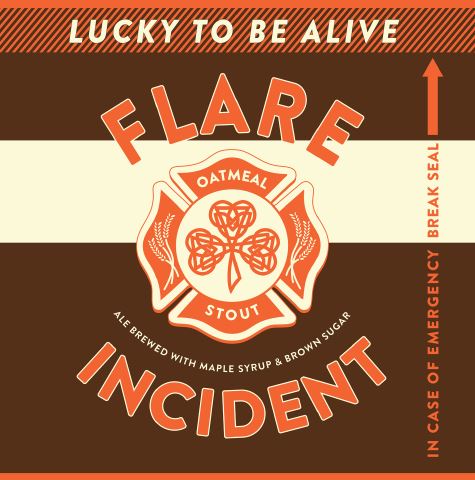 Related posts:
More on Mississippi Beer (and a little Alabama)
Back to Mississippi