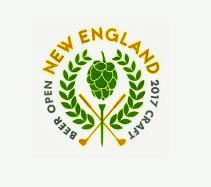 [Sept. 15, 2017]–For a guy who writes about beer and golf it seems a crying shame that I won't be playing in the first New England Craft Beer Open tomorrow, especially as it's just up the road a piece—well, a pretty good piece—in Sugarbush, Vermont.
But anyone else who hasn't yet signed up could probably take the sticks out to the Sugarbush Resort Golf Club, tee it up at 10 am and be assured that even if your golf game is a little off, the craft beer selection will be right on the money. At the same time you'd be raising money for the Cystic Fibrosis Lifestyle Foundation. Win win.
Along with the lead sponsor, Community National Bank, there are some prime beer sponsors. Among them: The Alchemist, Lawson's Finest Liquids, and Zero Gravity from Vermont, and Ballast Point of San Diego. The Good Measure Brewing Co. of Northfield, Vermont is also a main sponsor, not to mention instigator, particularly in terms of the brewery co-founder, Scott Kerner.
Kerner has been something of a whirlwind of Vermont entrepreneurship in recent years. With his brother, Kevin, Kerner opened the Three Penny Tap Room in Montpelier in 2009, and with various partners two Mad Taco outlets (Waitsfield in 2011, Montpelier in 2012), the Mule Bar in Winooski in 2013, Carrier Roasting in 2015. Good Measure opened last year in partnership with Ross Evans and brewer Andrew Leichthammer.
Good Measure is a phoenix of breweries, having arisen among the figurative ashes of the former Paine Mountain Brewing in the same, if highly refashioned East Street location. I wandered up to Northfield a couple of weeks back, was forced to sample about nine of Leichthammer's well-crafted beers and brought some East Street Bitter home for further study.
Maybe I should have carted back some Early Riser, Good Measure's tasty 4.8% cream ale. Kerner has some big plans for the beer. Maybe vision is a better word. He said, "I'm a dreamer; I dream big and then see how close I can get to that expectation." The dream right now, he says: "I'd like to build a factory here in Northfield to can our Cream Ale. If we can do what I think we can do with this beer we can produce a six-pack at a super reasonable price and it will bring another industry to our town. We'd possibly can other things, but concentrate on the Cream Ale."
If this sounds a little like the Heady Topper model, well, it's worked pretty well for The Alchemist.
Kerner, a lapsed golfer who has lately become re-addicted to the game, also has a vision of Early Riser ultimately being served at every golf course in Vermont.
There's no question but that some will definitely be served at Sugarbush tomorrow, along with Heady Topper and other Vermont, regional and national craft beers. Entrants will find sudsy offerings at various holes along the course, and not a few craft beer brewers, purveyors and distributors playing alongside.
The tournament is open to all lovers of craft beer, and Kerner suggested that an appreciation of craft brewing might well be a far more useful requirement for the day than any inherent golfing ability.
[This story first appeared, in different form, in the Sept. 6, 2017 issue of The Commons, a weekly newspaper in Windham County, Vermont. Access the current edition of The Commons here.]