[Dummerston, Vermont, Feb. 21, 2023]–Last weekend if was the Harris Hill ski jumping competition in Brattleboro hoping for snow. This Sunday it's the Snow Golf competition sponsored by the Landmark Trust in Dummerston: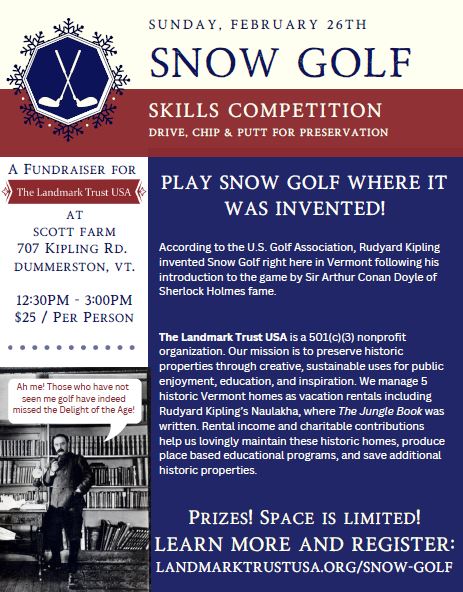 Set to become an annual fund-raising event for the non-profit Landmark Trust USA, the Snow Golf afternoon stems from the time when Arthur Conan Doyle visited his friend, Rudyard Kipling, at the latter's home, Naulakha, in Dummerston and knocked a few golf balls around. Since there was snow on the ground, the two writers painted the balls red. Locals were said to be fairly astounded, since golf in the 1890's–especially in Vermont–was virtually unknown.
Kipling's Dummerston home, Naulakha (Hindi for "jewel beyond price.") is the crown jewel in the handful of U.S. properties owned and operated by the Landmark Trust USA. The home is open for extended stays, where visitors can lounge in Kipling's actual furniture–indeed, sit at the very desk where he composed The Jungle Book, Captains Courageous, and some of the Just So Stories. And where, in a glassed-over upstairs closet, Kipling's very clubs are on display.
From 12:30 to 3 pm there will be a series of skill contests and one actual hole. Registration is $25, mulligans are available, prizes will be given! For tee times, or, well, more information, call or email Jeremy Ebersole,  jebersole@landmarktrustusa.org; (802) 579-1853.
Participants are encouraged to bring their own clubs, though two or three should suffice. Warm clothing may be more important. Kipling was said to be attired in rubber boots, red knee-high socks, green knickers and a green and red plaid golf cap. So there's some kind of model for the adventurous.