"Why, it's old Fezziwig! Bless his heart…."
–Ebenezer Scrooge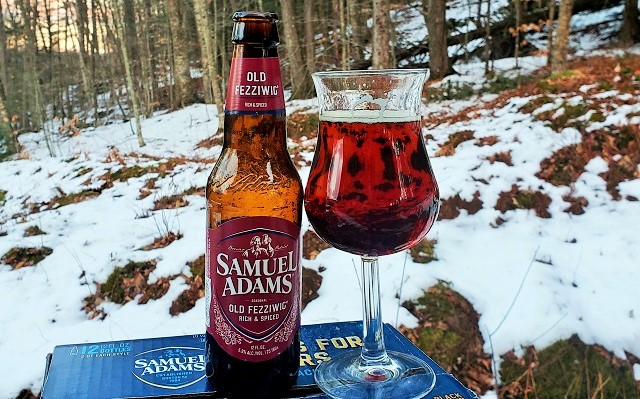 Fezzwig was the young Ebenezer Scrooge's employer, a jolly sort who knew how to throw a Christmas party for his staff. Scrooge appreciated old Fezziwig and the festivities, before his heart was hardened and he lost the spirit of the season. As we know, three spirits helped him find it again in Dickens' "A Christmas Carol." More of that to come.
Old Fezziwig the beer was introduced by the Boston Beer Co. in 1995, and would come and go over the years until popular demand insisted the company include it each year as part of it annual Holiday Cheer 12-pack, or as it's called this year, Beers for Cheers. The lineup rotates somewhat each year, but there always seems to be two bottles of Boston Lager, Old Fezziwig and Winter Lager. The other three this year are a Black Lager, a Holiday White Ale, and a Cold IPA.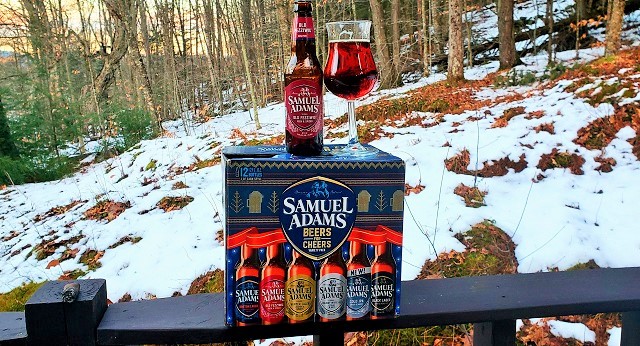 When introduced 28 years ago, with a livelier label as shown below, Old Fezziwig may have seemed quite novel, bless its heart. It's a bright, clear, reddish mahogany beer, with some faint notes of caramel toffee in the nose. The spicing is not unlike last night's Lone Pine Winter Carnival, with cinnamon, ginger and orange peel, but the beers are completely unalike in approach.
Old Fezziwig is closer in spirit to the Samuel Adams Winter Lager (which was in the 12 Beers of Christmas 2012 lineup; the Merry Maker Gingerbread Stout made it in in 2014). The spicing is muted in both beers, arguably more noticeable in Old Fezziwig.
Three different malts go into the brewpot, and with the spicing and the hops—Hallertau Mittelfrueh and Tettnang Tettnanger—the Old Fezziwig mouthfeel manages to be both full and tangy at a go. I don't find a lot of spices in the nose, and their presence is pretty light in the palate as well. The finish has a light and mildly lingering bite. All in all, it's an amiable and pleasing gulp, and at 5.9% ABV, gulps are warranted.
Now let's get down to business and declare outright that the all-time best film version of Dickens classic tale is "A Christmas Carol," the 1951 version starring Alastair Sim as Scrooge (titled "Scrooge" in England). On this point, I will brook no debate. This is a fact. There are no alternative facts. If you've never seen this version, please do. I can't imagine you'll regret it. I've seen the film more or less annually since I was a young sprout, and it still gets to me every time.
One scene in particular always stood out, when Scrooge, now redeemed by the spirits, heads over to his nephew Fred's house for Christmas dinner. Considering his ill treatment of Fred over the years, Scrooge enters the house with trepidation, uneasily handing his hat, scarf, gloves and coat to a sweetly attractive young maid. He hesitates before opening an inner door to the parlor, glances back at the maid with a look of concern, and she gives him a smile and nod of encouragement. He gratefully smiles back, and heads in.
Not a word is spoken, the scene lasts about 42 seconds, and is utterly captivating. The music helps, a melancholic version of "Barbara Allen." I was happy to learn, years later, that I wasn't the only one who fell instantly, hopelessly and eternally in love with the maid.
About ten years ago I stumbled across a blog, Forty-two seconds: Losing your heart to "Fred's Maid," by an equally afflicted chap who was trying to discover the actress who played the maid–who, as far as could be told, wasn't even credited in the film to that point.
Eventually it all came out, that the small part was played by Teresa Derrington, later Teresa Cozens-Hardy. Gina Dalfonzo, who writes at Dickensblog, had a fascinating 2013 story about learning about Derrington's role, which turned into an interview with Cozens-Hardy. It turned out that her work on the film was her last role. She married, had five children, taught art, was widowed and remarried. It's worth reading for the comments alone from others beguiled by the young maid.
Sadly, Dalfonzo posted an update about Cozens-Hardy's death, on January 28, 2021, at age 89.
So, though better in context, here's the scene, as well as a few moments when Scrooge does go through the door. Not bad either. For the rest of us, we'll continue to live with Teresa's abiding encouragement.
Name: Old Fezziwig
Brewer: Boston Beer Co., Massachusetts
Style: Spiced winter ale
Availability: Seasonally in Beers for Cheers 12-packs, nationwide
For More Information: samueladams.com
[January 2, 2023]
< 12 Beers of Christmas 6: Lone Pine Winter Carnival
12 Beers of Christmas 8: Woodstock Inn Brewery Wassail >