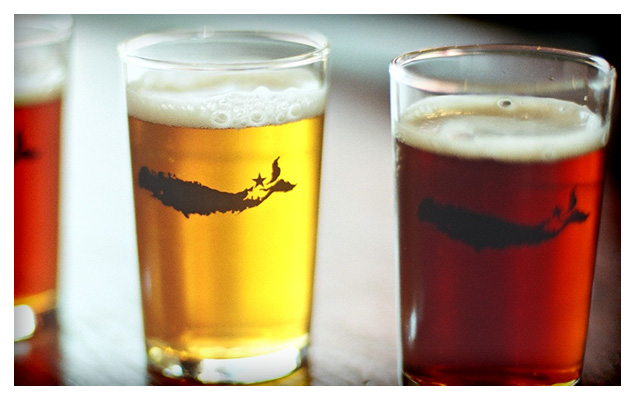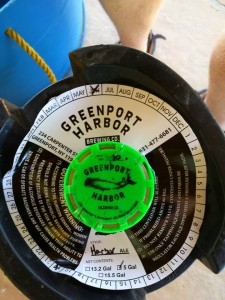 [July 7, 2014] With a five-gallon keg to work over on party weekend, there was no dithering over this week's selection. But the Oldies But Goodies party at my brother and sister-in-law's house in Southold, Long Island–to celebrate their 70th birthdays–coincided with the Fourth of July weekend and the soft opening of the new Greenport Harbor Brewing facility in Peconic.
This was a no-lose proposition. Throwers of grand July 4 parties in the past, Kip and Susan said this was going to be the last. True or not, they went out with a bang on July 5, with close to 150 people gathered on their lawn for the festivities. This included dancing to oldies music, working through appetizers, grilled chicken and ribs, and slurping 300 east coast oysters which my brother had harvested.
As far as we were able to determine in the post-mortem, only two people fell over, one person was ill, no one started a fistfight and everyone arrived home safely, this despite a staggering array of empty wine bottles (some of them Bedell Cellars, naturally), and the virtually emptied keg of the Harbor Ale. The evening had ended with a spectacular, if not entirely legal, fireworks display.
As I noted in this post about Kasteel Rouge, our family fireworks history stretches back to the early days for my brother and me. He has kept up the tradition well with an annual promiscuous purchase of fireworks in South Carolina or New Hampshire or, as this year, both.
When at the Long Island parties in the past I've been welcomed back into the firing line fraternity, along with the next generation, my nephews Kip Jr. and Josh. Both are now fathers of young children, so far all girls, so the future is a bit clouded as no female family member has so far shown any pyrotechnical inclination. We shall see.
As for Greenport Harbor Brewing, the future is looking pretty rosy. Begun in an old firehouse in Greenport in 2009, the brewery has been well-regarded from the first but limited in what it could produce to about 3,400 barrels a year, all on tap or carted away in growlers.
The original structure will remain as a tasting room and incubator for new beers, while the brewhouse in Peconic will give the company some serious room for expansion–of up to more than 50,000 barrels, which should make it the Island's largest independent brewery: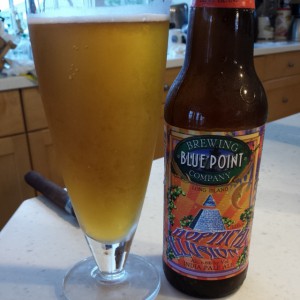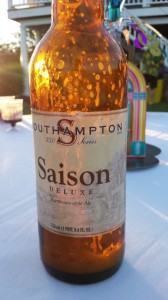 The night before the party I'd had a Blue Point Hoptical Illusion that Kip had apparently left in the refrigerator too long; it had probably been there prior to the company's purchase by Anheuser-Busch InBev. The night of the party I pulled out a Southampton Saison that was excellent, bearing no trace of that company's alliance with Pabst Brewing.
Kip and I stopped in to the new Peconic facility after a round of golf. The sawdust was still swirling (the official opening scheduled for July 12) but the preview taps were opened.

The Harbor Ale is the brewery's flagship beer, a sturdy pale ale that comes in at 5.2% ABV, and therefore makes repeat visits to a keg a reasonable (and desirable) proposition.
A light amber, the beer is brewed with wheat malt making up about a third of the grain bill. Cascade and Glacier hops give it a fruity, mildly citrus character, while high-alpha acid Warrior hops add a piney note and suitable bite to the finish. Hardly a hop bomb, skewing toward the bready malt side. There's not a lot to be said about the beer other than that it's utterly companionable, and easy to imagine as a local's go-to brew.
But there seemed little sense in having it at the tasting room, so I opted for the Black Duck Porter, even with the thirst a round of golf can engender. I wasn't disappointed. I enjoyed the distinct roasted character, but it was hardly overwhelming, striking a nice balance between assertive and refreshing. It was easy to imagine that, were I a local, this 4.7% porter would become my go-to brew.
We had played at Laurel Links Country Club, where Kip is a member, and where he's already notched two of his four hole-in-ones (apparently using up the family allotment), putting it in the jar on the same hole almost exactly a year apart. The course is a fine and testing Kelly Blake Moran routing with large, speedy and demanding greens.
Meeting up at the course with a few of the previous evening's partygoers we heard they all had had a great time, enjoyed the food and so on. But what they really raved about were the fireworks, which inspired some artisan pride.
In truth, one always aims for a grand finale in a firework display, with the best for last. One way to do that was to have all four of the Bedell boys light off some massive pieces simultaneously. This we did; the flashing in the sky was suitably amazing, prompting whoops from us and cheers and applause from the onlookers. I caught the final seconds on tape:

The crowd drifted away pretty quickly after that. I coaxed the last few dribbles of Harbor Ale out of the tap, and as the night wore on fireworks continued firing across the sky from all points, some nearby, others so far away they were mere whispers of light.
Fireworks across
the bay, exploding, silent,
like the start of time
Name: Harbor Ale
Brewer: Greenport Harbor Brewing, Greenport and Peconic, New York
Style: Pale Ale
ABV: 5.3%
Availability: Year-round, Long Island and New York City
For More Information: www.harborbrewing.com