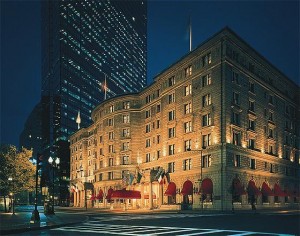 I've stated the proposition before that if all the world leaders played golf, peace would soon break out. No one would have the time or inclination for conflict, because everyone would be consumed with swing thoughts.
This may have been on my mind when the invitation arrived to have breakfast with the President, not something that comes my way every day. So when the opportunity arose last May [2009], I jumped at it.
It was also a chance to spend a night at the Fairmont Copley Plaza (right) in Boston. Stately since its opening in 1912, the Plaza still has an old-world elegance with contemporary panache.
The staff had thoughtfully anticipated my needs by stocking my room with a few Samuel Adams beers in a chilled bucket, but in any case I also wandered down to the plush Oak Bar (below left), where they still have the Engaging Martini on the menu for a mere $12,750.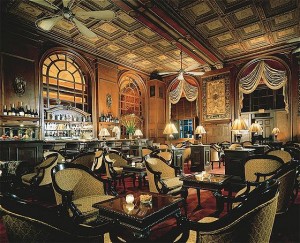 The drink–a mix of Finlandia vodka, dry Vermouth and ice in the form an engagement ring–is part of a romantic package that includes a stay at the hotel and an $11,000 credit at the onsite DePrisco Jewelers for a ring of one's choice. I didn't order one.
But I was pleased to find a small but reasonable selection of good craft beers from New England, IPAs from Smuttynose and Harpoon, and a Whale's Tail Pale Ale from Cisco Brewers. Any one or all of these would have trumped the insipid choices recently hoisted at the White House, when President Barack Obama had his Beer Summit with Henry Louis Gates (center, below) and Sgt. James Crowley (left). (Official White House Photo by Pete Souza)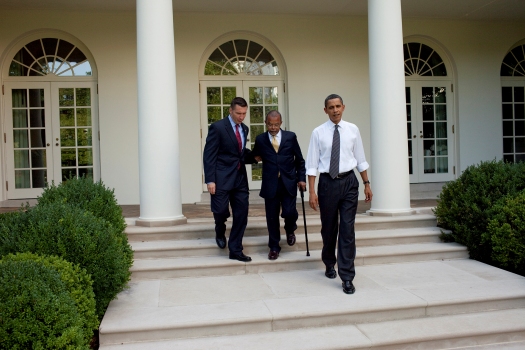 But I digress. I rose early the next morning and hastened down to the function room to mingle with the rest of the crowd before the President's arrival. The hubbub soon died down as a security team led its way into the room, and Her Excellency Mary McAleese, the President of Ireland, was introduced.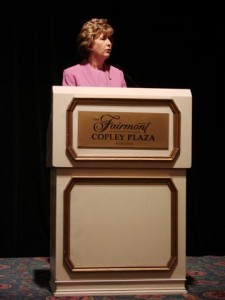 I've not been in the presence of a sitting President before, so this was fairly exciting.
The day was arranged by Tourism Ireland, in hopes that attending journalists would promote the cause, an effortless task in my case when suggesting that golf in Ireland is a desirable end. President McAleese spoke to the effort in any case, as is her task.
The office includes no executive or policy role, but the directly elected President does promise in the oath of office to, "…dedicate my abilities to the service and welfare of the people of Ireland." That welfare took a hit in 2008, as North American tourism to Ireland, representing about a $1 billion market, declined 11 percent in the global economic downturn.
"It was a tough year, a very tough year," said the 58-year-old McAleese at the breakfast, but then pointed out that for the second consecutive year Trip Advisor had selected Dublin as the friendliest city in the world, "and people tell us that there is a sense of an authentic welcome when visiting Ireland."
McAleese is the eighth President of Ireland, then five years into her second and last seven-year term and, significantly, the first born in Belfast–Northern Ireland. Joe Byrne, the executive vice president for Tourism Ireland in North America, said, "We once welcomed people to south Ireland. Now it is to the entire island, an all-Ireland program. It's been part of the peace process, and the President has played an enormous role in that regard."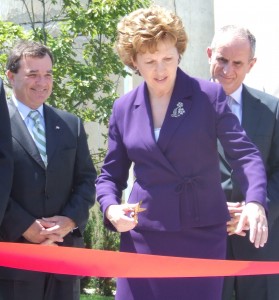 The President was in the U.S. for a variety of functions, including this year's commencement address at Mount Holyoke College in Massachusetts. In the past, at various golf course openings and dedications, she has cheerfully (seemingly) admitted to being a golf widow to her husband, a dentist by trade and also a Belfast native.
In June, a BBC News report suggested that Dr. Martin McAleese (at right in photo, behind his wife at a typical ribbon-cutting) has been quietly working for years behind the scenes to convince loyalists like Jackie McDonald of the UDA (Ulster Defence Association) to decommission its weapons.
Part of that work was said to have taken place during a round of golf at the K Club (site of the 2006 Ryder Cup matches), and going a long way to supporting my proposition.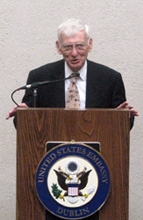 On the fourth of July, the BBC also reported that the new U.S. Ambassador to Ireland, Daniel M. Rooney (left), had officially presented his "letters of credence" to President McAleese the day before, while commenting that U.S. President Obama wanted to visit Ireland, and that "he definitely would plan it" when "things settle down," a sufficiently vague time (and perhaps an equally vague hope).
Rooney, whose family hails from Newry, County Down, is perhaps better known here as the chairman of the Pittsburgh Steelers, last year's Super Bowl champs. But he was also one of the founders of the American-Ireland Funds.
As for Obama, he has multiple reasons to point Air Force One toward Ireland. Anyone who has heard the Corrigan Brothers song, "There's No One as Irish as Barack O'Bama" (or seen it performed on YouTube), knows the President's great great great grandfather was born in the Irish village of Moneygall. So Obama would simply be coming home, where it shouldn't be too hard to find a good ale to drink, and maybe arrange a game with Dr. McAleese–all with an eye toward peace, a desirable end.