[May 23, 2011] My greatest wish, I thought, was that someday I might get a chance to play golf with President Barack Obama, the golf nut. Now I realize that what I'd really like to do is have a beer with President Barack Obama, the beer geek.
Okay, technically, I suppose what I'd really like to do is play golf with the President and then have a beer with the guy. But if only one of these dreams could come true, I'd happily settle for lifting a pint with the man who has to be one of our greatest beer-drinking Presidents.
I'm not talking quantity here. I'm talking panache, a man who likes a good beer and isn't ashamed to show it. I've written about this before (most recently here), but the President reaffirmed the fact today with a triumphal visit to Ireland. He included a stop at Moneygall, home of his great great great grandfather, Falmouth Kearney, and where he lifted a pint of Guinness with (among many others) Henry Healy, his eighth cousin.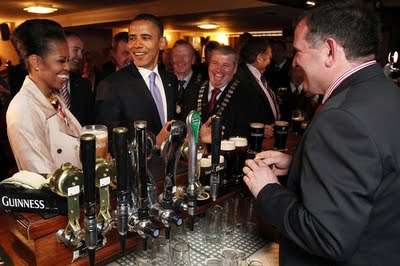 Now, I recommended that the President do this as long ago as February 2010 (see My Breakfast With the President), and it pleases me to see that he's taking close note of my counsel.
I guess he couldn't work out a golf game in Ireland, or even spend a night there; he had scheduled a stay in Dublin, but Iceland's spewing volcano scuttled that plan. Barack did run into Padraig Harrington however, waiting backstage after the President's speech to a crowd of about 25,000 in Dublin.
During the speech, the President said, "I'm Barack Obama, from the Moneygall Obamas, and I've come home to find the apostrophe that we lost somewhere along the way."
President O'Bama met with Irish President Mary McAleese in Dublin, and like President John F. Kennedy before him, planted a tree in a garden at the rear of the presidential home.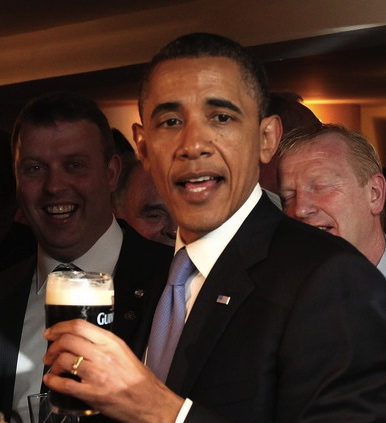 More impressively, back in the Ollie Hayes pub in Moneygall, Obama had downed his pint of Guinness in four gulps. (Take that, Tim Pawlenty!) An AP report quoted government clerical worker Christy O'Sullivan as marveling at the feat: ""The president actually killed his pint! He gets my vote. He's the first president I've actually seen drink the black stuff like he's not ashamed of something."
Indeed, the President waited for the pour to settle, as did the First Lady, who downed a half-pint, and later moved behind the bar to try her hand at pulling a few pints. No word on whether she added the shamrock flourish or not. (If it came to it, I'd happily settle for having a beer with Michelle. Just for the record.)
There are only about 300 souls populating Moneygall, but there's a good chance Obama shook hands or hugged every one of them. Only about 35 to 40 made it into the pub, but spirits were clearly high as the lifting of the pint moment arrived.
According to the always entertaining Obama Foodorama, the Beer Drinker-in-Chief also laid some money on the bar and said, "I just want you to know the President pays his bar tab."
Another good reason for drinking with him!