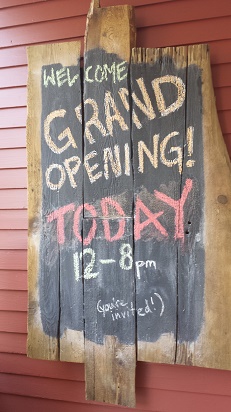 Brattleboro, Vermont now has three operating breweries. Going by the 2010 census, that's one brewery for every 2,471 residents. I like the odds.
The Hermit Thrush Brewery swung open its doors to the public for the first time at noon on Saturday, November 22. I like to think it was my journalistic zeal that made me the first to walk through the door. But I might just have been thirsty for something a little different, which is exactly what the brewery promises to be.
"One of my central goals is to make beers that taste different—exceptional beer both in terms of quality and in being an exception to the rule. If someone comes in expecting this and this and this from an IPA, I want them to have at least one other thing that is completely different from what they expect," said Christophe Gagné, the brewmaster who opened Hermit Thrush with partner Avery Schwenk. "Actually, I don't want to just do something different. I want to do something very different."
That was evident from the five beers available on opening day. Three will be regulars: Brattlebeer, a 4.25% ABV (alcohol by volume) sour beer brewed with apple cider; Brooks Brown, a 3.8% brown ale, and High Street Vermont IPA, a 6.7% fusion of American and Belgian-style IPAs. A seasonal beer, Tardy Pumpkin, was brewed from pumpkins harvested from near where the business partners are living in East Dummerston, but eschewing the usual pumpkin beer spices.
A special release, Hoppy Smalls, barely comes near a near-beer at 2.8% ABV. But it features hops and barley grown at Four Stars Farms in Northfield, Massachusetts, the grain milled by Valley Malt in Hadley, Massachusetts.
Any of the four main ingredients of beer—malted barley, hops, water, yeast—can be brought to the forefront in various styles. Think hop forward IPAs, malty brown or bocks, watery mass-market American lagers. The yeast is always the engine that makes the beer go, the living organism that ferments the sugars of beer wort into alcohol.
But it is in Belgian or Belgian-inspired beers that the yeast becomes the real star of the show, the wilder Brettanomyces strains often imparting funky characteristics that can take some getting used to. And that, too, is what Gagné is aiming at. All the beers at the opening, all then only two weeks old, had a hazy look from suspended yeast and sharp yeast profiles, though an approachable level of funk.
Gagné is a bit yeast-crazed, propagating and hybridizing his own cultures, amassing a yeast library of close to 50 different strains. The house yeast is a blend of a wild strain he cultured in his Swarthmore College days from a Philadelphia park, with a strain from an East Dummerston apple peel. "The combination gives off a little funk but nothing overwhelming. A little hint of tartness, a bit dry."
"Funk" is not a scientific term, the taste variously described as sour, cheesy, barnyard, horse blanket. Readers who want to immediately see where they stand can now go to the brewery and try the recently released Supah Phunk. It's a lid-lifting, eye-opening, lip-puckering exemplar of funk, brewed with a yeast strain Gagné cultured in the basement of an historic Philadelphia brewery–"Schmidt's, I think, but it's definitely not their lager yeast."
Those who make it past Supah Phunk's eau de frommage nose will find a bright and enchanting beer with fruity complexity, notes of apricot, and rolling in at 5.2% ABV. Some, like me, will love it. Others, maybe not so much?
Gagné said, "Even if someone isn't the biggest fan of my beers, I'll feel successful if that person comes in and says, 'Oh, that's interesting, never had something like that before!' I think right now there's a moderate audience for these kinds of beers, and all signs point to that being enough for the brewery for now. And I think in the two-year range there will be a vast audience."
That would work out nicely for the brewery's production schedule. Gagné is working on some lambic-style beers that traditionally blend new beers with one- and two-year-old barrel-aged brews. So when they're released about two-and-a-half more years from now, that much more consumer education should be under local belts.
To that end Hermit Thrush is promoting its CSB plan—a Community Supported Brewery. At various size, price and time period levels fans can insure a weekly growler fill of the latest brews. "We hope it's a nice trade off, helping out locals on the price point and helping out ourselves with consistent business. You can buy in for three months or a year at a deeply discounted rate and in exchange we know you're coming."
What's coming from the brewery is a Holiday Rye that is a blend of the house yeast and the Trappist brewery Orval in Belgium, well-known for its horse blanket characteristics. But here the yeast bite is moderated by seven different varieties of barley and rye in a bracing 6.7% brew. A Belgian-style Triple should be released by the end of the month and a whopping 13% barleywine, Jolly Abbot, is in the wings.
Hermit Thrush is solely a brewery, not a brewpub or restaurant. It offers samples and growler fills only. It's already on tap or soon will be at various Brattleboro establishments like the Flat Street Pub, Whetstone Station, Fireworks, Duo. In the hands of Craft Beer Guild Distributing of Vermont the beers will gradually be making their way north throughout the state.
If first in the door on opening day, I was far from last. A steady stream of the curious were in and out up until, and slightly past, closing time. "It went fabulously, and people seemed to like the beers, said Gagné."
In the expanding niche of beer tourism, most of the traffic headed toward Vermont has lately been aimed north, with travelers looking to score trophy beers from Hill Farmstead, Lawson's Finest Liquids or the Alchemist. Brattleboro may have to brace itself for an uptick in visiting beer sojourners, checking off the town's three breweries and, from Hermit Thrush, something very different.
[This piece originally appeared, in somewhat different form, in the Dec . 10, 2014 edition of The Commons, a weekly newspaper in Windham County, Vermont. Access the current edition of The Commons here.]
Related Posts:
New Song On High Street
TAP Beer of the Week: Hermit Thrush Brattlebeer