It should have been no great surprise that one of the positive pre-release blurbs for "The Squeeze" was from Phil Mickelson, since the movie is all about golf and gambling. The film, which debuted in theaters and Video on Demand in mid-April (it's now available on DVD), is a fictional romp based on the real-life youthful adventures of Keith Flatt, now president of a golf management firm in Las Vegas.
Las Vegas is where the movie ends, our young hero, Augie Baccas, in a million-dollar match with the reigning amateur champion that promises to have a fatal outcome for Augie whether he wins or loses.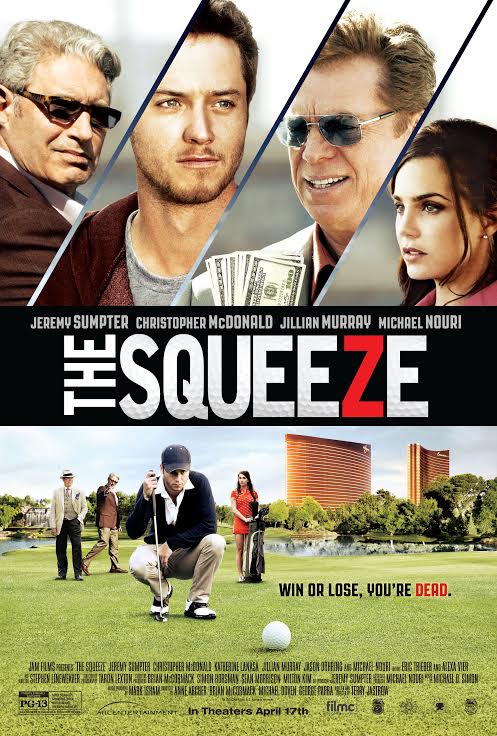 Before reaching Sin City we see Augie in his rural hometown, nursing U.S. Open dreams but struggling to keep his mother and kid sister safe from an abusive father. He's eking out a living through house-painting while winning local golf championships with ease and sustaining a relationship with his girlfriend, Natalie.
Enter the figurative devil, a slick professional gambler called Riverboat, played to the nines by familiar character actor Christopher McDonald. Riverboat waves wads of greenbacks before Augie's eyes, and he's soon in the process of selling his soul in hustling money matches set up by Riverboat.
The team is so successful that Riverboat persuades Augie it's time to go for the big money in Las Vegas, where the naive youngster is about to get a hard education. But one that he then puts to pretty good use.
"The Squeeze" probably isn't a good bet to pull down any Oscars next year, and there are plot holes you could drive a golf cart through. But it's a fast-paced and entertaining hour and a half with an appealing cast, ably put through the paces by writer and director Terry Jastrow. With decades of sports directing and producing to his credit (17 Emmys worth), Jastrow knows how to film a golf shot. (He produced the Tom Watson videos reviewed here.)
And he knows what a golf swing should look like, so he was lucky to find the engaging young actor Jeremy Sumpter to play Augie. Sumpter plays to a +1.1. The golf courses look pretty good, too, with the climactic match filmed at Wynn Las Vegas, a course most of us will only get to see here.
***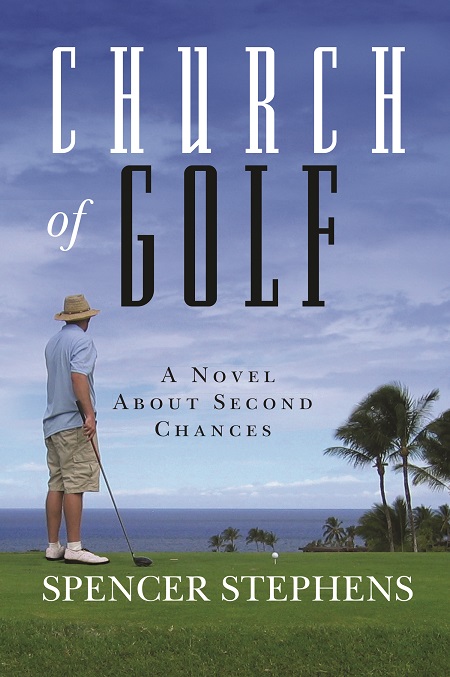 Another fictional effort, but back between book covers, is Spencer Stephens' "Church of Golf" (Saint Pete Press, $14.25). With those clues and a subtitle of "A Novel About Second Chances" I was afraid I was about to plunge into a religious tract that somehow equated playing golf with coming closer to God.
Well, actually, it does suggest that golf has a spiritual side, but even heathens can enjoy this book, loaded with ribaldry. The main character, Donald Gibson, is a college sports hero turned sour in his adult life as a car salesman in suburban Maryland.
Author Stephens based Gibson on a childhood friend who never had a second chance and died early from substance abuse. But Gibson's comes by way of a legacy from an aunt in Lanai, who leaves her $4 million estate to her nephew provided he not leave the tiny Hawaiian island for three years.
There, Gibson is a square peg in a round hole, but he begins playing on a golf course that villagers consider a worship center—it's actually called the Wakea and Papa Worship Center—and interacting with the mildly eccentric inhabitants around him. And over time (the storyline spans fifty years), Gibson is slowly transformed, and improves his short game, too.
Stephens is an attorney in his day job and this is another production unlikely to sweep any literary awards off the table. He has an especially irritating habit of describing character's golf swings in more detail than anyone would wish for. On the other hand, he's pulled off the great trick of keeping us reading even as the main character remains thoroughly repellent for almost the first half of the book, and leading us toward a satisfying denouement.
***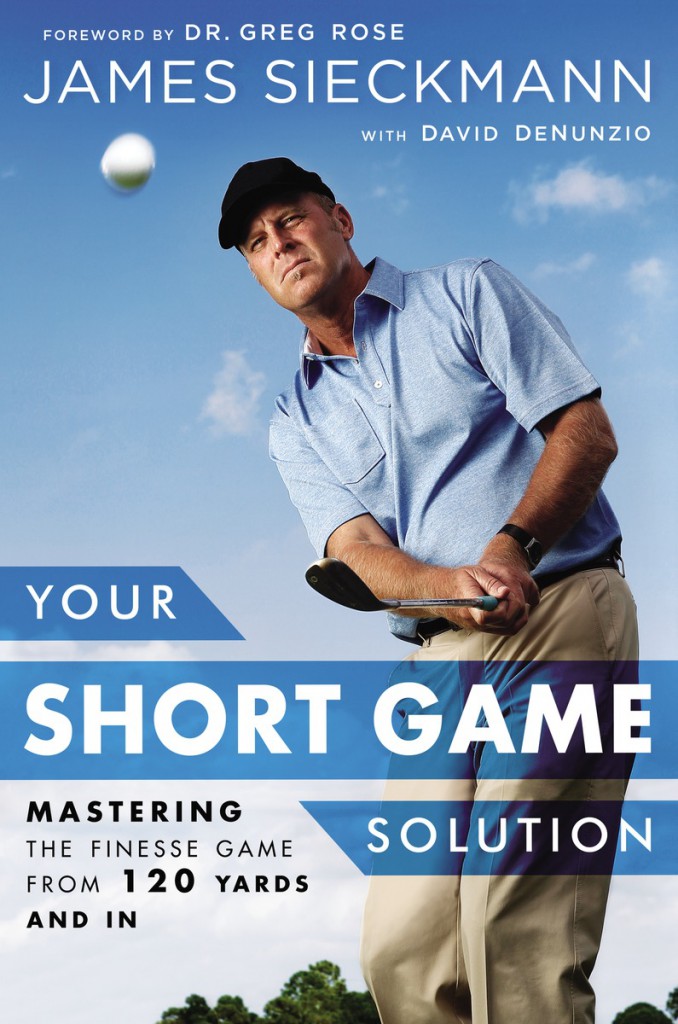 I think it might improve my short game if I moved to a Hawaiian island and practiced for three years. Failing that, I'm hoping James Sieckmann can help with "Your Short Game Solution: Mastering the Finesse Game From 120 Yards and In" (Gotham Books, $27.95), which he wrote with the help of David DeNunzio, Golf Magazine's instruction editor.
Sieckmann writes fairly hilariously about his own failures trying to make it on tour—any tour—but explains how his own defects led him to the short game discoveries that he now teaches to scores of PGA Tour and LPGA players, as well as out of his academy at the Shadow Ridge Country Club in Omaha, Nebraska.
The only problem is that the approach, which he terms the Finesse Wedge, pretty much overturns the apple cart of all previous wedge play instruction. Gone is the miniature version of your full swing, gone is keeping your hands ahead of the clubhead, gone is keeping the clubhead square, or your head unmoving.
This all sounds a little disconcerting, but then so is my short game, and while there's still so much snow on the ground that it will be awhile before I can actually try much of what Sieckmann is suggesting here, it sure looks good on paper and in the video clips he lists that readers can peruse on the web.
The material is presented here in ample and clear detail, well-illustrated with useful photos showing some of Sieckmann's clients, like Tom Pernice Jr., Ben Crane and Charlie Wi, with the somewhat daunting suggestion that it will actually require practice: "The typical finesse wedge training program is neither complicated nor physically demanding," he writes. "I've said nothing about it 'being easy.'"
***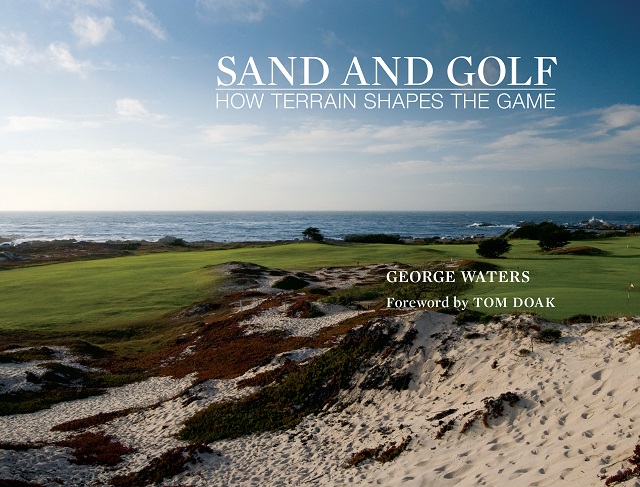 One not insignificant reason I love links golf is that I can often leave my wedge in the bag, and just use the putter even when well off the green. George Waters covers all the other reasons in "Sand and Golf: How Terrain Shapes the Game" (Goff Books, $40).
The book has actually been out for awhile—it won the 2013 Golf Architecture Book of the Year award from GolfClubAtlas.com—but just came across my desk, luckily enough. We're talking coffee table book here, with pages that are a foot wide to accommodate all the luscious course photos on every spread.
Waters is a golf course architect based out of San Francisco, as well as an accomplished writer and photographer as evidenced here. He worked for Tom Doak for years and Doak contributes a Foreword.
The text ranges over the evolution of a sandy course (though not all sandy courses are necessarily links), its native plants, the general features. Waters discusses how architects consider the wind in their routing plans, inherent strategies that arise, how playable the rough should be. Entire chapters are devoted to bunkers, approach and recovery areas, and greens.
But the photography is the real star here, with many of the usual suspects in their green or sandy glory—the Old Course, North Berwick, Sand Hills, Royal Dornoch, Royal County Down, National Golf Links, Shinnecock, Pacific Dunes, Rosapenna, Pinehurst No. 2.
It's all very arousing and therefore frustrating when contemplating a still wintry vista out one's windows. But it builds up a nice head of steam for spring, and all that fine golf to be played. And, yeah, all that wedge practice, too.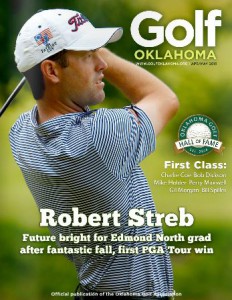 This piece originally appeared in the April-May issue of Golf Oklahoma magazine, in slightly different form.