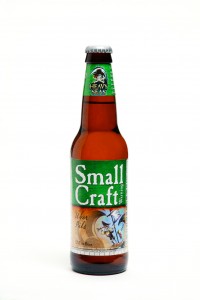 The wind and rain is just now picking up here on Monday afternoon in southeastern Vermont. But elsewhere the seas are angry, my friends, and Hurricane Sandy looms threateningly.
Presumably all but the Darwin Award candidates have taken the necessary precautions, which naturally includes stocking up on plenty of beer to see one through the worst of it.
Just for fun, here's a Sandy six-pack that would have been perfect to chill down before the power cuts off. (And it's flickering here right now….)
Small Craft Warning, Heavy Seas Beer, Maryland
As the waves wash up and down the east coast, residents in 19 eastern states and D.C. can find this hearty pilsner to calm nerves. It's a sweetish but crisp workout for the palate, stocked with six hops, but malt forward as well. At 7% ABV it may not help with any sustained clean-up efforts. Maybe that's part of the warning.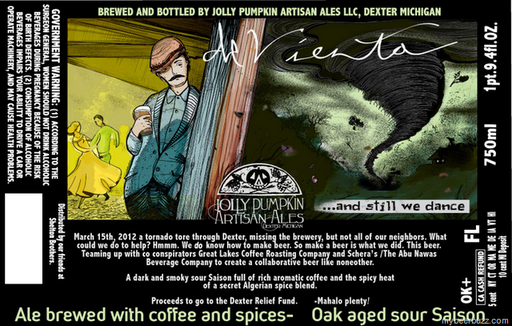 De Viento, Jolly Pumpkin Artisan Ales, Michigan
This beer was actually brewed in response to a tornado that wreaked damage in the brewery's town of Dexter in March, though not mucking with the brewery itself. Collaborating with the Great Lakes Coffee Roasting Company, Schera's Algerian-American Restaurant (in Iowa) and the Abu Nawas Beverage Co., the always inventive Ron Jefferies of Jolly Pumpkin has created De Viento (Spanish for wind). The result is a dark, smoky, sour and spiced coffee saison with colors, he says, that "swirl like dark tornado clouds." All proceeds from sales go to the Dexter Relief Fund.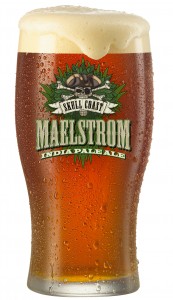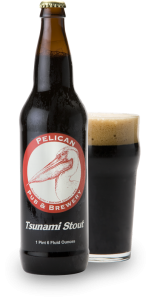 Maelstrom India Pale Ale, Skull Coast Brewing Company, North Carolina
A figurative tornado is picking up this South Carolina brewery and landing it a rehabilitated historic mill in Hickory, North Carolina in about a month. So while the spigots are actually off at the moment the Maelstrom IPA will be one of the first beers out of the gate, and distributed to both Carolinas and Virginia within months. And it is a perfect storm of seven different hops and a 7% ABV, so drink hearty, mateys.

Tsunami Stout, Pelican Pub & Brewery, Oregon
A year-round beer limited to Oregon distribution, although also sold online from the Pacific City brewery, this rich black beauty floods the senses with notes of caramel, chocolate and coffee in an enveloping complexity. Brewed to export stout strength of 7% ABV in bomber bottles, so there's little use in fighting the tide here. Go with the flow.

C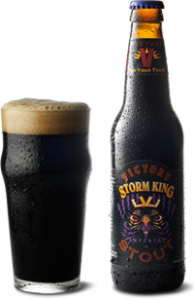 yclone Series Vlad, Coastal Extreme Brewing Co., Rhode Island
Also known as Newport Storm, the brewery started a seasonal Cyclone Series back in 1999, releasing original recipe beers named sequentially like tropical storms, more or less boy-girl-boy-girl, usually after family and friends of the company. They brew only about 850 cases-worth at a time, so shoppers in Connecticut, Massachusetts and Rhode Island should keep their eyes open. Vlad is currently making the rounds, appropriately a Russian Imperial Stout brandishing a 9% ABV.

Storm King Stout, Victory Brewing, Pennsylvania
The original conception of the brew was to brew a dark IPA with plenty of hop character and no cloying sweetness. Mission accomplished. Victory co-owner Bill Colvaleski says the beer has threatening overtones of hops at the entry, then mixes in a turbulent and tumultuous mix of malt and hops. At the end, with a 9.1% ABV, comes the alcoholic warmth and calm after the storm. With Victory's wide distribution, it all sounds like a plan.
The Hurricane Collection:
Irene: TAP Beer(s) of the Week: "Good Night Irene" and More Brown Than Black
Ike: Ike and the French Lick Maneuver