If you're wondering what that new sound is over on High Street in Brattleboro, Vermont, it may be the song of the state bird, the Hermit Thrush:

History will little note nor long remember that in 1941 the Vermont State legislators got their panties into a bit of a twist over the naming of the state bird. Since the Hermit Thrush migrates south in the winter, some lawmakers deemed the lofty title shouldn't go to a snowbird. Some said the Bluejay would be a more appropriate choice, others suggested the Crow.
But a goodly portion of Vermont's human population migrates south in the winter, too, and in any case the Hermit Thrush carried the day. So why not name a brewery after it?
If Whetstone Station is no longer the new kid on the Brattleboro beer block, the Hermit Thrush Brewery will be, over on High Street not far from the new Duo restaurant. (Which gets a nod for a decent beer list, including the hard-to-find (around here, anyway) Fiddlehead IPA from the Shelburne brewery.)
Hermit Thrush was set to begin brewing by November 7, and offering its first beers right before Thanksgiving. "I think it's safe to say we'll open the door for tastings on Saturday, November 22," says Christophe Gagné, who will be brewing with partner Avery Schwenk.
The friends, both under 30, met at Swarthmore College. Schwenk is from Minnesota and Gagné from upstate New York. According to Gagné they were drawn to Vermont by it politics and scenery, and to Brattleboro in particular because the southern part of the state seemed underrepresented by breweries.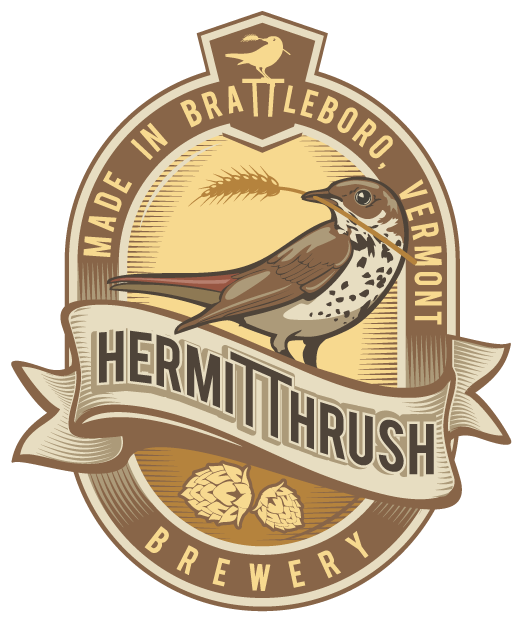 "Brattleboro is large enough to support a brewery, is day-trippable from New York and Boston, and it just has a lot of vibrancy for a small town. On previous visits I was always impressed by how the town is a kind of hub for the area's arts," he said. And the new brewery will have a small gallery area.
The partners are also looking to be as energy sustainable as is possible for a brewery to be. "To that end we are, to my knowledge, the first brewery to use wood pellet boilers. We'll be reducing most packaging by selling only in growlers or kegs to bars and restaurants."
They're also concentrating on Belgian-inspired beers—abbey-style ales, sours, saisons. Gagné is ready to weave fermentation magic with his library of 46 different yeast strains, and about 80% of the production is expected to spend some aging time in oak barrels.
So one of the debut beers will be a 4.2% ABV sour ale brewed with cider—Brattlebeer. A 3.8% ABV brown ale, a session beer by any measure, will be called Brooks Brown Ale. And IPA fans can look forward to the 6.7% High Street Wild IPA, a Belgian-style hopfest.
Sourcing local ingredients will also be key, like pumpkins picked right in Dummerston near where the business partners are living. They went into the first seasonal brew, Tardy Pumpkin, which will be a spice-free 5.5% harvest ale.
[This piece originally appeared, in somewhat different form, in the Nov. 5, 2014 edition of The Commons, a weekly newspaper in Windham County, Vermont. Access the current edition of The Commons here.]
Related posts:
Hermit Thrush Takes Wing
TAP Beer of the Week: Hermit Thrush Brattlebeer