[Apr. 15, 2018]–It doesn't sound like it's going to be a very pleasant day to run 26.2 miles in the 2018 Boston Marathon. A cold morning and a mostly soggy day are predicted, making for raw conditions on the Patriots' Day holiday.
It may not be as bad as it was in Vermont today, when I cracked open a bottle of the Samuel Adams 26.2 Brew. We were inflicted with sleet, freezing rain and snow in the state, and the wind didn't help matters. Hard to believe I was playing golf in short sleeves on Friday.
This is the seventh year the Boston Beer Co. has co-sponsored the Boston Marathon (poised to make its 122nd run) and made the 26.2 Brew in partnership with the Boston Athletic Association. (It's also the 38th year since the company released the first batch of Samuel Adams Boston Lager, also on Patriots' Day.)
More poignantly, it's five years since the bombing near the Boston Marathon finish line that killed three and wounded more than 260; sixteen people ultimately lost limbs as a result of the two blasts. While warmer weather would be more ideal for drinking a Gose or running a marathon, anyone in the vicinity should think about buying one anyway: 100% of the profits from the beer goes to Spaulding Rehabilitation Hospital's Adaptive Sports Centers, which work to promote access to sports and recreation to those with disabilities.
The beer is sold only in the Boston area, but in plenty of bars and restaurants along the marathon route. And this year for the first time it's available in bottles as well, so it wouldn't be hard to cart some home to enjoy on better days. There's a handy Beer Finder search function on the Samuel Adams website to help track some down.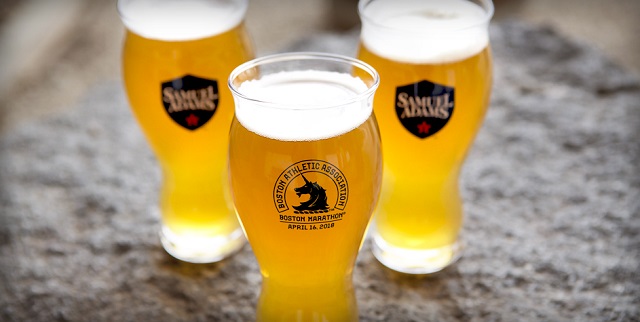 Marathon participants might find the beer the ideal post-race refresher. It's a light Gose-style ale, 4.5% ABV, made with malted and unmalted wheat, pale and Munich malts and Saaz hops. It has a sweet, honeyish nose, but with a tart piquancy in the palate, thanks to touches of coriander and salt.
But whatever one might be hydrating with, good luck with the day to marathon viewers or runners—cheers, and stay strong.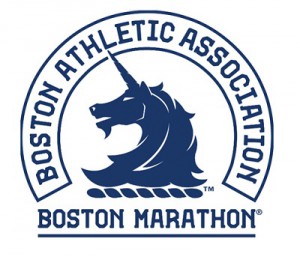 Name: Samuel Adams 26.2 Brew
Brewer: Boston Beer Co., Massachusetts
Style: Gose
ABV: 4.5%
Availability: Limited, Boston area
For More Information: www.samueladams.com/262brew
Other posts mentioning the Boston Beer Co:
Tap Beer of the Week: Samuel Adams Summer Ale
12 Beers of Christmas 2015: Jolly Traveler Winter Shandy
12 Beers of Christmas 2014: Samuel Adams Merry Maker Gingerbread Stout
TAP Beers of the Day: Heineken and Samuel Adams Boston Lager
Drinking by the Numbers
Twelve Beers of Christmas 2012: Samuel Adams Winter Lager
TAP Beer(s) of the Week: Oh, Bring Us Some Clootie Dumpling…