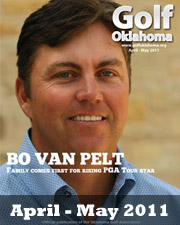 I happily made my Golf Oklahoma debut in its first issue, April-May 2011, with a piece on ten books that would make up a good desert island golf library. I can't say I remember exactly how that first assignment came about, but I know publisher Ken MacLeod and I met on more than one golfing trip somewhere in the land and hit it off. It's been an honor to have written for Ken ever since, in almost every issue of the magazine. He's actually celebrating his 30th year in the golf publishing business, as the original tabloid was called South Central Golf.
So a tip of the cap there. For Golf Oklahoma I've written pieces on travel, beer, golf gambling, golf humor, golf movies. But mainly I set up shop at a section called The Bookshelf, reading and reviewing many a volume about the game we all love, when it isn't driving us crazy. I'm not sure I have the exact count, but not including the original ten I think I've reviewed 120 books over the years, along with a few instructional videos and golf movies. Eventually I put them up here on the website.
Luckily, there weren't that many real stinkers in the parade; there's usually something of at least passing interest in most golf books that manage to get published. On the other hand, real gems can be fairly rare, too, books that strike me as at once compelling and exceedingly well-written. Which leaves out almost all of the instructional books.
So, in the prevailing retrospective celebratory mood, I combed the archives to come up with a Top Ten of the last 12 years—those books that came along that are still worth tracking down. And if they're not still available for purchase, well, that's what libraries are for.
It wasn't hard to find ten. It was hard to limit it to ten. So—something I would never do out on a golf course—I cheated, just a little. I've listed the books chronologically, noting the issue the review appears in and linking to it here on the website.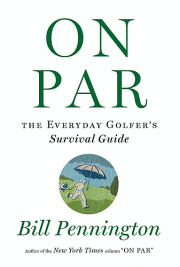 Bill Pennington, On Par: The Everyday Golfer's Survival Guide (Aug-Sept, 2012)
Pennington just hung up his New York Times sports writing spikes in September. For a number of years he wrote the "On Par" column for the paper and this is a genial collection of the same. There are all sorts of intriguing observations on the game—emphasizing that it's a game—such as the statistics showing that the most effective way to play golf in terms of scoring, "is to walk with a pushcart, followed by playing with a caddie, following by taking a cart, and lastly carrying your own bag. Or the Swedish study showing that golfers outlive non-golfers by five years!"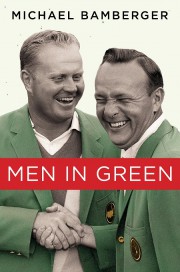 Michael Bamberger, Men in Green (June-July, 2015)
Veteran sportswriter Bamberger goes on a road trip to visit nine Living Legends of the game (Palmer, Nicklaus, et. al.) and nine he calls Secret Legends, including Mike Donald, who almost, but not quite, won the U.S. Open in 1990. It's a great ride that, "…casts a compelling spell as the stories pour forth, often reflecting one upon another, the past, the nature of time, life itself. It's an episodic journey, but it flows like a stream." Bamberger's subsequent The Second Life of Tiger Woods (April-May 2020) is also a great read about the GOAT in light of his remarkable 2019 Masters victory.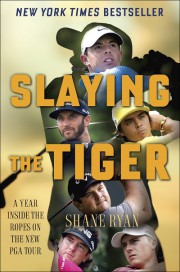 Shane Ryan, Slaying the Tiger (Oct-Nov, 2015)
Ryan is an admirable on-the-ground researcher and storyteller, who spent a year following the PGA Tour around to deliver juicy behind-the-ropes scenes of players striving to emerge in a (not quite) post-Tiger world. And his more recent The Cup They Couldn't Lose (June-July, 2022), about the 2021 Ryder Cup, is equally worth reading. Patrick Reed may disagree; he comes off poorly in both volumes, making it a bit of a surprise he didn't add Ryan's name to his recent defamation suit. [Note: He subsequently did just that, though a judge later issued a summary dismissal of the entire case.]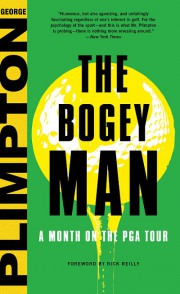 George Plimpton, The Bogey Man (June-July, 2016)
It was thoughtful of Little, Brown and Company to reissue seven of the late George Plimpton's sports books, including this classic, about his misadventures with the PGA Tour, circa 1968. Plimpton was the master of participatory journalism, and a felicitous prose stylist, both observant, humorous and necessarily self-deprecating. And as long as we're talking reissues, the two-volume P.G. Wodehouse collection called Golf from Overlook Press (Oct-Nov, 2016) is a feast of fun not to be missed, 19 tales of golf and comically complicated love affairs that all seem to turn out just right.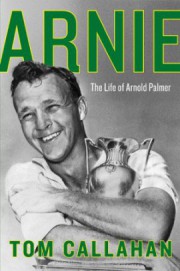 Tom Callahan, Arnie: The Life of Arnold Palmer (April-May, 2017)
There was a disturbance in the golf force when Arnold Palmer died in September of 2016. I anticipated a mini-industry of biographies of the King to follow. That there hasn't (so far) been a flood of them may be because Tom Callahan set an almost impossibly high standard with this one. A long-time newspaper man and Golf Digest contributor, Callahan knew Palmer well. He knew every major sporting figure of his times well, which also makes his Gods at Play: An Eyewitness Account of Great Moments in American Sports (Travel Issue and Directory, 2021) a terrific read.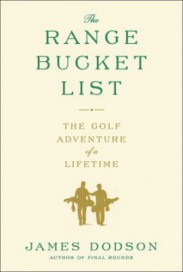 James Dodson, The Range Bucket List (April-May, 2017)
Ever since his 1996 best-seller, Final Rounds, Dodson has been a reliable chronicler of the emotional attachments we bring to the game in a dozen books. This volume serves as a poignant memoir that limns what it has been like for him to spend so much of his time so wedded to the game and its participants, famous and otherwise. He's good company, for those he meets up with, and for readers. An earlier, more journalistic approach about Hogan, Snead and Nelson, American Triumvirate (June-July, 2012) is also top-notch.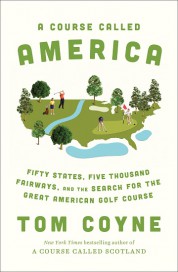 Tom Coyne, A Course Called America (April-May, 2021)
What I call Coyne's golfapaloozas—in which he plays tons of courses and manages through his fine prose to report on his stunts and not make us feel envious (well, not too envious)—reaches the trilogy stage with his latest. The earlier efforts, A Course Called Scotland (Aug-Sept, 2018), and A Course Called Ireland are just as ingratiating, but the U.S. trek, playing usually more than one course in every state is, like the country, a broader effort, and more beguilingly familiar.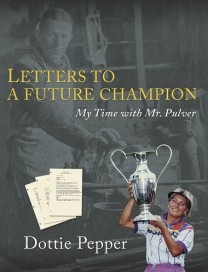 Dottie Pepper, Lessons to a Future Champion (June-July, 2021)
The story of the young Dottie Pepper striking up a student-teacher relationship with the older George Pulver becomes increasingly irresistible as it goes on. Pepper relates the saga through the actual correspondence the two shared over the years. As she grows more talented with more success, Pulver's advice rarely wavers from basics packed with common sense, wisdom and encouragement. Time is inexorable, so the tale by necessity turns poignant. As I wrote, "You'd have to have a cold heart not to be touched by this unique view of a mentorship suffused with mutual respect and love, one that came along at just the right time: when both needed it most."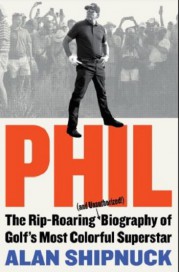 Alan Shipnuck, Phil! (April-May 2022)
Before anyone had teed off in an LIV event, an excerpt from Shipnuck's book revealed the Phil Mickelson maneuvers that eventually took him over to the LIV platform. And golf as we know it may never be the same again. Shipnuck's subtitle: "The Rip-Roaring (and Unauthorized!) Biography of Golf's Most Colorful Superstar" gives away some of the lively tone of the book, which presents plenty of Mickelson warts, but on the whole seems an admiring portrait. One that now leaves many of us wondering if he has simply tossed his legacy away.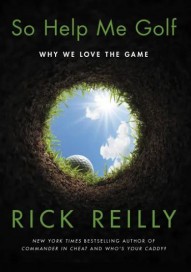 Rick Reilly, So Help Me Golf: Why We Love the Game (April-May, 2022)
Reilly's latest is 70 short takes on the ways golf weaves its way into our psyches, using Reilly's various life roles as its structure—Kid, Teen, [Golf] Addict, Writer, Caddy, Fan, Father, Grandfather and a few others. Most are hilarious, as is Reilly's wont, but some are poignant, such as an overall structure that has Reilly dealing with his once alcoholic and abusive father, one whom he's only able to forgive years later during—what else?—a road trip to the Masters. And though fans of Le Grand Orange may demur, Reilly was also brilliant in his take-down of the last President, Commander in Cheat: How Golf Explains Trump (April-May 2019).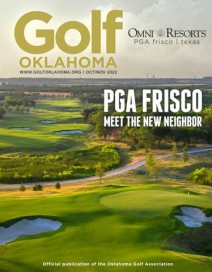 Read on!
This piece first appeared in the Oct-Nov 2022 issue of Golf Oklahoma, in slightly different form.