The hullabaloo surrounding Tiger Woods will-he-or-won't-he? appearance at this year's Masters—ending with he would—managed to partially obscure the otherwise glaring absence of three-time green jacket winner, Phil Mickelson.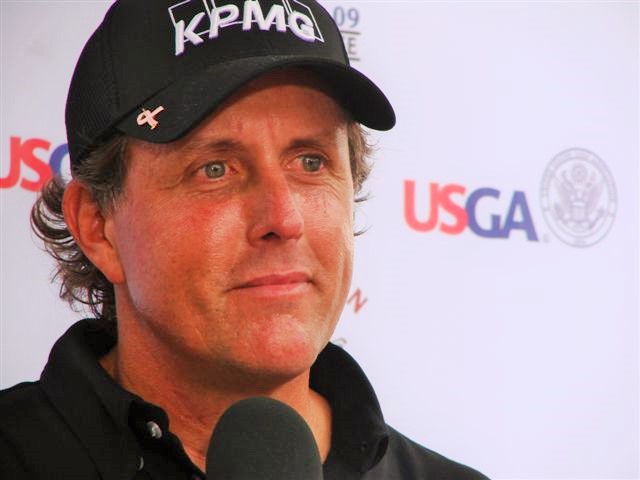 There should be no need to review here the sorry details that led to Mickelson's missing the year's first major. The only question might be whether he choose to skip the tournament as part of his self-imposed abeyance from competition to become the man he wants to be, whether the Augusta National powers-that-be asked him to sit this one out, or whether the PGA Tour had slapped him with one of their never-to-be-spoken of suspensions (its version of double secret probation).
[On the eve of the opening round of the Masters Augusta National chairman Fred Ridley said Mickelson had not been disinvited.]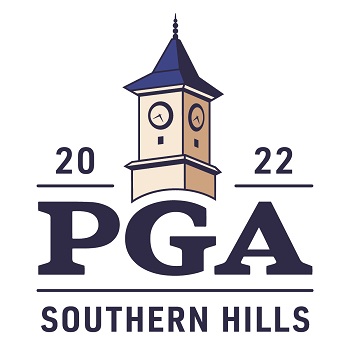 It did beg another question: whether Phil would show up at Southern Hills in May to defend his 2021 PGA Championship title? Now we know the answer to that, too–he would not.
It was almost impossible to imagine he wouldn't show, but one thing you can count on with Mickelson is his unpredictability. That one of, if not the most popular players in the game today could hit such a glorious peak after that amazing victory and then so quickly plummet to such a tawdry nadir was as unseemly to witness as Will Smith at the Oscars.
Propelling the brouhaha was an excerpt released from one of the three titles under consideration here, Alan Shipnuck's Phil: The Rip-Roaring (and Unauthorized!) Biography of Golf's Most Colorful Superstar (Simon & Schuster, $30), which detailed Phil's comments about the proposed Saudi league and his efforts to gain "leverage" over the PGA Tour.
Though I read the book in galley, that whole exchange, including Mickelson accusing Shipnuck of airing off-the-record comments, and Shipnuck's denial that there were any off-the-record comments, is included toward the end of the book.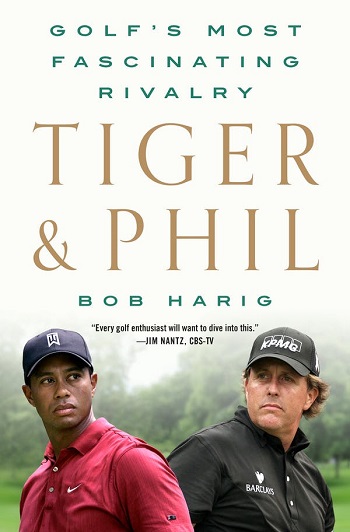 I also read galleys of Bob Harig's Tiger & Phil: Golf's Most Fascinating Rivalry (St. Martin's Press, $29.99) and Rick Reilly's So Help Me Golf: Why We Love the Game (Hachette Books, $29). Neither mention Mickelson's recent imbroglio, and a check with the publishers indicated the authors were not planning to add a postscript about it.
I can't help but think that Harig is an unfortunate victim of bad timing here. He's a fine and talented writer and the book at hand is a perfectly acceptable account of the careers of the two superstars stacked up against each other.
But stacked up against Reilly and Shipnuck, Harig is a little like J.B. Holmes at the 2016 Open Championship, finishing a respectable third, but more than ten strokes behind Henrik Stenson and Mickelson.
For some reason Harig opens his narrative with Hal Sutton's disastrous pairing of Woods and Mickelson at the 2004 Ryder Cup at Oakland Hills in Michigan. At the time the two stars were not particularly fans of each other, and their fruitless results didn't improve matters.
From there Harig backs up to proceed chronologically through the players' careers, but the trek through countless tournaments begins to feel like a summery—a bit dry, a little like looking through a scrapbook, pleasant enough to recall some of the highlights, but not an experience you couldn't live without.
Harig lacks Reilly's humorous touch, and though he sprinkles ample anecdotes throughout the book, they lack the incisiveness of Shipnuck's reporting. Still, fans of either Woods or Mickelson, or both, will find enough to feast on here.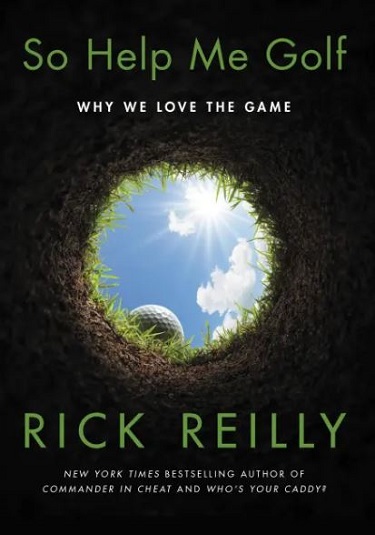 Reilly's book isn't really about Mickelson or Woods at all, and yet he manages to suitably characterize the pair in a few well-chiseled phrases: "I'm a Phil Mickelson guy, not a Tiger Woods guy, and here's why: Phil lets us into his life. Tiger stations Dobermans at the door of his…..Tiger's thoughts are on a need-to-know basis, and nobody needs to know. Phil practically gives you the passkey to his mind."
What So Help Me Golf is about is 70 short takes on the ways golf weaves its way into our psyches, using Reilly's various life roles as its structure—Kid, Teen, [Golf] Addict, Writer, Caddy, Fan, Father, Grandfather and a few others.
Most are hilarious, like the club pro playing a practice round with Stephen Ames before a tournament. Ames never actually takes a club out of his bag during the entire round—all 18 holes with an imaginary swing. At the end of which the club pro's caddie asks, "What'd you shoot?"
Some are poignant enough to provoke tears, like the story of Tour player Erik Compton being served by a waitress who improbably turns out to be the aunt of the man who had given him his second heart transplant.
And there's also the way golf allows Reilly to negotiate life around an alcoholic and abusive father, one whom he's only able to forgive years , after his father had found sobriety, during a road trip to the Masters.
I would have said this is the best golf book I've read in quite some time. But then I read Shipnuck's, another winner, and about as rip-roaring as the title promises.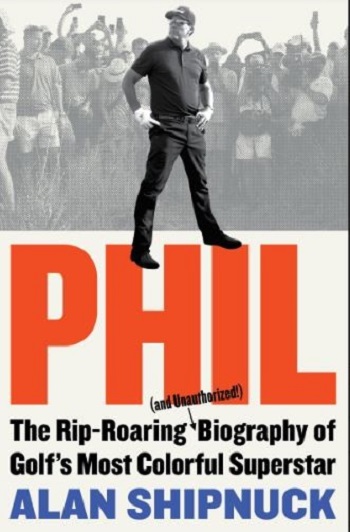 Most of the more recent inflammatory material about Mickelson comes in the last chapter, along with instances of Phil telling Shipnuck he was wary of the author's effort.
But other than the Saudi material, Mickelson didn't really have that much to worry about. Sure, Shipnuck offers plenty of instances of Mickelson being his own worst enemy in shooting his mouth off without pondering the ramifications. (Example: The 2014 Ryder Cup press conference, when Mickelson raked captain Tom Watson over the coals.)
His personal style carried over to his swashbuckling play, brilliant when it worked (Augusta National, hole 13, 2010 Masters) calamitous when it didn't (Winged Foot, hole 18, 2006 U.S. Open). But it's a Hall of Fame career by any reckoning, starting with 45 wins, putting him in a tie for eighth on the all-time PGA Tour list with Walter Hagen.
Shipnuck covers Mickelson's off-course gambling as well as on, the boastful Mickelson, the trash-talking Mickelson, while blowing up some of the hoary Mickelson legends (fathering a black baby, he and Amy swinging with other couples).
But he also covers the thoughtful Mickelson, the helpful to other players Mickelson, the generous Mickelson (unlike Woods, a big tipper), the philanthropic Mickelson, and the devoted family man Mickelson.
A lot of this is revealed in a brilliant first chapter in which Shipnuck asks a single question, "What's your best Phil Mickelson story?" and then unfurls two and a half dozen answers from other players, athletes, writers.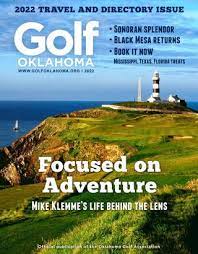 Shipnuck's Mickelson contains multitudes. It's a portrait of a clearly complex character, one who, as Stewart Cink puts it in that first chapter, is all about "juice." I'd call it a largely admiring portrait, with plenty of juice of its own.
This piece first appeared in the April-May 2022 Golf Oklahoma, a special 2022 PGA Special Preview Issue.