The Nature of the Game: Links Golf at Bandon Dunes and Far Beyond (Knopf, $40) by Mike Keiser with Stephen Goodwin, is a handsome volume recounting Keiser's second occupational life as a golf destination developer.
His first was as a head partner in Recycled Paper Greetings, a (mainly) greeting card company that gave Keiser the wherewithal to indulge his growing obsession with links-style golf.
Though Bandon Dunes was the course and resort that really implanted Keiser in just about every golfer's noggin, he actually started out with a nine-hole course in New Buffalo, Michigan called the Dunes Club, an outright homage to Pine Valley.
The book goes into all this history in ingratiating detail, goes on to recapitulate the now 20-plus year history of Bandon Dunes, and then takes in what might be called the rest of the Keiser empire: Barnbougle Dunes in Tasmania, the Cabot Courses in Newfoundland (and the Caribbean island of Saint Lucia), and the expanding Sand Valley Resort in Wisconsin, now largely run by Keiser's sons, Michael and Chris.
Well, sure, the book can be viewed as one big advertisement for Keiser's properties. A whiff of entitlement occasionally wafts by, a tinge of self-congratulation. But anyone who has been fortunate enough to play any of the Keiser-involved courses knows he is surely entitled to the congratulations. What began at the Dunes Club has spread its ripples world-wide, altering the nature of modern golf course architecture in the process.
Modern may not be the proper term, since Keiser has all along been devoted to links-style golf, and the team of architects he has employed can mostly be assigned to the minimalist school—the likes of David McLay Kidd, Tom Doak, Bill Coore and Ben Crenshaw, Rod Whitman.
The book will be catnip for golf architecture junkies. Keiser devotes an entire chapter to Doak, but all of the designers have their say, as sizable portions of the text are oral histories about the creation of the courses.
The book is rich in detail, fun to read and the photos are gorgeous. The only problem is the uncontrollable itch it creates to get back out and play some of the courses.
<<<>>>
If little remembered today, Ed Oliver was a significant presence on the PGA Tour before and after World War II. He was a star of the era, if more due to his outsized personality than from any sustained success.
Credited with eight official Tour wins, a member of three Ryder Cup teams, Oliver bested the best of his day from time to time, and when the best included the likes of Hogan, Snead, Nelson, Locke, Palmer, that's saying something.
Born in Wilmington, Delaware in 1915, Oliver succumbed to lung cancer in 1961 at age 46. John Riley, who grew up with Oliver's children, tells the story in his How He Played the Game: Ed "Porky" Oliver and Golf's Greatest Generation (Riley Publications, $30.00)
Oliver was rarely called "Ed." "Porky" was only one of several nicknames he carted around–"Snowball," "Snobie," "Chops," "Old Chops" and "Chopsy" among others. The porkchops reference certainly related to his well-publicized appetite—though only five-foot nine inches tall, Oliver often ballooned up to 240 pounds, and Riley has fun relating how baldly sportswriters of the day referred to his avoirdupois.
Oliver was something of a hard-luck case on the course, too, consistently blowing tournament leads in the closing holes, usually due to a balky putter. His bridesmaid credentials included finishing second to Hogan in the 1946 PGA Championship, second to Julius Boros in the 1952 U.S. Open, and second to Hogan again in the 1952 Masters.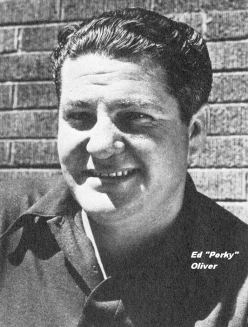 More severely, as one of the first pros drafted into the army during the war, he lost close to four full years of his prime playing time. And in one of his worst breaks, after finishing in a tie at the 1940 U.S. Open, he was disqualified with two other players who, over weather concerns, started their final round early. Despite pleas on his behalf from Gene Sarazen and Lawson Little, who had finished with the same score as Oliver, he was eliminated from the playoff.
Riley's research into Oliver's career is impressive. He perhaps leans on individual round scores and tournament winnings to somewhat numbing detail. And while he repeatedly tells us how popular Oliver was among fans and his fellow players, he doesn't show quite enough detail about the on-course antics.
Nonetheless, it's a good and poignant effort in resurrecting an overly neglected player, where in his hometown in 1983 they rechristened the Wilmington Golf Club as the Ed Oliver Golf Club.
<<<>>>
Arnold Palmer and Jack Nicklaus will never be overly neglected. But can we ever read too much about them? Charlie Mechem's Arnie and Jack: Stories of My Long Friendship With Two Remarkable Men (Mission Point Press, $26.95) comes at the pair from the unique vantage point he had, serving as an adviser to both men.
Mechem was the commissioner of the LPGA from 1990 to 1995, but prior to that he was the head of the Taft Broadcasting Company, which is where his association with Nicklaus began, commissioning Jack to build a course near Cincinnati and later helping with the video version of his book, Golf My Way.
After his LPGA term ended Mechem was asked by Palmer to be a personal assistant, and he served as such, without pay, for more than a decade. Consequently the book has a bit more Arnie material, but there are ample anecdotes here about both. Nicklaus provides a forward, as does Doc Giffin, another long-time Palmer adviser.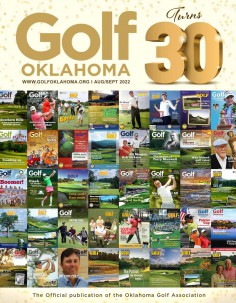 There's nothing too new, deep or revealing here about either icon. It's a bit hagiographic, and Mechem is hardly a great prose stylist. But the many photos are great, and I'll ask again, can we ever read too much about Nicklaus and Palmer?
This piece first appeared, in slightly different form, in the Aug-Sept 2022 issue of Golf Oklahoma.