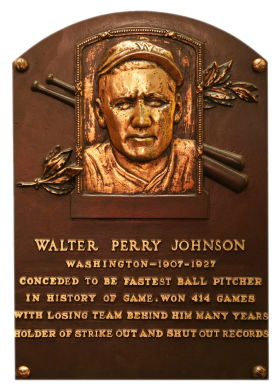 [Updated Feb. 16, 2018]–One of the great things about being married is that every now and again your spouse does something nice for you for no particular reason. Well, at least my spouse does. Lynn recently picked up a little book for me on a remainder table called The Baseball Almanac (Red-Letter Press, 2007). Nothing to do with golf, but nonetheless sure to help me waste more time.
To wit: The entry for July 19 asks the trivia question: Who is the only pitcher with 100 or more career shutouts? After guessing wrong with Cy Young, I went into the record books, to discover what is really an astonishing record, and one that will certainly never be broken until the day cyborgs begin pitching—the Big Train, Walter Johnson, threw 110 shutouts.
His nearest competitor, Grover Alexander, had 90. Only 20 pitchers all-time have 50 or more, the more recent being Nolan Ryan and Tom Seaver (61), and Don Sutton (58). The most recent active player, Roy Halladay, "only" had 20.
The leaders of current active players? Clayton Kershaw of the Dodgers with 15 and, if he latches on to a roster this year, the well-traveled Bartolo Colón with 13.
The way the game is played today, pitchers will be lucky to have 110 complete games in their careers. Randy Johnson had exactly 100. (And for a Hall of Famer with 303 career wins, had only three 20-win seasons.) CC Sabathia is the current leader with 38. Walter Johnson had 531. The runaway all-time leader, Cy Young, had 749.
Which suggests a new trivia question to complement the one often trotted out to writers at the beginning of golf fam trips, letting them stew it over for a few days before spilling the beans. That one was: What ten players with four or fewer letters as a last name, hit at least 40 homeruns in a season? Actually, there are now 15 such players.
Even more impossible is this one: There are seven pitchers with five or fewer letters in their last names with 50 or more career shutouts. Who are they? Well, you already have Ryan, and you could probably guess Cy Young (76) and Warren Spahn (63). But it could be tough coming up with the other four without resource to references. But go ahead, I'll give you a few days.
Spoiler alert: If you want to play, don't read the comments below, where beans are indeed spilled.