We're roaming a bit—to Scotland, and into the spectators' seats for a couple of books that aren't strictly about golf as about all sports.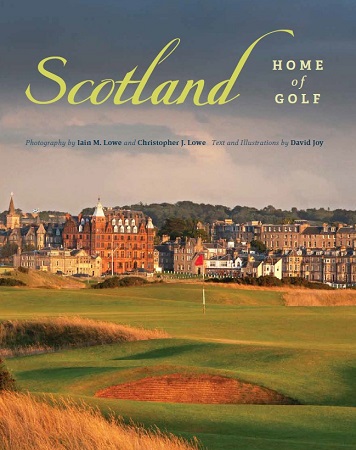 First, off to Scotland: Home of Golf ($45 via Amazon), courtesy of father and son photographers Iain and Christopher Lowe, with text and illustrations by David Joy. The Lowes have a long history of Scottish golf photography and publishing (scottishgolflibrary.com), and this volume shows that they're now in glorious command of drones as well as on-the-ground shots.
The architectural sensuality of the images is startling. If you've not been to Scotland, you'll likely find them cruelly enticing, a mournful tease, considering the current travel restrictions. Or it may have you looking over flight reservations for the earliest safe opportunity to visit.
Those of us who have roamed over some of the 14 links courses showcased here (ten of them on my life list), will appreciate just how fortunate we've been and pondering our own eager return.
The cast includes some usual classic suspects: The Old Course, Muirfield, Carnoustie, North Berwick, Turnberry, Prestwick, Royal Troon, Royal Dornoch, Royal Aberdeen and Cruden Bay, as well as four newer beauties: Kingsbarns, Castle Stuart, Trump International and Dumbarnie.
David Joy, who has another life in Scotland performing an impersonation of Old Tom Morris, provides drawings and text that chronicle the history of the courses and the many champions who have challenged the links, particularly in Open Championship matches.
The current owner of the Turnberry resort (the 45th U.S. President), unsurprisingly renamed it eponymously. But I thought it a matter of brilliant editorial reticence that Joy never once mentions his name. There's no getting around that in terms of a seemingly begrudging inclusion of Trump International, the credit there going mainly to designer Martin Hawtree.
<<<>>>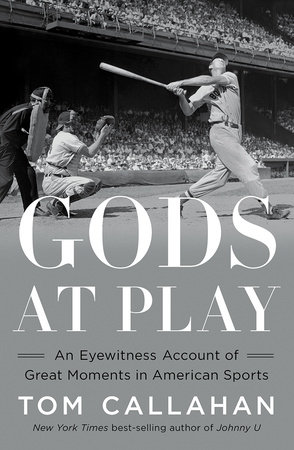 Writer Tom Callahan, last noted here for his wonderful Arnie: The Life of Arnold Palmer, has done it again in his brilliant Gods at Play: An Eyewitness Account of Great Moments in American Sports (W.W. Norton, $35.95).
This is, frankly, the most enjoyable sports book I've read in years; I can't recommend it highly enough. It's a wildly entertaining reflection on a life covering the great sports figures of our time (well, especially if you're of a certain age). It's a penetrating look behind the curtain of the sports world, from a writer who was there for decades as both a newspaper and magazine columnist.
Callahan wrote thirty cover stories for Time magazine during his sojourn there as the sole sport columnist, after stints with various newspapers—indeed, Gods at Play is also a requiem of sorts for the bygone days of great newspaper sports writing.
But there's nothing lugubrious about it—it's loaded with as many laugh-out-loud moments as it is with poignant reflections on figures like Muhammad Ali, Roberto Clemente, Pete Rose, Kareem Abdul-Jabbar, Arthur Ashe and even Secretariat. Palmer appears, too, and there's a full chapter on Tiger Woods.
I had the pleasure of meeting Tom when he spoke at the Brattleboro Literary Festival here in 2017 (with Jim Dodson), and realized at a lunch we shared that he's like a sporting jukebox—throw in the coin of a name and he's got a mesmerizing tale to spin.
Gods at Play is jam-packed with these tales. Some are hard-hitting, some will have you reaching for a tissue. It takes a clear look at discrimination in sports, be it about race ("Race has been the biggest element in my time around sports, and still is…") or sexual orientation, with an extended piece about the closeted life and AIDS-related death of NFL star Jerry Smith.
Don't miss this one.
<<<>>>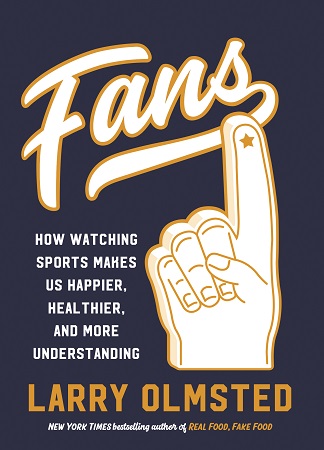 I confess to knowing fellow Vermonter Larry Olmsted well; we'veL played golf together in a number of countries. Larry has written a book with a title as short as his backswing: Fans (Algonquin Books of Chapel Hill, $25.95). But the lengthy subtitle follow-through lays out his premise: How Watching Sports Makes Us Happier, Healthier, and More Understanding.
As much as I like Larry I was getting ready to toss his book across the room as a totally one-sided rosy argument until I reached page 136. Then he eased my mind, going deeper, and presenting more nuanced facets in the overall case.
In a peanuts or crackerjacks nutshell, Fans dispels the cultural stereotype of a sports spectator as "the corpulent lazy guy," a jersey-wearing couch potato swilling beer and scarfing nachos, probably a step away from starting a brawl.
On the contrary, Olmsted rolls out study after study (and there seems to be no end to the medical and psychological research into the subject) to make the case that identifying with a sports team, or teams, makes us better people.
And while the examples in the book are mostly about following team sports, Olmsted notes, "… it is possible to be a sports fan without having any favorite team—those spectators whose sportive interest is devoted entirely to individual competitions such as tennis, boxing or golf…."
Olmsted has written a handful of books and more magazine articles than any other writer I know. Indeed, his various sections often read like a series of articles. If he doesn't have the narrative chops of someone like a Callahan, say, he nonetheless hits a real stride when discussing the healing power of sports.
"I still get teary when I reflect on the power of sports after 9/11," he writes, and then proceeds to make the reader teary in recounting the story of Carol Gies, who lost her FDNY husband and the father of their three sons in the World Trade Center attack. Gies and her sons attended the first Mets (vs. Braves) game at Shea Stadium ten days after the attack.
The family members were all huge Mets fans. In the bottom of the eighth inning Mike Pizza stepped to the plate with a FDNY logo on his helmet. He crushed what would be the game-winning home run far into the left field stands.
Gies later said, "When that ball went over the wall, I saw my children smile for the first time since they lost their dad." The family met Piazza after the game, and 12 years later attended his induction into the Mets Hall of Fame. Gies said then, "I wouldn't miss this day for the world. None of us will ever forget what this man did to help our family."
That's just one of many incidents Olmsted unearths to make his case, and he makes it well.
<<<>>>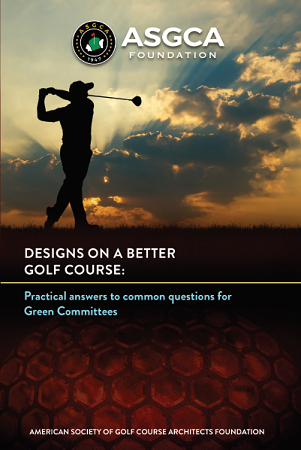 Back on the literal earth, the American Society of Golf Course Architects Foundation has put out Designs On a Better Golf Course: Practical Answers to Common Questions for Green Committees (available through Amazon, $24.95).
Though put together by a committee of ASGCA members, the text is primarily the work of architect Jeff Brauer from previous essays on various topics pertaining to designing, renovating or restoring golf courses.
Though written like a text book, with PowerPoint-like questions and answers, Brauer is not without style and the occasional witticism—one factor in favor of extra irrigation pump and pipe costs is to: "…eliminate any chance of old men stripping down naked to run under the sprinklers to cool off on hot days. No one wants to see that."
In a way the volume serves as a hearty endorsement of hiring golf architects to do jobs that might otherwise be done in-house to save money. But as the author notes, "The old saying, 'The bitterness of poor quality remains long after the sweetness of low price is forgotten," apples to golf course renovations."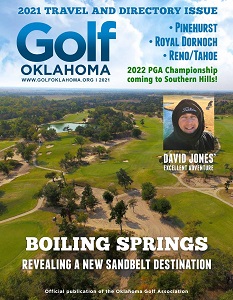 Anyone involved with the "care and feeding" of their golf course should find the book well-designed with detailed practical value.
This piece originally appeared in the 2021 Directory and Travel Issue issue of Golf Oklahoma magazine, in slightly different form.