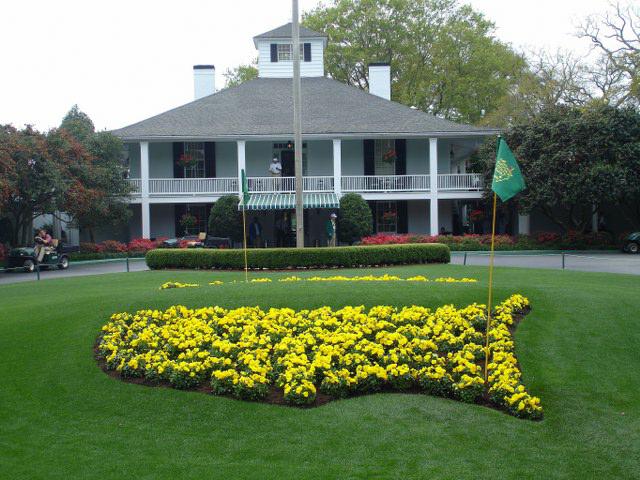 The shot heard round the world yesterday was Phil Mickelson's second on the thirteen hole at Augusta National. Mickelson stuck his six iron to within eagle range, off the pine straw, through two pines trees, over Rae's Creek and safely onto the green about 197 yards away. That he missed the putt didn't tarnish the brilliance of the shot. He was clearly in the driver's seat, driving in the zone, and at that point the outcome seemed inevitable, even though sterling play was creating roars all about him.
Winning the 2010 Masters yesterday puts Mickelson into some rarified company–now only Jack Nicklaus, Tiger Woods and Arnold Palmer have won more than Mickelson's three green jackets. He has four major titles (including the 2005 PGA Championship), and his 39 PGA Tour wins put him 12th on the all-time win list.
He's enormously popular with many golf fans, who appreciate that he seems to appreciate them. But others not only can't warm up to Phil, but seem to take an active dislike to him. I can't quite understand this, though the suggestion is that there's something phony about him, including his agreeableness. Others detractors say he's just too full of himself, and he's even taken some hits in the past from his fellow pros, albeit usually anonymously. (Although earlier this year, there was the grooves dustup with Scott McCarron.)
Others criticize his play, suggesting that his gambles don't pay off enough, although the numbers would seem to belie that. Even Mickelson called himself an idiot when his double bogey at Winged Foot on the last hole of the 2006 U.S. Open cost him the tournament.
But don't look for him to change his style of play any time soon. In his press conference after the Masters win yesterday Mickelson said, "A great shot is when you pull it off. A smart shot is when you don't have the guts to try it."
I don't claim to know Mickelson. My sole interaction with him was one interview of about two hours length early in 2004, when he still had yet to win a major, a burden he was dragging around like Marley's chains, which may have suggested the ghostly figure I inserted into the piece. As far as the interview went, the lack of majors was more an elephant in the room, and a question I couldn't avoid asking.
To his credit, Mickelson didn't dodge it. And overall he struck me as frank, friendly, generous and genuine. If he was wearing a mask, I sure couldn't detect it. I guess that's when I became a Phil fan, confirmed yesterday as I was pulling for him.
So I decided to drag this piece out of the vaults just for a little perspective, and also because at the time it seemed prescient. Just after it appeared as the cover story of the Spring 2004 issue of American Airline's Celebrated Living magazine, Mickelson won his first major title, the 2004 Masters. I present it here more or less in its original form:
O LUCKY MAN
Spring, 2004
The view from my room at the Lodge at Torrey Pines looks directly upon the finishing hole at the Torrey Pines South Course. The PGA Tour has shown up here annually since 1968, when the tournament was the Andy Williams San Diego Open Invitational. Now it's the Buick Invitational, a tournament Phil Mickelson won in 1993, the year after he turned pro. He won it again in 2000, and again in 2001. In 2003 he finished fourth here, his second-best tournament of the year. Well, he's a San Diego boy, born and bred, and after years in the Phoenix area he's living near here again in Rancho Santa Fe.
I'd met with Mickelson the day before, and he told me, "Torrey South is, honestly, the hardest golf course, day in and day, out that I've played. First of all, it's so long — 7,600 yards is a long course anywhere, but at sea level it's extremely long. A 7,600-yard course is for Denver, some place with altitude! Down here, the par-5s aren't reachable, you have to hit mid to long irons into the par-4s, the greens are tough, it's a grueling test of golf. And if the USGA keeps the greens firm, I think it will be one of the highest winning scores in U.S. Open history."
Mickelson was referring to the 2008 U.S. Open, scheduled to be played on the course he has had such success on.
Surely he will already have won a major by then? I do some quick calculations: With four majors a year, that's 17 more chances before Mickelson, now 33, plays the Open at Torrey Pines, which will conclude the day before his 38th birthday. Still young!
This particular morning, the mist rolling in from the nearby Pacific Ocean is thick, the pond in front of the 18th green barely visible. In my mind's eye, the ghost of Harry Cooper appears. Cooper, a member of the World Golf Hall of Fame, was a dominant player on the PGA Tour, winning 30 times between 1925 and 1941, ranked the fourth-best player after Byron Nelson, Sam Snead, and Horton Smith. He had a splendid career in every way. The fly in the ointment was that while he came close on several occasions, he never won one of the four majors.
"The Best Player Never To Have Won a Major" is not a PGA Tour statistic, merely a label that's passed around from player to player like a nasty game of Hot Potato. No one wants the handle, so along with the joy of victory in David Duval's 2001 British Open Championship, or Jim Furyk's 2003 U.S. Open title, comes the sigh of relief as the monkey hops off one's back and the press looks around for the next victim. British great Colin Montgomerie has perhaps dragged the burden around the longest, and with his game appearing to fade somewhat, looks like a good candidate to join Harry Cooper.
Now the reluctant nominee is Mickelson, who is, without question, one of the dominant players on the PGA Tour. He is fourth on the all-time career money list with $23,773,106. He has won 21 times. Other than Tom Watson, among active players that number is surpassed only by a certain Mr. Woods. (As soon as the two mark 15 years of membership on the tour, the 20-victory plateau will earn them lifetime exemptions, the only current Tour regulars so honored.)
There are probably 21 or more theories about why Mickelson hasn't won a major, some charitable, some less so. Fans love Lefty's gambling style of go-for-it play that has accounted for 17 top-10 performances in majors, although critics will point to that same quality as the foolhardy reason for his bridesmaid performances: four third-place finishes in the Masters, two seconds in the U.S. Open, a second and a third in the PGA Championship. (Only in the British Open has Mickelson failed to crack the top 10.)
But it was Cooper who said about winning, "First you've got to be good. But then you've got to be lucky."
It's virtually inconceivable that Phil Mickelson will not win one of golf's major tournaments. He's too good. He's too talented, too exciting, too competitive, too likable, and, in every other area of his life, too lucky, not to succeed in that regard as well. It may happen this April at the Masters. Or, as Cooper's spirit can hauntingly attest, it may never happen, because golf is golf, a game Mickelson was virtually born to play.
Lefty isn't a lefty. He bats right, throws right, signs autographs with his right hand. The only reason Philip Alfred Mickelson plays golf left-handed is that he began mirroring his father's golf swing at the age of 18 months, and the imprinting stuck.
The family story is that by age three young Phil tried to tag along to the local public course for his dad's weekend outing. When Phil was deemed too young, he ran away from home, sawed-off golf clubs in hand. After the aborted escape attempt, Dad did soon bring Phil out for his first round, and that was that.
Somewhere in the family archives is Phil's first full scorecard, from age three, when at the par-3 Presidio Hills course in San Diego he shot a 144. The course became his second home.
"My parents used to drop me off there every day around eight in the morning and pick me up around six or seven that night," Mickelson says. "I loved it, I just loved it." He won his first trophy, for a putting contest, at five. By age seven he'd more than halved his first score at Presidio Hills. In the 1980s he began piling up the hardware for wins on the San Diego Junior circuit through high school. At Arizona State University, he won three NCAA Championships, three Nicklaus Awards as national college player of the year, and the 1990 U.S. Amateur.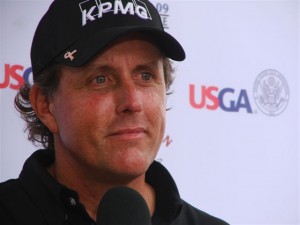 Perhaps his most remarkable victory came in 1991, when he won his first PGA Tournament while still an amateur. But he didn't turn pro immediately. "My parents ingrained in me that an education was important. And I thought the money I might make in a year and a half would be nominal over the course of a 20- to 30-year career, so I stayed in school."
But shortly after his 1992 graduation with a degree in psychology, he made it official. He made seven out of 10 cuts, won $171,714, and met the love of his life, Amy McBride.
"We lived in the same apartment complex, and we started dating in February 1993." It was a good month, because Mickelson also won his first tournament as a professional — the Buick Invitational at Torrey Pines. He has won at least once every year on Tour since, except for 1999 and 2003. Yet 1999 was one of his most incredible years, what with the U.S. Open and the Ryder Cup victory at Brookline, Massachusetts.
Few fans can forget the '99 Open. There was a question whether Mickelson was even going to finish the tournament, since Amy was about to give birth to the couple's first child, and he planned to be there, U.S. Open or no. As it turned out, Payne Stewart won by a stroke over Mickelson. As the two walked off the green, Stewart clasped Mickelson's face and spoke to him.
"At the time, I was obviously disappointed to have not won," Mickelson says now. "But Amy went into labor the next day, and a couple of months later when Payne Stewart perished in the plane accident, I just kind of knew that it was the way it was supposed to be. Besides, if he had missed that final putt on 18 and we had gone into a playoff, I would have been called away anyway."
Mickelson really wouldn't have played in the playoff?
"I wouldn't have played. I didn't want to miss the opportunity to see my first child's birth."
And what did Stewart say to him?
"It wasn't about golf at all," Mickelson says. "You know, here he just wins the U.S. Open and he's thinking about somebody else. He said, 'Phil, you're going to become a father, it's the greatest thing in the world, I'm so happy for you and Amy.' I just thought that was very impressive."
Mickelson doesn't drink or smoke. But everyone's entitled to at least one vice. Mickelson's is making the odd wager now and again. His biggest payoff was a pre-season football pool he went into with a group that included his mother-in-law, taking down some big bucks the year the Baltimore Ravens won the Super Bowl. "My mother-in-law and I were on the phone with each other five, six, seven times every Sunday. But then, Amy's parents are two of my favorite people in the world. It was just a lot of fun."
Fun is important to Mickelson. Toward the end of the 2003 season, for example, Mickelson suited up with the minor league Toledo Mud Hens, took some batting practice, and waited to see if he might be offered a short-term contract to throw a few innings in a game. It didn't happen, but some writers pounced on him about it.
"I don't know why," he says. "But if you live your life worried about what other people say, you won't have any fun. And it was fun."
It may have been more fun than he had on Tour in 2003. He finished 38th on the money list with $1,623,137, a position many pros would have been deliriously happy with. Mickelson wasn't: "It was my worst [full] year on Tour; my previous worst was 28th on the money list in 1994."
Mickelson's problem was driving accuracy. He pounded the ball, averaging 306 yards off the tee with his driver, putting him in third in that statistic. But he landed the ball in the short grass only 49 percent of the time, ranking 189 out of 190. Even for an acknowledged short-game master like Mickelson, that makes the going tough.
"I hit it plenty far, but accuracy is the key," he says. "I tried a little alteration in my swing in hopes of improving my accuracy, but it backfired; I actually went even more offline. But in the long run it helped me learn what works for me and what doesn't, and it gets me looking forward to 2004."
Another thing that usually doesn't work for Mickelson is conservative play. If there's a gamble to take, he probably will.
"There are plenty of times throughout a round that I don't hit a driver or don't shoot at a pin," he says. "But for the most part I enjoy trying to make birdies, playing aggressively, the challenge of trying to hit good golf shots, and being creative with different shots — trying to hit a little fade to that pin tucked behind the bunker, or a high draw to get it stopped quickly on the green. I think that's the challenge the game presents, and that's what makes playing golf fun to me."
Mickelson has some strong supporters in his camp regarding his style, like another hard-charging, gambling, risk-taking kind of guy named Arnold Palmer: "Arnold has come up to me a number of times and said, 'Don't change the way you play.' He's a great guy."
Like Palmer, Mickelson is a pilot, having flown for nine years. His goal is to teach his children to fly. "When they get to be 10 or so, I'll start taking them up with me, have them fly in the right seat, and teach them as we go." Mickelson isn't certified for the type of jets he takes to tournaments because his entourage is too big — the whole family travels together. "Sure, it gets a little hectic, flying twice a week 25 times a year. But the effort Amy and I put into keeping our family together is well worth it because we're able to spend that time together."
Mickelson and Amy, a few years his junior, married in 1996. With two daughters and a son (Amanda, Sophia, and Evan), planning is paramount. "We try to schedule about six months in advance, no easy trick trying to work a Tour schedule around doctors' appointments for the kids and the like," he says. "Amanda will be starting school pretty soon; I'm not quite sure what we're going to do about that."
Family strategy is one thing. Playing strategy is still aimed squarely at the majors. "I've found that I play the best in the majors when I play the week before, so I'll do that to get in a good competitive frame of mind, using that week to practice and prepare," he says. "If I've been at home for 10 or so days and tee off in a major, I'm a little stale, a little more nervous than normally."
Mickelson, nervous?
"Bobby Jones used to say he couldn't eat during competitions," Mickelson says. "He'd be so nervous he would throw up before rounds, couldn't sleep at night, he was just always unsettled. I'm not that bad. But those nerves are all right. When you lose that feeling, you lose your edge; you're not mentally into it."
Is Mickelson still into it?
"Absolutely," he says. "I love it. I love the game even outside of the competition and the Tour. I'm going to play in a few days with my mom, sister, and dad in a little fundraiser for my brother's golf program — Tim is the head golf coach at the University of San Diego. My sister, Tina, is a PGA class A pro, and she'll be doing some commentary for The Golf Channel for their senior tour telecast this year. My favorite memories of playing golf as a kid are the times my dad would pick me up from school and we'd go play nine holes in the afternoon until dark.
"If I get a little tired of it, I just take some time off. And typically it only takes about seven to 10 days before I'm just itching to get out and play golf again."
With just a little more luck, Mickelson will have one less itch to scratch. Which would have, of course, the added benefit of sending the ghost of Harry Cooper packing.