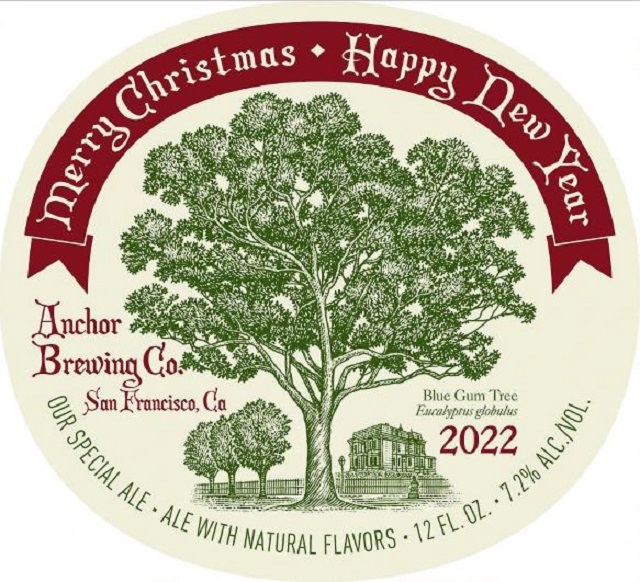 For the eleventh consecutive year we're leading off the 2022 12 Beers of Christmas, with Anchor Brewing's annual Christmas beer, officially called Our Special Ale. Why, if every other beer in ten years of choosing Christmas beers and winter warmers is different, does Anchor rate?
As I've annually explained, Anchor rates for two main reasons. One is that it actually changes its recipe for each new iteration of the beer, and this is the 48th. Another is that 48 years ago almost no American brewer was producing a distinctive beer for the holidays. Now those who don't are the outliers. So all credit to Anchor there. Where I could rest my case, and do in the sense that Anchor's seasonal nod is never less than interesting, so I willingly buy a case before even trying the beer.
For those who haven't been tuning in here annually for a decade, a glance at the 12 Beers of Christmas 2021 Reprise should be explanation enough. But in brief, there are 11 more beers to come in about as many days. In the past I've promised to finish the journey by the actual twelfth day of Christmas, January 5 in western Christian tradition. (Bit of a moving target in others, which may save our bacon.)
The slow start is attributable mainly to Covid. My wife and I finally succumbed, and I couldn't taste anything for weeks. I had downed many a bottle of the Anchor by then, and by Christmas night, with my tasting panel at the ready, I was back in shape anyway.
The actual recipe of each Anchor Christmas beer is a closely guarded secret, though in recent years (perhaps under new owners Sapporo's direction?) brewery press releases have offered more and more hints. This year, for example, we learn that the beer uses some rye malt, and "…showcases notes of orange, honeysuckle, toasted malts, and eucalyptus," along with "botanicals and pleasantly herbaceous hops."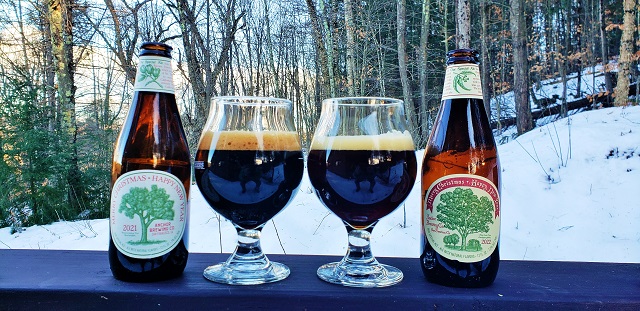 That certainly jibed with our impressions. My first and prevailing notion of the beer was the eucalyptus aroma and flavor, and that was just fine with me. My son, Mike and son-in-law, Glenn, agreed, also picking up some ginger and cinnamon qualities. We all liked it. We put it up against a bottle of the 2021 version, which is darker, fruitier, and more complex with woody qualities and a denser mouth feel, even though the 2022 is a bit stronger (and the strongest Our Special Ale yet), 7.2% ABV versus 7%.
Kudos to Tom Riley. The 2022 was his second shot at an Our Special Ale recipe, and his last, as he retired as brewmaster this year. Meaning next year's creation is up to new brewmaster Dane Volek. As last year, Anchor is donating a portion of sales of this year's Christmas ale to One Tree Planted, a nonprofit dedicated to global reforestation. And as every year, the label of the beer is also different, if always a tree.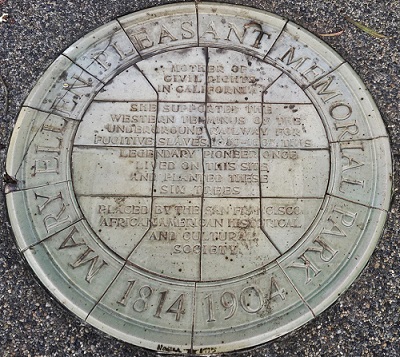 This year's label actually depicts four trees, but all Blue Gum Eucalyptus (Eucalyptus globulus), actually a set of six planted at the intersection of Octavia Street and Bush Street in San Francisco. They were planted by Mary Ellen Pleasant in front of a mansion she was living in. That's gone, but the trees remain, along with a plaque noting some of her accomplishments, all part of what is considered the smallest park in the city, the Mary Ellen Pleasant Memorial Park. The plaque reads:
MARY ELLEN PLEASANT MEMORIAL PARK
MOTHER OF
CIVIL RIGHTS
IN CALIFORNIA
SHE SUPPORTED THE
WESTERN TERMINUS OF THE
UNDERGROUND RAILWAY FOR
FUGITIVE SLAVES 1850-1865. THIS
LEGENDARY PIONEER ONCE
LIVED ON THIS SITE
AND PLANTED THESE
SIX TREES
PLACED BY THE SAN FRANCISCO
AFRICAN AMERICAN HISTORICAL
AND CULTURAL
SOCIETY
1814 – 1904
The plaque leaves out what sounds like plenty of drama in Pleasant's life, although her biographical facts are hard to distinguish from the fictions. She may or may not have been enslaved at one time, though she claimed to have been born free in Philadelphia in 1814. She was raised in Nantucket, Massachusetts, and was married in Boston to an abolitionist, James Smith. She joined the cause and helped coordinate movements through the Underground Railroad.
Smith died and left her a sizable inheritance. She left Boston for San Francisco, where she worked as a domestic, while making investments with presumably dazzling entrepreneurial acumen. She became, likely, the first African-American millionaire, and continued to plow monies to abolitionist causes, including John Brown's.
She spent 20 years of her life living in the mansion at Octavia and Bush with John Bell and his wife, Teresa, in an arrangement never quite clear. But when Bell died she and Teresa went to court over the estate, and Pleasant eventually had to move out.
She died in 1904 and is buried in Napa, California. At her request, her gravestone includes the inscription, "She was a friend of John Brown."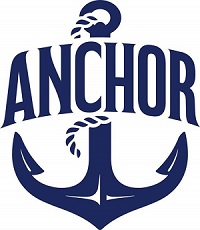 Name: Our Special Ale 2022
Brewer: Anchor Brewing Co., San Francisco, California
Style: Spiced red rye ale
ABV: 7.2%
Availability: Nov.-Jan., nationwide
For More Information: www.anchorbrewing.com
[Dec. 27, 2022]
< 12 Beers of Christmas 2021 Reprise
12 Beers of Christmas 2: Three Taverns Feest Noel >