[Dec. 26, 2022]–It's that most wonderful time of the year, time to rev up the 2022 12 Beers of Christmas. I would have started the engine sooner, but the monkey wrench of Covid put the clinker into those plans by stuffing up my nose and shutting down the tasting apparatus.
Enough of my troubles. Let's review: each year since 2012 I've tasted and written about 12 holiday ales or winter warmers, trying but usually failing to do it all in 12 consecutive days. Every beer has been different, even the perennial lead-off, the Anchor Christmas Ale, since its recipe changes every year.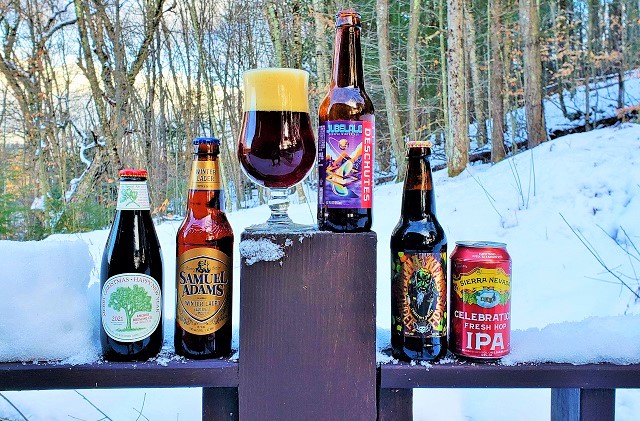 Granted, I've occasionally snuck in an extra here and there, but to keep it neat, that's 120 beers from around the world over the last ten years. So might as well keep it going, if I can lay my hands on 12 more. I haven't yet, partially because it's becoming more difficult to easily obtain brews I haven't had before.
I did request some beers from brewers. Several acquiesced and some came through; some apparently reneged. So it may be difficult to keep my usual promise of plowing through all 12 beers by the actual twelfth day of Christmas, January 5. And this may be the first all-U.S. collection.
Last year I did a sort of Greatest Hits list, and that's still up at SI.com.  But I note with sadness that one of the beers on that list is no longer available, the Holiday Ale from the Spencer Brewery. The sole U.S. Trappist brewery is no more, as the Massachusetts monastery decided to shutter its brewing operations.
As always, I warm up for the 12 Beers exercise with some previously featured evergreen brews that have not changed their recipe over the many years of their existence, Sierra Nevada Celebration Ale and Deschutes Brewery Jubelale. The latter, which first appeared on the list in 2014, resurfaced in 2021 but only because the brewery was kind enough to send me its Imperial version, barrel-aged after an infusion of cherries.
The 2022 Jubelale is in the photo up top (and in the glass), along with the Anchor, Celebration and two alumni: last year's 3 Floyds Alpha Klause and 2012's Winter Lager from Samuel Adams.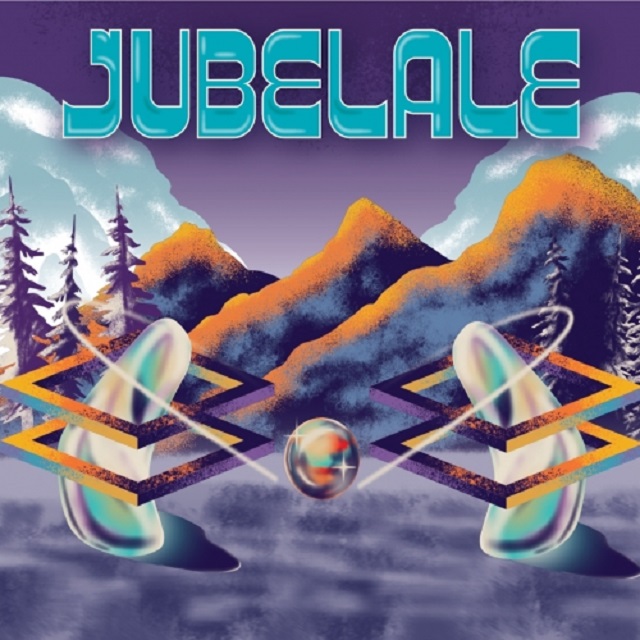 The Jubelale does change its label every year with an original piece of artwork from, up to this point, local or Oregon artists. This year's label above is from Francisco Morales of Portland. But for next year Deschutes has sent out an open call to artists anywhere in the U.S.
Morales is a freelance Latinx illustrator and designer, his Instagram site here. Morales grew up in the arid climes of southern California's Coachella Valley. He said his label was inspired by his first experience of snow and winter in Oregon: "I'll never forget my first trip to the Pacific Northwest, and nothing would prepare me for the winter and snowfall where the sound dampens and light changes, as if you are on another planet. As a collaborator for this year's Jubelale design, this piece attempts to capture the emotions of that extraterrestrial feeling."
As for last year's beers, it was a splendid earthbound crop. There were two contenders in the low (or at least lower) ABV running, the Shiner Holiday Cheer and the Skygazer Watercolors Christmas Creamee. Both came in at 5.4%, both were laden with fruit, yet they were poles apart stylistically. Shiner tasted heavily of peaches, but was a traditional, clear brew. The Skygazer was laden with raspberries, but was an opaque, well, creamee of a beer. No worries, as there are few rules as to what constitutes a holiday beer.
They are often strong, and the rest of the roster clocked in at 7% ABV or above. The lidlifting champ was the Mikkeller Santa's Little Helper at 10.9%, though I sort of cheated that day and added the Evil Twin Aún Más Chili Jesús (12%) honorarius.
If all of last year's beers were well done, I could have lived fine without either the Skygazer or the Southern Tier Frosted Sugar Cookie, only because they were too sweet for my taste. Both were the beers they set out to be. The Greater Good Imperial Brewing Gingerbread Ale skirted being overly sweet, though I would have preferred a bit more heft with that one.
My favorites were probably the Deschutes Cherry Jubelale, a cherry-laden version of the annual Deschutes Jubelale, and the pFriem Belgian-style Christmas Ale, a no-nonsense brew that was simply superbly made. The N'ice Chouffe was right up there, too.
I hope to have as many good ones this year, just as I hope my sense of smell recovers more fully. If not, there's always context! For now, here's the complete list of all the beers from the last ten years, with links to each entry:
<<<>>>
The 12 Beers of Christmas
2021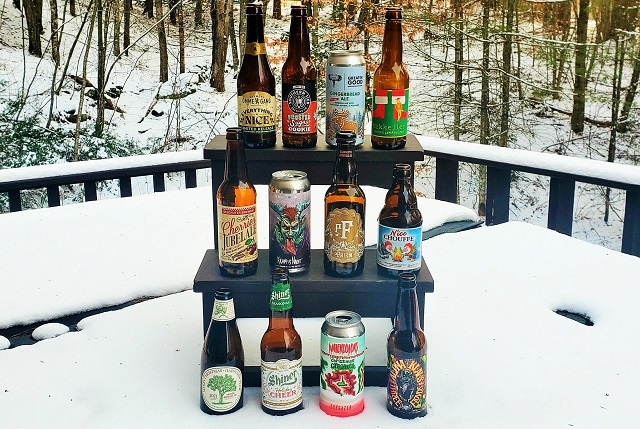 1 Anchor Our Special Ale 2021
2 Shiner Holiday Cheer
3 Skygazer Watercolors Christmas Creamee
4 3 Floyds Alpha Klause
5 Deschutes Cherry Jubelale
6 Four Quarters Krampus Nacht
7 pFriem Belgian-style Christmas Ale
8 d'Achouffe N'ice Chouffe
9 Ommegang Everything Nice
10 Southern Tier Frosted Sugar Cookie
11 Greater Good Gingerbread Ale
12 Mikkeller Santa's Little Helper
(Evil Twin Aún Más Chili Jesús)
12 Beers of Christmas 2021 Reprise
2020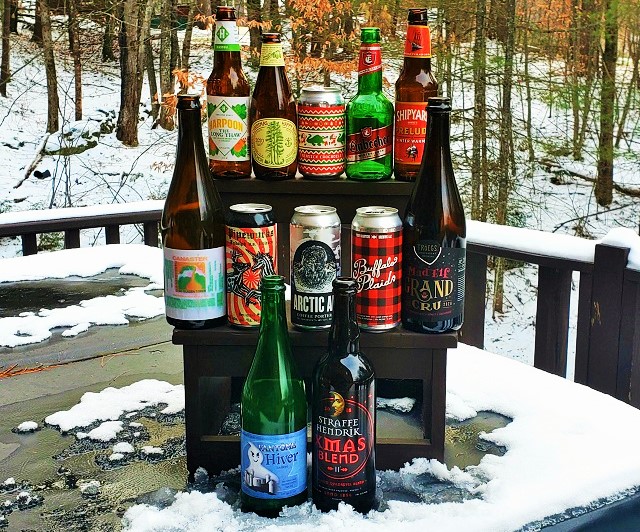 1 Anchor Our Special Ale 2020
2 Liambru Tasty Arctic Al
3 Four Quarters Buffalo Plaid
4 Fantome Hiver
5 Einbecker Winter Bock
6 Glazen Toren Canaster Winterscotch
7 Prairie Artisan Seasick Crocodile
8 Straffe Hendrick Xmas Blend
9 Shipyard Prelude
10 Pipeworks Rudolph vs. Unicorn
11 Harpoon The Long Thaw
12 Mad Elf Grand Cru
12 Beers of Christmas 2020 Reprise
2019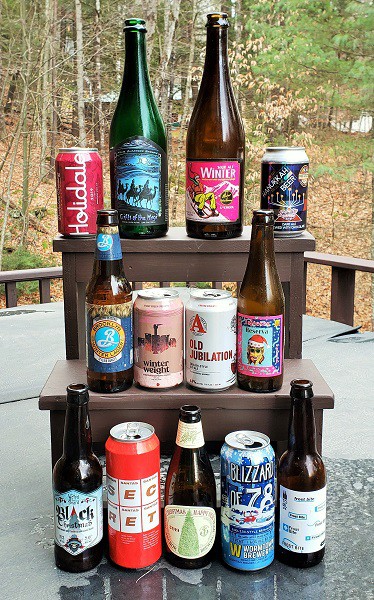 1 Anchor Our Special Ale 2019
2 Brooklyn Winter Lager
3 Stony Creek Winter Weight
4 To Øl Santa's Secret / Frost Bite
5 Four Quarters The Gifts of the Magi
6 Weird Beard Brew Co. Black Christmas
7 Struise Tsjeeses Winter Ale
8 Wormtown Blizzard of 78
9 Shmaltz Chanukah, Hanukkah: Pass the Beer
10 Avery Old Jubilation
11 Trois Dames Winter Sour
12 Berkshire Brewing Holidale
12 Beers of Christmas 2019 Reprise
2018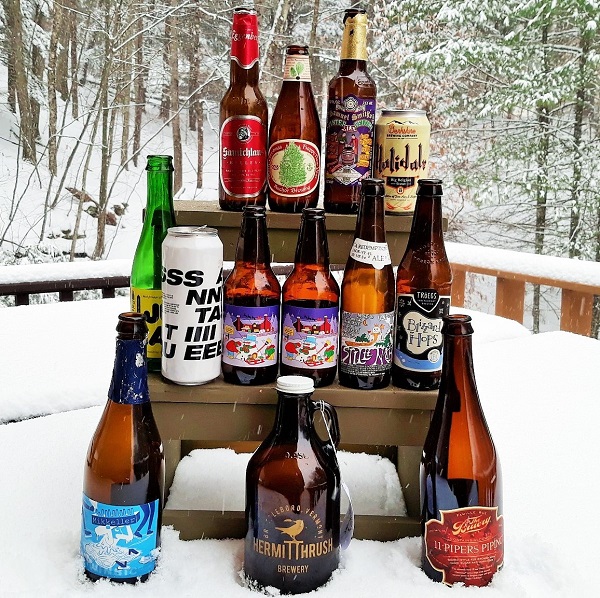 1 Anchor Our Special Ale 2018
2 Mikkeller Win Bic
3 To Øl Santastoque
4 Samichlaus Helles
5 Berkshire Brewing Holidale
6 Troëg's Blizzard of Hops
7 Samuel Smith Winter Welcome
8 Anderson Valley Winter Solstice
9 Hermit Thrush Dark at 4:30
10 Prairie Artisan Ales Christmas Bomb
11 The Bruery 11 Pipers Piping
12 De Dolle Stille Nacht
12 Beers of Christmas 2018 Reprise
2017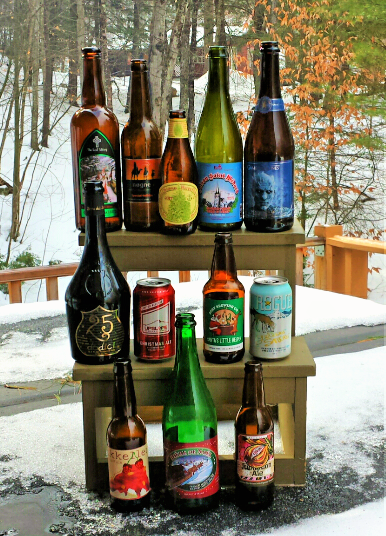 1 Anchor Our Special Ale 2017 
2 Rogue Yellow Snow Pilsner 
3 Baird Jubilation Ale 
4 Thiriez Bière de Noël 
5 Saison Saint Médard Cuvée de Noël 
6 Ommegang Winter Is Here 
7 Birra del Borgo 25 Dodici
8 Port Brewing Santa's Little Helper
9 Lost Abbey Gnoel de Abbey
10 Nøgne Ø Special Holiday Ale
11 Upslope Christmas Ale
12 Mikkeller Ris a la M'ale
12 Beers of Christmas 2017 Reprise
2016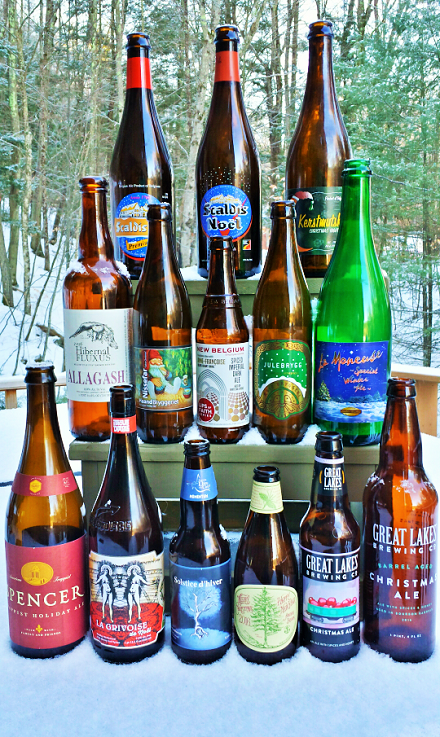 1 Anchor Our Special Ale 2016
2 Great Lakes Christmas Ale
3 New Belgium Anne-Françoise Spiced Imperial Dark Ale
4 Spencer Trappist Holiday Ale
5 Le Trou Du Diable La Grivoise De Noël
6 Blaugies La Moneuse Special Winter Ale
7 Aegir Bryggeri Julebrygg
8 Dieu du Ciel Solstice d'hiver
9 Haandbryggeriet Nissefar
10 Allagash Hibernal Fluxus 2016
11 Kerstmutske Christmas Nightcap
12 Scaldis Noël Premium
12 Beers of Christmas 2016 Reprise

2015
1 Anchor Our Special Ale 2015
2 Jewbelation 19
3 Warsteiner Winter Special Edition
4 Jolly Traveler Winter Shandy
5 Magic Hat Feast of Fools
6 Page 24 Bière de Noël
7 AleSmith Double Red India Pale Ale
8 Smuttynose Smistletoe
9 Wychwood Bah Humbug Christmas Ale
10 Ridgeway Lump of Coal
11 De Ranke Père Nöel
12 The Bruery 8 Maids-a-Milking
12 Beers of Christmas 2015 Reprise
2014
1 Anchor Our Special Ale 2014
2 Harpoon UFO Gingerland
3 Hanukkah, Chanukah Pass the Beer
4 Guinness The 1759
5 Samuel Adams Merry Maker Gingerbread Stout
6 Elysian Bifrost Winter Ale
7 Ommegang Adoration Dark Winter Ale
8 Deschutes Jubelale
9 Petrus Winter #9 Ale
10 3 Sheeps Ewephoria
11 Baladin Nöel
12 St. Bernardus Christmas Ale
12 Beers of Christmas 2014 Reprise

2013
1 Anchor Our Special Ale 2013
2 Troëg's The Mad Elf Ale
3 Victory's Winter Cheers
4 Magic Hat's G-Thing
5 10 Barrel Brewing Pray for Snow
6 Corsendonk Christmas Ale
7 Mahr's Bräu Christmas Bock
8 Sixpoint Global Warmer
9 Nöel des Géants
10 Mikkeller Hoppy Lovin' Christmas
11 Harpoon Winter Warmer
12 Dupont Avec les Bons Voeux
12 Beers of Christmas 2013 Reprise
2012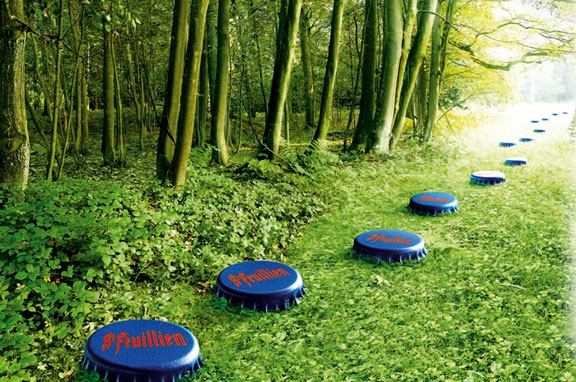 1 Anchor Our Special Ale 2012
2 Nogne Ø Winter Ale
3 Samuel Adams Winter Lager
4 Southern Tier 2XMAS
5 St. Feuillien Cuvée de Noël
6 Delirium Noël
7 Newcastle Winter IPA
8 Jolly Pumpkin Noel de Calabaza
9 Gouden Carolus Noël
10 Otter Creek Winter Red Ale
11 Magic Hat Wooly
12 Element Winter Ion