"I'm in a 'Bah, Humbug!' mood this year," my wife grumbled recently. I should have immediately passed her a bottle of Wychwood Brewery's Bah Humbug Christmas Ale but I didn't have another. It was only a bit of serendipity that led me to a bottle over the weekend. It wasn't on my original list, but a mild Christmas tradition led me to a pub where it was on the bottle list, and there you have it. More accurately, there I had it.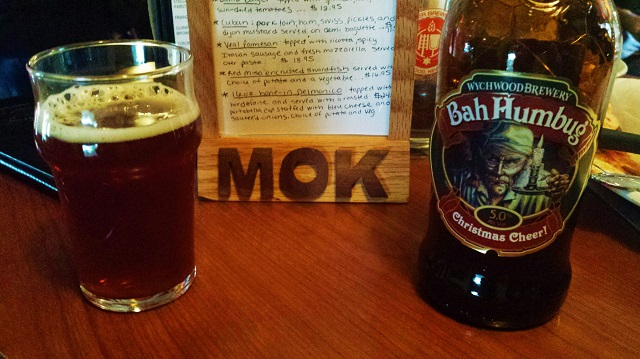 The mild tradition is that for the past few years two other golf-writing mates and I have tried to get together close to the holiday in order to do a little shopping (perhaps), and have lunch (definitely). For several years we showed up at the same sushi restaurant in Northampton, Massachusetts before taking desultory walks around town hoping some kind of Christmas present inspiration would strike.
We shook it up this year and decide to meet sort of halfway at the Man of Kent in Hoosick Falls, New York. Bill Nestor and I were both traveling from the same town in Vermont, while fellow TAP writer Tom Harack was coming up from further south in New York.
That gave me a chance to check off two more towns in my vision beer quest—having a different Vermont beer in every one of Vermont's 251 towns. Bill obligingly pulled into the Woodford General Store parking lot so I could swig some Hermit Thrush Winter Rye out of a growler. (Just before I found out that the store has a growler fill station of its own.)
Then all three of us met up before lunch at the Vermont Tasting Room in Pownal, the state's southwestern most town, bordering both New York and Massachusetts. Peter Hopkins was presiding, the tasting room and store having opened in April of 2014. There we plowed through samples of seven mostly Vermont beers. Another check mark.
And we did actually did do a little shopping, not necessarily all for ourselves, since the store is well-stocked with craft brewing goodies and some hoppy products (hot sauce, vinegar, lip balm…). This is thanks to a three-year-old hop farm not far away that the company also owns, the company actually being called Hoppy Valley Organics.
By the time we crossed the border and pulled into the Man of Kent we were a little surprised to see the place packed on a Saturday afternoon. Maybe we shouldn't have been; if seemingly in the middle of nowhere on a lonely stretch of Route 7, the English-style pub has been around since 1984, always offering a full-line of England ales on draught and bottle, many other beers as well, and a full menu.
There was a wait time, but a sure-you-can-have-some-beer-in-the-meanwhile wait time. Enter the Bah Humbug in its 16.9-oz bottle with a cartoonish rendition of Scrooge himself on the label, Marley and one of the Ghosts looking over his shoulder. The beer was a malt rich amber ale, with a solidly English toffee character and a faint touch of cinnamon in the mix. It was nothing extraordinary or, frankly, particularly Christmasy in nature other than the label. But it was filling and tasty and I quite liked it.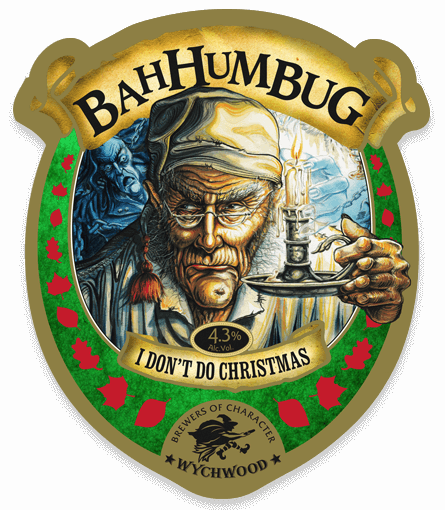 It may be some time before I ever see a bottle again. It's no longer represented by the Massachusetts importing firm Eurobrew, which brought in this bottle, most likely in 2014. Efforts to confirm that the brand (now owned by Marston's) is being carried here by Innis & Gunn USA were unavailing. If I learn more I'll update things.
Wychwood is probably best known here for its Hobgoblin ales, but it appears that the Bah Humbug has been around awhile and changeable in nature. I've seen reports of it coming in at 6% ABV, ran across the label at right showing it at 4.3%, and the bottle I had was 5%. It definitely contained cinnamon at some point, and while the bottle I had certainly suggested it, there's no label indication of it in this batch. About all it says is, "To those who say the Spirit of Christmas is a thing of the past—we say Bah Humbug! Don't be a misery…go on, enjoy yourself!"
I'll tell my wife, while pondering that it would have been better to have had the beer a few days ago: December 19 was the 172nd anniversary of the publication of A Christmas Carol in Prose, Being a Ghost-Story of Christmas, by one Charles Dickens.
Name: Bah Humbug
Brewer: Wychwood Brewery, Witney, England
Style: Dark Ale
ABV: 5%
Availability: Seasonally. But good luck finding one.
For More Information: http://www.wychwood.co.uk/
[December 22, 2015]
<12 Beers of Christmas 8: Smuttynose Smistletoe
12 Beers of Christmas 10: Ridgeway Lump of Coal>